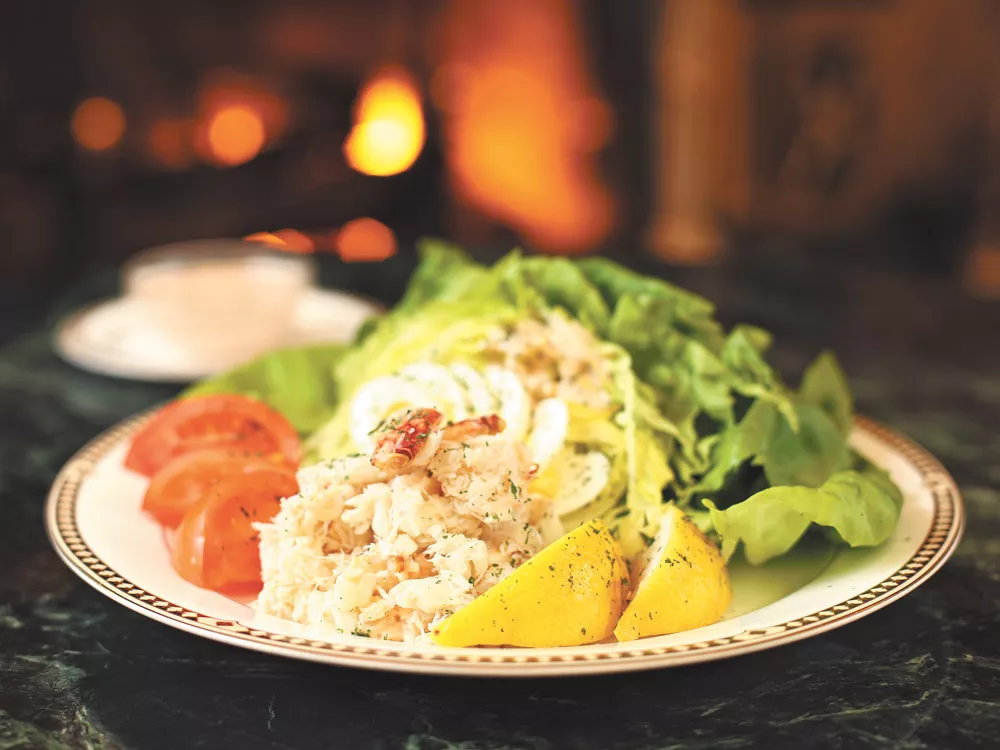 The fire crackles in the fireplace and palm fronds ripple as a gentle breeze blows through the lobby of the Davenport Hotel. One bite of sweet Dungeness crab dipped in tangy, pink dressing and I feel a kinship with Amelia Earhart, Clark Gable and others who dined here before me, perhaps enjoying the same Crab Louis.
Since 1914, the Davenport has hosted movie stars, royalty and nearly every 20th-century president, and it has been serving a lobster or crab Louis salad since opening day.
In fact, the hotel believes that it invented the dish, which is composed of lettuce, tomatoes, hard-boiled eggs and either crab, shrimp, or lobster, and then topped with pink, chili-spiked Louis dressing.
The Crab Louis (also spelled Louie) had its heyday in the early 1900s on the West Coast, and many like to claim credit for creating the salad, but the Davenport menu states that the Crab Louis was originally created for and named after Louis Davenport himself.
"The salad came into popularity under Louis Davenport's reign," says Matt Jensen, director of marketing for the Davenport. Louis Davenport was known for serving luxuries such as caviar, fresh crab and lobster as early as 1890, when he opened Davenport's restaurant on the corner of Sprague and Post.
According to Jensen, there is some speculation that Edward Mathieu, the Davenport's executive chef from 1917 to 1947, was trying to impress his boss by creating a new dressing — the Louis dressing — that he used on lobster and crab. In his autobiography, The Life of a Chef, Mathieu includes a recipe for Louis dressing, made from mayonnaise, ketchup, horseradish and Worcestershire sauce.
But not everyone is so quick to give the Davenport the credit.
According The New Food Lover's Companion, the dish could have been born at the Olympic Club, a turn-of-the-century hotel and speakeasy in Seattle, in 1904. The Olympic is now a modern health club, with no traces of Crab Louis.
Or it could have come from San Francisco. In 1914, Clarence Edwords published Bohemian San Francisco, The Elegant Art of Dining — a guide to San Francisco's most famous restaurant dishes, which listed a Crab Louis recipe from Solari's restaurant.
San Francisco's Victor Hirtzler is often mentioned in the discussion of the dish's origins. A chef at the landmark St. Francis Hotel in the early 1900s, Hirtzler included a recipe for Crab Meat a la Louise in a hotel cookbook published in 1919 (five years after the Louis appeared on the Davenport's menu).
"I cannot confirm, though, that he (Hirtzler) was the inventor nor can our historian," says Gena Egelston, marketing and communications manager for the Westin St. Francis.
There's yet another theory that the king of salads (as it is sometimes called) is named after France's King Louis XIV, famous for his prodigious appetite.
"I've heard just about everything," says Renee Roberts of San Francisco's Palace Hotel. "Nobody can confirm any of it," she continues. Roberts claims that Crab Louis has been on the Palace Hotel's menu since the late 1800s.
"It showed up as a crab cocktail with Thousand Island dressing," she says. (Louis dressing is very similar, but with a little more spice.) A 1926 menu from the hotel lists a Crab Louis, but Roberts says, "I wouldn't be surprised if there was something earlier."


Maybe the Crab Louis was a collaborative effort — a late-night meal shared by chefs and inspired by a few bottles of wine and some leftover crab. Prior to coming to Spokane in 1917, the Davenport's Chef Mathieu lived in San Francisco and was good friends with Hirtzler. In his autobiography, Mathieu talks about bonding with other chefs, noting that "master chefs love to be together to exchange ideas."
It's also possible that Louis Davenport picked up the idea when he lived in San Francisco in the late 1800s, prior to coming to Spokane.
Whatever its origins, the salad hasn't changed much since its birth more than a century ago, and that simplicity is part of its continued appeal. The Davenport Hotel uses a recipe for Louis dressing that is close to Chef Mathieu's recipe, tweaked with a little chili sauce.
The freshness of the crab is one reason it's so popular, says the Davenport's Jensen. The Davenport sells about 2,000 Crab Louis salads in a busy month.
I finish the crab and dip the last of the butter lettuce in the Louis dressing and realize I'll probably never know for sure what role Louis Davenport or Chef Mathieu and the others played in creating the Crab Louis.
I'm OK with that. For a moment, I experienced a slice of history, being temporarily transported to a golden age of fine