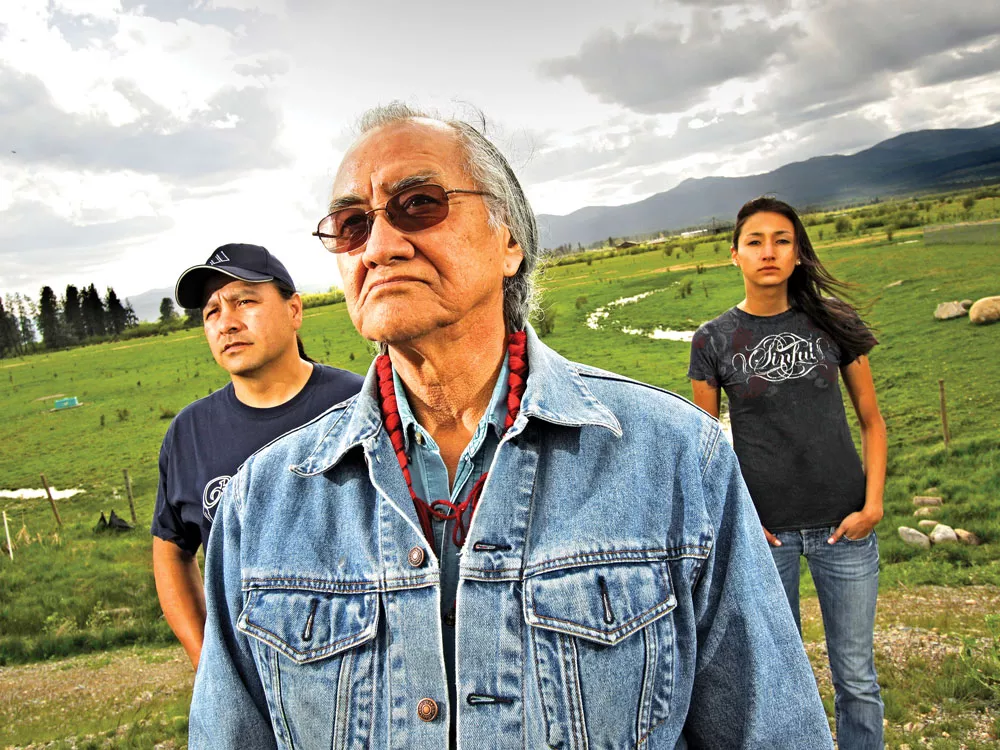 Interior Northwest Indian tribes working to save their native languages will gather next week in an expanded conference at Northern Quest Casino.
The expansion to three days is but one signal that the tribes are working ardently to preserve their original speech. Another is that the host Kalispel Tribe is expecting 300 people at the 2011 conference, up from 190 last year.
J.R. Bluff, who runs the Kalispel language program, is encouraged by the attendance boom. Some area tribes have only a handful of fluent native speakers, almost all of whom are elderly, which creates a now-or-never urgency for tribal language programs.
As in the past, the conference will focus on what programs are showing results, hearing from both fluent elders and younger "apprentice speakers." There will be plenty of speaking in Salish, storytelling and even a Salish-language karaoke contest.
The conference runs March 9-11. "We really try not to have an academic up there saying what to do," Bluff says. "This is coming from the people and what are we doing and what do we need to do to keep moving ahead?" (Kevin Taylor)
Cut-Off
Among the legislation that didn't make last Friday's cut-off date in Olympia were bills that would have declared English the official language of Washington and legalized the sale of marijuana in state-owned liquor stores. These bills never made it out of committee, and therefore withered away for the year's session.
Other bills, however, were luckier. First is freshman Spokane Rep. Andy Billig's phosphorus bill, which would prevent Washingtonians from using fertilizer made with phosphorus on their lawns. On Monday, the bill got a vote on the House floor and passed 58-39.
Unlike the Senate debate last week that focused mainly on Sen. Michael Baumgartner's reported sexiness, the debate over Billig's bill featured angry opposition.
Rep. Matt Shea, R-Spokane Valley, said if the bill became law, he would buy his fertilizer in Idaho — just like he does his dish soap. The bill now heads to the Senate, which passed a similar bill last year.
Other bills that are still breathing include one that would further define the medical use of cannabis, giving greater protections to patients, providers and physicians who recommend the use of marijuana. It could also legalize marijuana dispensaries, which are currently acting without the cover of law.
Other bills rewrite laws governing campaign finance, government officials' compensation, concealed pistol licenses, the protection of Mazama pocket gophers and the official state rock.
While lawmakers are generally focused on balancing the budget and doing away with the $4.6 billion deficit, almost 2,000 bills were introduced this session. In 2010, about 1,500 were introduced during the Legislature's regular session. Of those, not quite 300 were passed and enacted.
As lawmakers push through the second half of the session, only time will tell what bills survive. Will the pocket gopher receive protection? What will our state rock be? Where's the nearest dispensary? (Nicholas Deshais)
Get Up, Stand Up
Sitting near the center aisle made it easy for the cameras to reach Simon Painter, and he was very much interested in getting his mug televised. He came to KHQ's town hall meeting last week to get answers. But he'd have to wait.
"Taking a Stand Against Violence" was the brainchild of one of KHQ's Facebook fans. Held at the Lincoln Center on Wednesday, the community Q&A consisted of a panel of the usual suspects — Sheriff Ozzie Knezovich, Police Chief Anne Kirkpatrick, Police Ombudsman Tim Burns and Tony Stewart from the Kootenai County Task Force on Human Relations. (Like an Oscar winner filming a new project in another hemisphere, Spokane Mayor Mary Verner's presence was limited to a pre-taped message.)
Painter, 41, is involved with Ins and Outs magazine and Equality Spokane. "The catalyst for this entire meeting was the MLK parade and the bomb that was there. We are concerned that the community focus doesn't include the LGBT community, and Equality Spokane is very active in trying to espouse equal rights for everyone and equal safety for everyone," he says.
Specifically, he was interested in finding out why his group is required to pay $1,500 for security during parades while other parades — he cited St. Patrick's Day — don't.
But other questions came first, like why AR-15 rifles are replacing shotguns in police cars. (Kirkpatrick: They're "recommended right now for urban policing.") What is Spokane's stance on gangs? (Kirkpatrick: "If you're organized crime, you're going to see us and we'll be like a fly on the back of a wet hog.") And what does the sheriff think about citizens openly carrying weapons? (Knezovich: "I have no issues ... but we need to remember that with every great right comes a great responsibility.") Time elapsed on the hour-long program just as Painter got his chance to talk. But that didn't stop him from pressing the issue as the photographers packed their gear. And while the panel didn't find his questions within the scope of the meeting, he was referred to a sympathetic city council member.
"Apparently this is a new concept for them, which is kind of frustrating, but we're happy there are steps in the right direction," Painter says. (Aaron Mahan)
Short Step to 'Critical'
The Spokane County Jail has reached "critical" status twice in a week, meaning it is holding more than 650 inmates. But it didn't have far to go to get there.
"We've been hovering in the high 640s," says jail commander Cpt.
John McGrath. "And then the holiday weekend put us over the top."
Both the Presidents Day weekend and this past weekend resulted in enough arrests that the jail population counts went to 665 and 660, respectively. When the jail is above capacity, only the most serious offenders are booked in.
A criminal justice consultant was due earlier this week, McGrath says, to sort through the data and see if there is any trend to the increase.
"We have an antiquated data processing system for offender management. It takes forever to mine the data," McGrath says.
The numbers at the jail carry some political juice as well. A bond measure to construct a new jail is on the horizon. The county commissioners recently decided not to place the measure on the April ballot, but now are aiming for one of the fall elections with a reduced $199.5 million proposal (down from $265 million).
Does the jail going "critical" have any tie-in? "That was brought up. That question has been posed," McGrath says with a chuckle, adding the jail has no power to jigger the count. "We can't control who comes to us." (Kevin Taylor)

Correction
Last week's brief about the upcoming Spokane City Council races incorrectly identified the districts in which Steve Salvatori and John Waite are running. Salvatori is running in District 3, and Waite is in District 1.