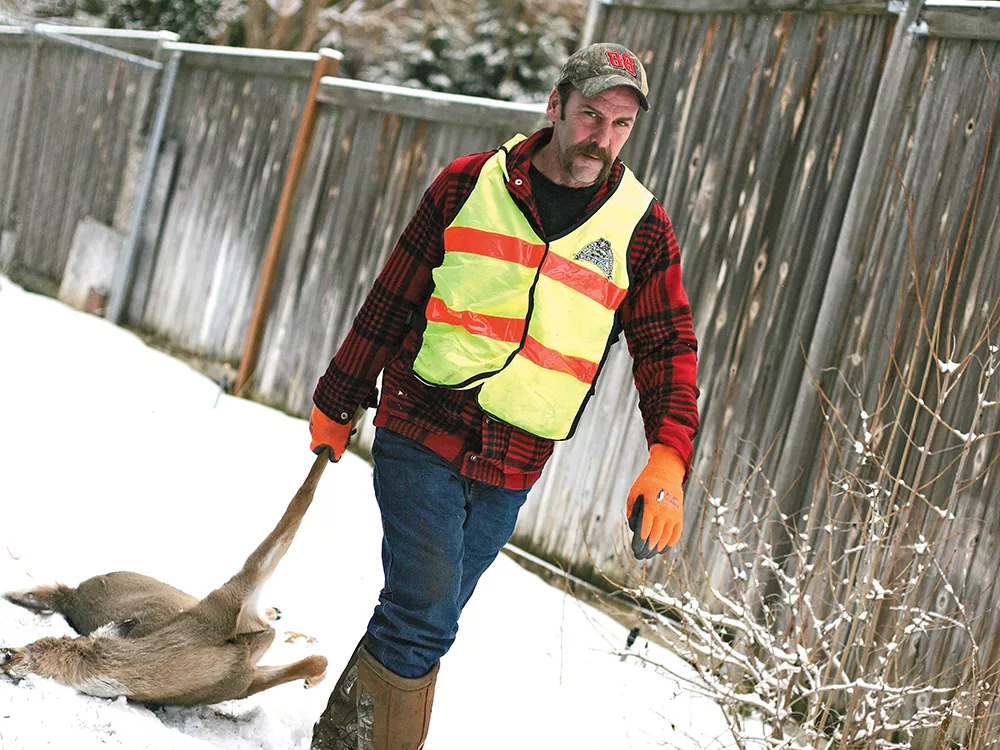 It's a one-man job, done on deadline and grisly stretches of highway.
Volunteers from the Big Game Recovery Committee arrive on the scene of an accident, never quite sure if the animal — roadkill — is dead yet or still alive. They wield a gun and small caliber bullets just in case.
Volunteers don't know if it was a minivan, sports car, mother or pastor who hit the beast. All they know is they have about 45 minutes in the extreme heat and several hours in the bitter cold to skin and gut the animal before the meat spoils.
"Most of the time the animal is struck by a vehicle," says Ken Hoff, chairman of the Big Game Recovery Committee. "Occasionally, we have responded when the animal has been taken down by dogs or it got caught in a fence."
For the last 17 years, the committee has salvaged roadkill across Spokane County and donated the meat to Union Gospel Mission. The group operates under a special permit through the Washington Department of Fish and Wildlife. Last year, the group of 24 volunteers donated two elk, nine moose and 45 deer — totaling 7,000 pounds of meat.
"There is a misunderstanding about what it is we do," Hoff says. "We are not wildlife veterinarians. We can't fix them up, nor are we a disposal crew that hauls always carcasses. We are the niche in between the two."

Roadkill bloats and spoils on highways across the state. Drivers usually hit deer, moose or elk, but the occasional bighorn sheep, cougar or black bear is also struck.
The Washington State Department of Transportation removes an average of 3,500 carcasses each year. The highest percentage of collisions occur right here, particularly north of Spokane, where highways intersect elk populations and white-tailed deer wintering grounds.
Typically, maintenance crews remove carcasses to be burned, buried, composted or recycled at rendering plants. The Big Game Recovery Committee uses the roadkill to feed hungry people.
The committee operates under the umbrella of the Inland Northwest Wildlife Council — an outdoor, hunting and conservation organization founded in Spokane in 1951.
"A group of members got together and started talking about good meat going to waste alongside the road," says Hoff, who has chaired the committee since 2007. "So they approached the department of fish and wildlife and came up with a plan."
It's illegal to consume roadkill in Washington State. Though some say the law is wasteful, it is clearly defined. According to the Washington Administrative Code, it is illegal to possess wildlife found dead except as authorized by permit.
An individual may remove and dispose of wildlife found dead on his or her property or an adjoining public roadway if they notify Washington State Patrol and follow disposal procedures as set by the city and state. The animal cannot be used for personal consumption or use, as it remains the property of the state.
Two-year permits to salvage roadkill are issued through the Washington State Department of Fish and Wildlife. Volunteers must adhere to annual training through department officials or game wardens and carry a license.
A group of volunteers, mostly retirees and members of the Pend Oreille County Sportsman's Club, operate a similar program with help from Mason's Meat Packing Co. in Newport. Last year, the group donated almost 4,000 pounds of meat to three food banks in Pend Oreille County.
Captain Dan Rahn of the Washington State Department of Fish and Wildlife department says he's unsure how many similar organizations exist statewide, as permits are issued on a case-by-case basis.
"If animals are hit on the highway going 60 miles per hour there may not be a lot of meat to salvage... but at least the animals don't go to waste," he says.
The Big Game Recovery Committee works closely with the city, Spokane Police Department and Spokane County Sheriff's Office. City officials and emergency responders report roadkill findings 24-hours-a-day to the committee, which organizes volunteers by a phone tree.
The animal is skinned and its head, hooves and organs are removed as quickly as possible to prevent bacteria from growing.
"It takes one to four hours to get on site and get it skinned, gutted and cleaned," Hoff says, noting volunteers donated about 210 hours last year. "All of us are hunters and we know good meat when we see it."
Hollowed carcasses hang inside freezers on East Trent Avenue.
Sometimes the roadkill comes to the Union Gospel Mission fully intact, other times the animal is cut and quartered. The meat hangs and cures for three to four days inside one of two walk-in coolers before the kitchen staff butchers it.
"We use the meat to feed the poor," says Russell MacKenzie, director of food services. "We make about 950 meals a day at all of our properties."
The meat is typically ground and cooked in dishes that will stretch the farthest, dishes like chili, casserole and soup. Occasionally, it's served as steak.
A 900-pound moose hit and killed by a pickup on Highway 20 may end up feeding mission employees, men in the homeless shelter, women and children in the crisis shelter and the hundreds of families who receive free meals the mission serves to the public seven-days a week.
The mission receives most of its meat from restaurant distribution and meat companies and a handful of local farmers. Warehouse Services Manager Denis Ridgley says donated roadkill from the Wildlife Council represents about 10 percent of all the meat the mission receives.
"It's a small percent but it's still significant," Ridgley says. "We are very thankful... I had no idea when I first started here that this type of thing happened. My assumption was that the meat would go to Cat Tales [a local zoological park] or something like that, but no, it comes right here to the mission and it's a good, fresh source of protein." 
Inland Northwest Wildlife Council  • 6116 N. Market St. • 487-8552 • wildlifecouncil.com