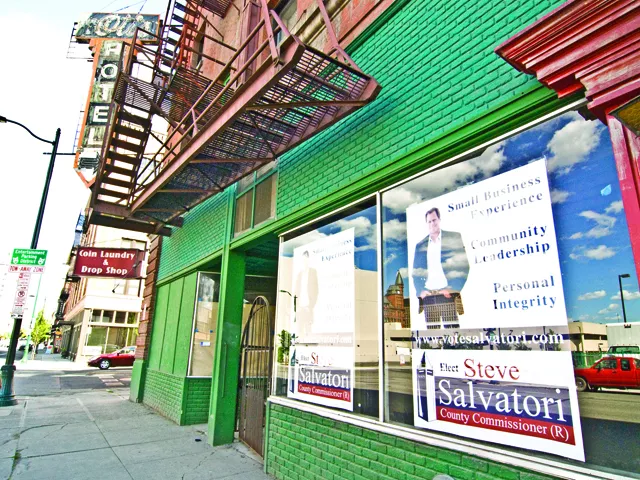 Steve Salvatori is the man with the polka-dot bow tie, unibrow and missing tooth. He's also the man whose "beer gut" was pointed out — with an arrow and the words "beer gut" — by some helpful passers-by.
That's what he gets for plastering his image on every empty building in downtown Spokane.
Salvatori is running his first campaign for elected office.
He's a Republican and wants what Bonnie Mager has right now: a seat on the Spokane County Board of Commissioners. What he doesn't have, but also wants, is a recognizable name.
"I started this race as an underdog, still am an underdog, with low recognition," he says. Almost to prove his point, he mentions that his two Republican opponents, Jeff Holy and Al French, won separate endorsements from the Spokane County Republican Party and the Republicans of Spokane County, respectively. (Mager, the incumbent, is a Democrat.) "I knew I had to do something," he says.
That something was put his visage and name up in every building he could muster — whether it had tenants or not. He's on the abandoned Ridpath and empty Otis Hotel, on the Hutton Building and on a tiny old coffee stand on Sunset Highway in Browne's Addition.
He's everywhere. But is it such a good idea to put your name and smiling face on all these abandoned buildings?
"That's sort of what the [campaign advisers] said," Salvatori says. "I wanted to call attention to economic development, to the very buildings and pieces of land that will still be there when we get out of this economic mess. … What better way to do that than highlight these empty buildings?" This strategy has left more than his advisers wondering why this guy — sometimes in life-size, full-figured photos — is so happy about all these forgotten buildings.
"I definitely noticed that," says Dennis Magner, who heads up Magner Sanborn, a local advertising and brand design firm that has worked with Thomas Hammer, Netflix, Gonzaga University and Amtrak, among other institutions.
"I think there are some associations that one might instantly make [when seeing posters on tenant-less buildings] — 'OK, he's going the cheap route,'" Magner says.
Magner — who made sure to say he was speaking only generally — says the posters themselves project "a casualness … being more tune with the common issues, being approachable" that could be effective in luring voters.
On the other hand, Magner says, if you see the candidate's poster on the side of dilapidated building, it's not a big deal. "But if that's mainly where you're seeing that imagery, whether people consciously make that connection or not, they're probably going to take [the buildings'] economic situation… and attach it to his brand," he says. "I would have recommended it just be a mix, maybe a minority exposure. … I don't think he's achieved that."
Whatever negativity comes with the strategy, says Salvatori, it's worth all the exposure he's received. He keeps no stats, but, anecdotally, he reports dozens of voters calling him asking what he's all about. Other people he knows collect pictures of themselves with his posters, something like a scavenger hunt. Some people know him as the "Full Body Guy."
"It has added some humor. And I think anything in life goes along a little better with humor," he says. Besides, he's learned something about Spokane. "You don't truly know how many empty buildings there are until you, in my case, start putting your picture on them."