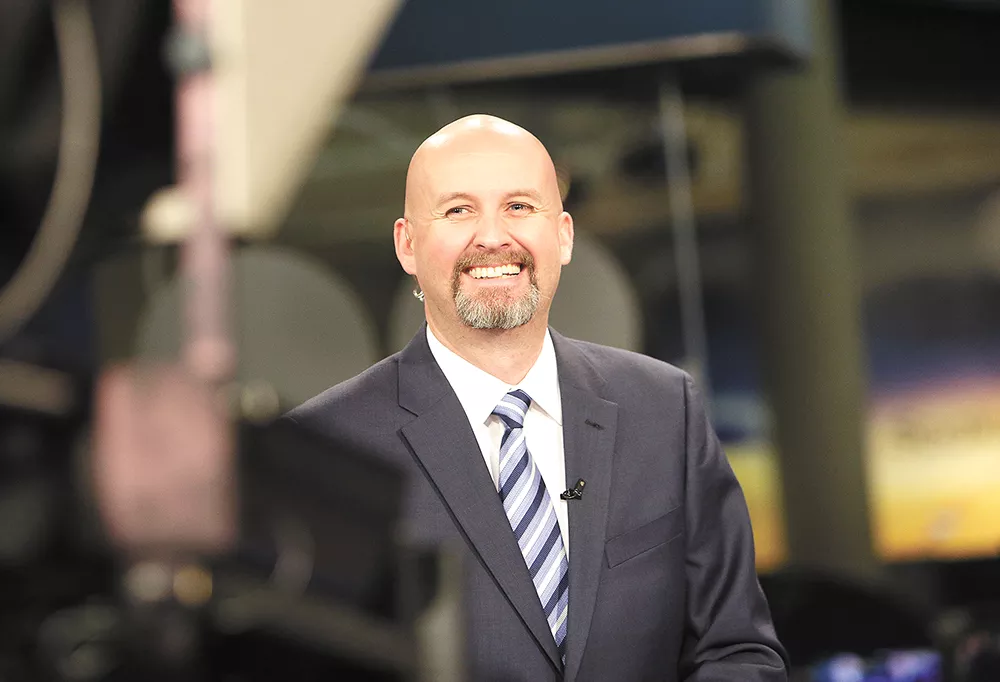 This one time, in an interview with Gonzaga men's basketball coach Mark Few, Sam Adams slipped in a Caddyshack reference. Few paused, smiled. "Caddyshack, right?"
"I was like, 'Yeah,'" Adams says. "I try to slip jokes in, where if you get it, you'll think you're the only one who gets it, like some obscure reference."
It must be working, because for the third year in a row, Adams — this "incredible Cinderella story, this unknown comes out of nowhere" — was voted best TV sportscaster.
The California native who arrived in Spokane in 2009 does a little bit of everything, from a local highlights show to play-by-play for high school, college and minor league sports. After our interview, he's headed home to pack and is hitting the road to cover the Gonzaga men's team in the NCAA Tournament. Hopefully, he'll still be traveling by the time you're reading this issue.
Adams has covered sports all over the Pacific Northwest, including in Oregon and Alaska, where he did play-by-play for the Anchorage Glacier Pilots in a summer baseball league for college players. Adams, a self-described "sports junkie," played baseball throughout high school, but was more a student of the game than a naturally gifted athlete. He says he was constantly analyzing the situational strategy. "Should we bunt this guy over?" or "Maybe we should shift the defense," he recalls thinking. He even kept a binder of his own stats.
He rattles off names like Bob Costas, Vin Scully, Scott Van Pelt (they have the same hairstyle) and Kenny Mayne as his inspirations.
"For me, I think some people assume journalists come through here as a stepping stone," Adams says. "And I say this with complete sincerity and honesty: If Phoenix, San Francisco, Seattle were to call and say, 'Hey, we want you to come work here,' I don't think I would. This is perfect. It's a crazy, fanatical sports market in that no matter how big or small the teams are, they totally get behind them."
So he's got that goin' for him, which is nice.
2nd PLACE: Keith Osso, KXLY; 3rd PLACE: Darnay Tripp, KREM