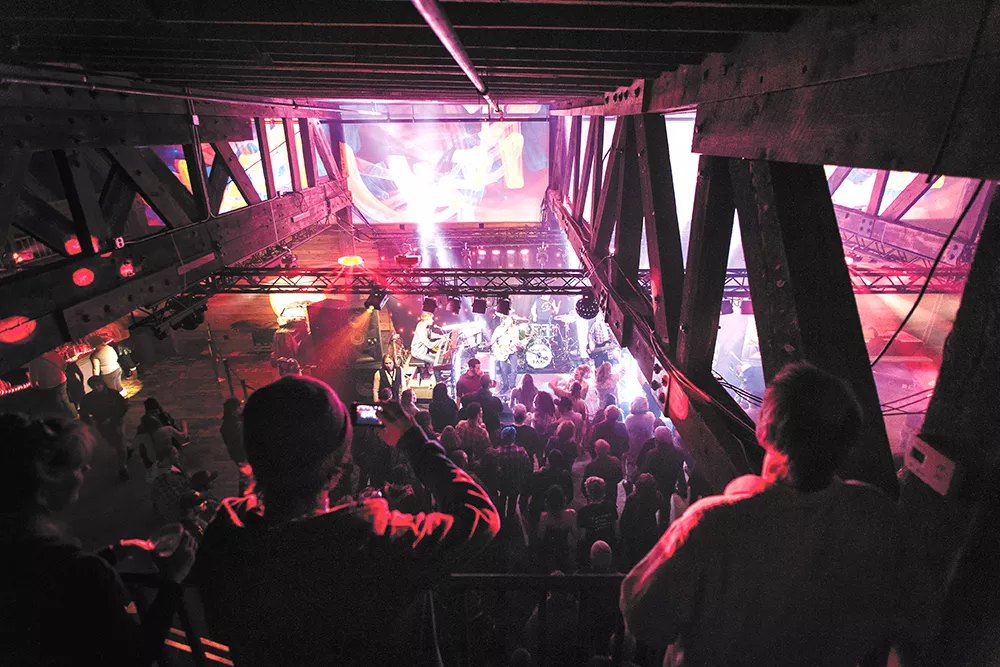 As jam rockers Moon Taxi continue to rip through their set, the onstage lights grow more intense. Green lasers fly around and a strobe effect goes off; the band appears to stutter and stop. The fog machine fires up, obscuring the stage. The $50,000 light system is on full display for the 150 or so people in attendance. For a venue so spacious and open, with high, thick beams and a wraparound mezzanine, the show manages to stay personal.
What was once the Dive in Sandpoint is now the Hive, a 600-capacity music and event venue. After sitting vacant since 2011, the Hive's owners took on the barn-like space last year hoping they could create something absent from the city — a mid-size, community-friendly spot where touring and local entertainment could perform.
"At first people weren't sure they wanted to spend $10 to $20 to see a show," says co-owner Shelby Rognstad. "But the word is getting out now and people know this place is reliable for good entertainment. The community has really embraced it."
Having a stake in a music venue has always been a dream for Rognstad, also a member of the Sandpoint City Council and owner of Common Knowledge Bookstore and Teahouse in town. Last March, Rognstad, Hive co-owner Rick Auletta and Jeff Grady of Low Country Boil Productions, which books the Hive's shows, found a venue they considered perfect for their needs and signed a year lease with the building's owner.
The Hive opened in May for shows, local events and parties, later bringing in music acts like Moon Taxi, the Infamous Stringdusters and Taylor Hicks for Aftival, an afterparty for the Festival at Sandpoint. Electronic dance music shows have been surprisingly popular, with a median age of 40 showing up.
"We don't have a really young demographic here in Sandpoint, but people here are healthy with a young mind-set," Rognstad says.
He acknowledges Sandpoint is out of the way for people in Spokane, but says there's reason to make the trek north — including the intimate ambiance and the fantastic sound system.
"For God sake's, people, get out of Spokane every now and then, breathe some fresh air," he says.
The Hive's future is uncertain after its lease ends in May, but the owners are in negotiations. Multiple music events will take place there before then, including the Shook Twins' CD release party April 26.♦
The Hive • 207 N. First Ave., Sandpoint • thesandpointhive.com