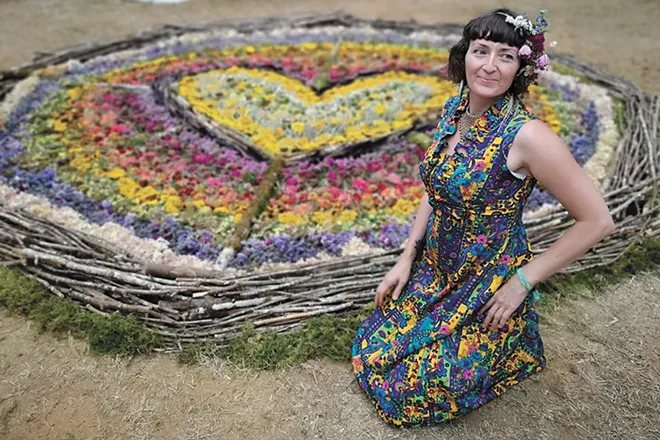 Sarah Edwards likes to work with nature. And make art. And make people smile. She does all three under the business name Sarah Smiles Creations, the roots of which formed when she was a young girl playing with her sister in the wilds outside Baker City, Oregon.
"We had 450 acres, so we had plenty of space to explore!" Edwards says. "We loved making forts and playing with natural items."
After high school, Edwards was so enamored of Spokane that she enrolled at Gonzaga University in 1999, despite having never visited campus. Business, her original pursuit, wasn't a good fit at the time, says Edwards, who switched majors and flourished in both ceramics and printmaking.
She got involved in the local art scene and volunteered with Mobius Kids (now called Mobius Children's Museum of Spokane) where she painted several still-existing murals. She taught classes there, as well as at Spokane Art School until her daughter was born in 2006.
Two more children followed, and Edwards found herself creating with her kids what would become the nature designs she continues to develop.
"Together we would gather nature items and create little and big artworks," says Edwards, who cites internationally known earth-based artist Andy Goldsworthy as an inspiration.
By the fall of 2014, Edwards was making small floral and other natural artworks — spirals, hearts, faces, animals, mandalas, and other images made from leaves, bits of moss beach glass, rocks, flower petals and the like — that sparked a return to her interest in business with the founding of Sarah Smiles Creations. Instagram gave her an ideal vehicle for sharing images of her work, prompting requests for prints and gallery shows.
In 2015, Tata Harper Skin Care flew her to New York to create floral images for their brand. "I just loved the act of creation and the ephemeral nature of the artform," says Edwards, who realized her passion for creating art now offered a viable business opportunity.
Within a few years, she'd participated in Terrain's Bazaar and created a line of cards, and eventually calendars.
"I realized this to be a way for an artist to make a steady income, as people want cards year-round for a variety of reasons," she says.
More opportunities followed, including a mention in the book, Nature Art Workshop. She also turned her extensive research of raw foods into teaching local classes, and partnered with a fellow designer to run an ambitious yet short-lived fashion business called Nayeli Clothing in 2017.
Collaboration is important to Edwards. She works with local florist Rose and Blossom — they provide Edwards with flowers that would otherwise be discarded — and has teamed up with Ava Barany to form the Botanical Alchemists.
"Ava and I would pick up what we call 'rescue roses' and then choose a spot outdoors in a public area where we could create the artwork and leave it for people to find," says Edwards. "We always choose a place where the design may be allowed to decay naturally. Sometimes we would have an image in mind and sometimes we didn't know until we started making it."
One such design at Polly Judd Park evolved into a community collaboration. After making a sugar skull image with sticks, they added fresh flowers over the course of several days, then invited the community via social media to add flowers and commemorate the lives of those they'd lost.
"People continued to add flowers to the design for many months and until only just recently, you could still see the remains of the design," says Edwards, adding that magic can happen when two or more humans collaborate. "Together we create something none of us would do all on our own."
The Botanical Alchemists are hoping to share their creative joy through free nature art workshops in 2020, funded by a recent SAGA grant.
"Each workshop will give participants the opportunity to learn a brief history of nature art, to make their own individual nature artwork and to join in the creation of a large collaborative piece," Edwards says.
Closer to home, Edwards continues to work on her own art, including a children's book illustrated with nature art designs.
"I will just say I am as patient as a snail with the unfolding of the process," says Edwards. "It will bloom like a flower in its own time."