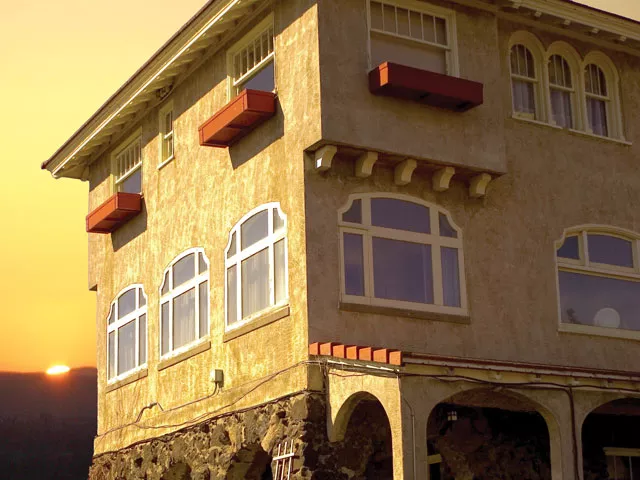 "Symphony on the Edge" sounds like a euphemism for a group of musicians threatening to jump off a cliff.
Not quite. "Edge" was actually a program created by the Spokane Symphony to inject a vogue boldness into the classical symphonic experience: serving up provocative, stimulating, contemporary music in a nightclub setting.
But that was several budget cuts ago, before "Symphony on the Edge" found itself teetering on the edge of a funding precipice.
So the Symphony got creative.
Enter "Soiree on the Edge": A squeeze of musical juices from both "Symphony on the Edge" and the Chamber Soirees — the Symphony's highly popular and intimate group performances, held three times a year in the Davenport Hotel's Marie Antoinette Ballroom.
The result? A glass of aural refreshment: a little sweet, with some bite.
Think of it as taking a calculated English butler, giving him a bottle of liquor, leading him out of his Victorian home and into an open field, then telling him to kick off his shoes and dance.
In a similar fashion. "Soiree on the Edge" ushers the traditional chamber setup away from the cushy confines of a lux hotel, relocating it to the lush outdoor lawns of Arbor Crest Winery. And, in doing so, blending the soiree's traditional repertoire with some contemporary sauce.
"When you have 20th-century music — because of whatever previous experiences they've had — some people are scared of it," says Spokane Symphony Music Director Eckart Preu. (Rather than conducting, during a few of Saturday's pieces, he'll be contributing on piano.)
Preu says to expect edgy, but not to the point of inscrutability. "We don't want to scare anybody away. And even if people think it's going to be scary, there's always the wine," he says, humor seeping through his slight German accent.
Ah, the wine. Did we mention the wine? There's a reason this event is taking place at a winery.
About 85 percent of downtown restaurants, after all, carry at least one of Arbor Crest's widely recognized crowd-pleasers as a house pour. Arbor Crest wines may not be exotic, but they're ubiquitous. After just one taste of the vintner's Dionysus red blend, however, this soirée's music will sound a bit edgier and even more delightful.
As for food, you'll need to bring that yourself. So pack a picnic basket, grab a blanket and bring your folding chairs.
The program for the evening, as described by Preu, ranges from "very lighthearted entertainment music in a coffee house in Vienna at the turn of the century," to a pulsing piece called Strange Humors —which features an hourglass-shaped African drum and string quartet. Steve Reich's minimalist Violin Phase involves a daring overlap of rhythmic motifs.
The evening's seven pieces "are all extremely different," says Preu. "They all have their funky parts that I love."
The ingredients — food, wine and music — will all coalesce in sensory delight this Saturday evening, with hopes of garnering repeat performances.
"Sometimes when you sit outside under the evening sky and there are insects around, and trees — you're just a different being outside than in the concert hall," says Preu. "You're much more open-minded."
"Soiree on the Edge" on Saturday, June 26, from 6-8 pm at Arbor Crest Wine Cellars, 4705 N. Fruit Hill Rd. Tickets: $20. Must be 21 or older. Visit spokanesymphony.org or call 624-1200.