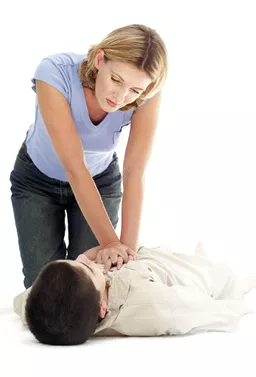 "Sudden cardiac arrest is a national health crisis," says Ryan Schaefer. "It is one of the biggest killers in the U.S. today." CPR can save a life, but Schaefer, an RN and coordinator of electrophysiology at Providence Medical Center, says research showed bystanders weren't that eager to attempt it in an emergency. They lacked confidence in their skills — that they would remember how to do the breathing and compressions correctly, and in the right ratios.
And then there was "the yuck factor," says Schaefer, meaning people were reluctant to give rescue breaths to someone they didn't know. Interestingly, research showed that people who did attempt the rescue breathing had a hard time with it, sometimes taking up to 30 seconds to deliver the requisite two breaths, critical time during which the victim was without blood flow.
Now, the recommendation is much simpler. "If you see a person that has suddenly collapsed, they are unconscious, they are not responding to any arousal at all, or not breathing at all — they need CPR," says Schaefer.
It's easy, he says. "The simplicity of CPR is push hard and fast in the middle of the chest until they wake up or help arrives." If you want to get more technical, the compression rate is about 100 times per minute, at a depth of two inches. Need help keeping time? Try compression to the rhythm of that old — and now aptly named — Bee Gees hit, "Stayin' Alive."