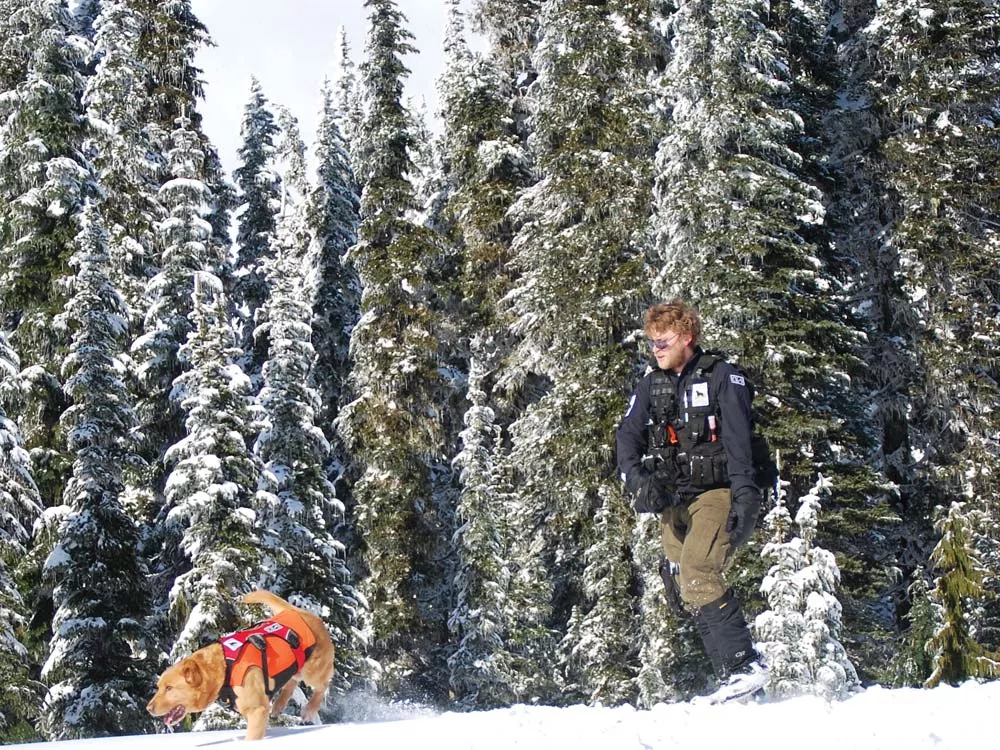 Every dog owner who has ever had to pull his pet off a crusty pile of old scat knows that some kind of ancient, complex relationship exists between man's best friend and a fecal deposit of any kind.
But no one understands that like Sam Wasser, the director of the Center for Conservation Biology at the University of Washington. Wasser, an endocrinologist, studies animal populations by looking at the hormone levels of selected individuals. One of the best sources of information? Everyday excrement.
Wasser says animal scat provides a "fairly comprehensive picture of the distribution, health, and wellbeing of many species without ever having to see the animals."
In 1997, intrigued by a presentation he heard on hunting with hounds, Wasser approached a drugsniffing-dog trainer from the Washington State Department of Corrections. Over the next couple of years, the pair screened dozens of Humane Society pound dogs and trained select mutts to search for grizzly bear scat. In 1999, Wasser's first scat-sniffing team set to work examining bear populations in the vast Yellowhead Ecosystem of western Alberta.
Long-time Pend Oreille County resident and biological field assistant John Stuart served as a member of Wasser's pilot study in the Yellowhead during the 2001 and 2002 seasons. "There were three members of each dog team," Stuart recalls. "The most important member was the dog."
The scat dogs had learned to home in on grizzly bear poop and to ignore the droppings from other animals. Bounding through aspen parkland or thick stands of lodgepole pine and spruce, they could detect their target from up to a third of a mile away. Once they latched onto a scent, they would speed directly toward it.
The handler's job was to keep sight of the dog during the search, particularly in the melee that followed a discovery. If the dog lost a scent and settled back down, it was the handler's job to figure out why, and to get the dog back on the trail.
Stuart served as the third member of one team, keeping both dog and handler in range and recording bear scat locations on a GPS unit. He also bagged all the poop samples (up to 25 after a productive run) and lugged them back to base camp.
Finding grizzly bear scat turned out to be child's play for the dog's refined noses. Experts soon had to admit that the scat dogs were more effective at monitoring animal populations. They created much less disturbance among wild populations and sampled a broader spectrum of individuals. Best of all, the dogs loved to run — and they accrued none of the expenses or breakdowns of fancy technology.
Today, the Center for Conservation Biology is conducting studies all over the Western Hemisphere. In the Northwest's old-growth forests, scat dogs have been trained to differentiate spotted owl pellets from those of the closely related barred owl. In the muskeg of Canada's far north, scat dogs are monitoring the long-term effects of tar sand oil exploration on caribou, moose, and wolves. In the tropical savannah of Brazil's Cerrado region, pups point to the scat of difficult-tofollow threatened species, including puma, jaguar, giant anteater and giant armadillo.
John Stuart continues to follow their progress from his home near Newport and is always delighted to read the names of certain veteran dogs he worked with in the Yellowhead. Gator, a blue heeler with a macho smile, appeared in a recent Natural History magazine article. And a large Rottweiler who was helpless in the woods — "He'd run for a little while, then have to lay down and pant," Stuart says — has made a name for himself as a champion whale-poop sniffer, craning over the bow of a power boat to detect the aromatic orange scat of northern right whales in the Bay of Fundy off Nova Scotia.
Wasser's Center for Conservation Biology has used the same technique to track Northwest orca populations. In contrast to the right whales' scat, orcas' greasy green droppings sink soon after being deposited. But the dogs are still up to the task.
And all they want after performing such high-level scientific research is a session with their favorite tennis ball.