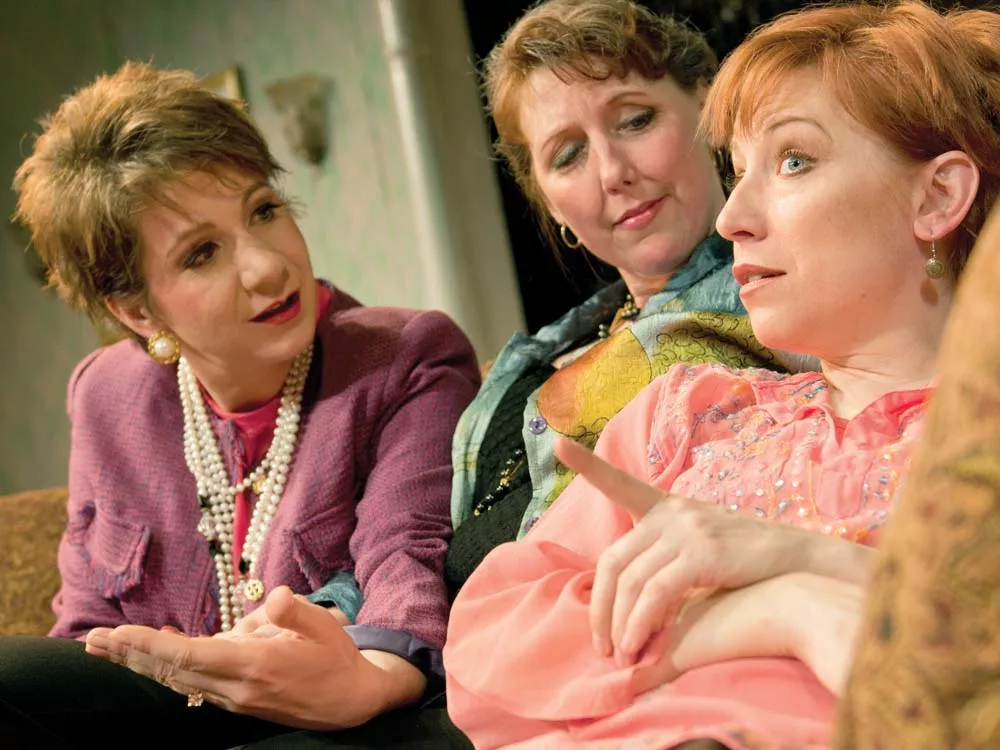 Two and a half hours of Jewish women kvetching — for this, we should pay 21 dollars?
With you I am joking. Only two hours is the kvetching. The other half hour? Nonstop comedy!
And such high achievers these sisters are — the banker, the radio personality, the international photographer.
In The Sisters Rosensweig — this is their play — it's 1991, and the Soviet Union is crumbling, and the three of them have gathered for sister Sara's birthday at her elegant London townhouse. Their mother recently has died, rest her soul. They've suffered relationship problems, health problems — sometimes the finances are not so good either. Along they bring one of their daughters and two or three of the men in their lives.
The goyim in Saturday's audience, however — not a gathering of East Coast urban liberals, you understand — did not knock themselves out laughing. The lesbian jokes and insidery theater jokes? The bisexual man claiming that "love is love, and gender is merely spare parts"!? This did not go over well with the conservative gentiles.
But with whom did audience members have to identify, after all? The hotsy-totsy banker? All these other limousine liberals, jetting all over the world? No, my friends. But the wife and mother from suburban Boston — the middle sister, this one they call Gorgeous Teitelbaum — her we can identify with. An actress named Esa Lariviere plays Gorgeous — all pearls and chatter, a real busybody, a yente. Always quoting her Rabbi Perlman, this woman will match-make you right on the spot, and she loves shopping at Neiman-Marcus. But Gorgeous has insecurities that she's trying to conceal, and Lariviere finds ways to touch your heart.
And as the love-interest for the eldest sister, J.P. O'Shaughnessy — that a man with such a name should play a mensch! — is always kidding around, then reminding everybody about the Holocaust. His scenes with Sara Nicholls, who plays the responsible banker, are full of bickering, then turn into a recognition that maybe, just maybe, here is another adult human being with feelings. Am I hearing Sinatra on the stereo?
But the one who plays the youngest sister — the photojournalist with a social conscience, she's gonna change the world but can't manage her own love life? Enough with the stuttering and the arm-waving, already! Someone has praised this woman for playing a sad clown, with all the insecurities laid bare and the hand going to the forehead in mock consternation, and so she has incorporated this schtick into a role that's funny, yes, but also serious. The eccentricities butt up against the crying jags and slow the whole show down.
Marianne McLaughlin, the director of this show, does not pull off the very demanding mixture of happiness and sorrow called for by playwright Wendy Wasserstein, God rest her soul. But together, in the finale, they create a lovely mother-daughter moment. For this, Rabbi Perlman tells us, we should be thankful.

The Sisters Rosensweig • Thurs-Sat 7:30 pm, Sun 2 pm, through April 23 • $21; $19, seniors; $16, students; $8, student rush • The Civic • 1020 N. Howard St. • spokanecivictheatre.com • 325-2507 or (800) 325-SEAT