WHAT'S NEW
Much of Schweitzer Mountain Resort's summer improvements might go unseen to many skiers and riders, but will directly benefit them. "We have invested over $1 million in mountain improvements, most noticeably being the brush cutting and mowing we have completed over the summer on front-side runs Midway and Jam Session," says Sean Mirus, Schweitzer's director of marketing. "Zip Down, on the backside, off of Stella, has also been cleared." Schweitzer officials and locals are excited about this, as it allows them to open with less snow on those popular early season runs. "Our goal is to get on an every-other-year cycle with these runs," Mirus says.
Other improvements include the paving of part of the main parking lot and the addition of restrooms near the Hermit's Hollow Tubing Center, benefiting tubing area and Nordic trail users, as well as those skiing back down to the Great Escape Quad. Upgrades have also been made to the snowmaking system on the lower mountain. "We also added another snowcat to the fleet," says Mirus; that will increase overall grooming capacity.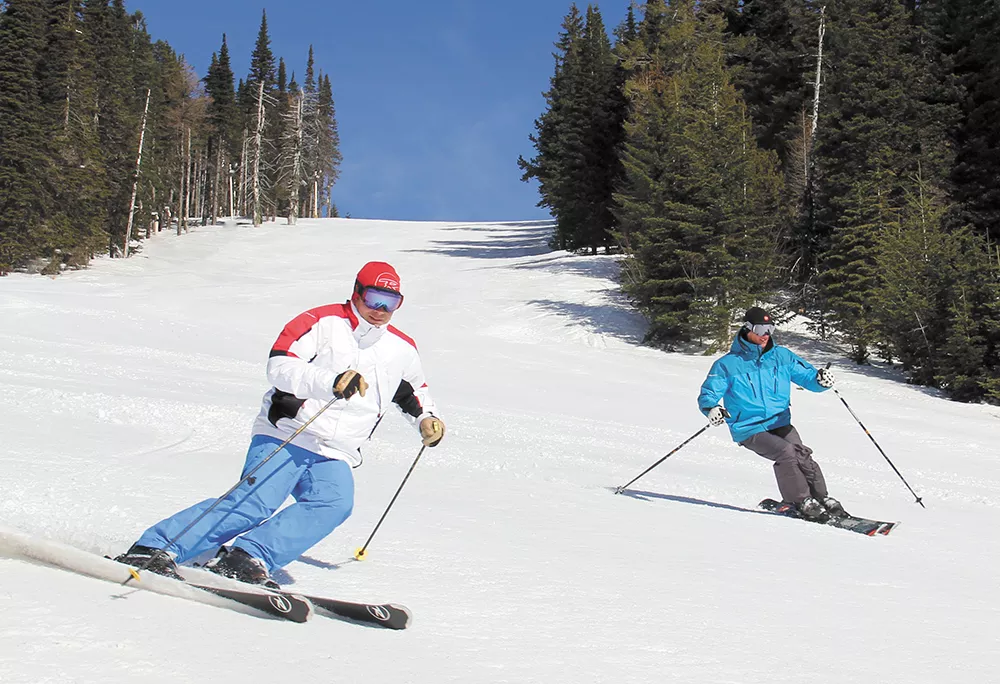 MAKING THE MOST OF IT
If you've purchased your Schweitzer season pass, you're now part of the Powder Alliance, which got a little bigger this season: Silver Star has been added to the list of resorts where you can ski free for three days. Other resorts include Stevens Pass, Bridger Bowl, Snow Basin and Crested Butte, among a total of 13 in the alliance. Check out powderalliance.com for the list and details.
If you're new to skiing and want to get involved without a huge financial commitment, Schweitzer has revamped their "Ski Free in 3" program: Sign up for three lessons for $159, including lessons, lift tickets and equipment rentals. If you complete all three lessons, Schweitzer will give you a pass to ski for free from mid-March through the end of the season. Additionally, if a friend joins you, they'll throw in an extra lift ticket to use anytime during the season.
SPECIAL DEALS
There are plenty of affordable ways to enjoy Schweitzer. For the past several years, Schweitzer has offered a $10 Community Day: for $10, you can ski and ride all day All ticket proceeds for that day will benefit local nonprofits. This event is tentatively planned for Friday, Dec. 12.
Back again this season is the ever-popular Sunday Solution program: Excluding holiday weekends, buy a lift ticket for Sunday afternoon (after 12:30), online for $25 or at the ticket window for $35. The beginner chair is free if acquiring the ticket online, or $10 at the ticket window. ♦
---
Lift tickets
Adult
Full day: $72
Half day: $62
Junior (ages 7-17)
Full day: $50
Half day: $40
College/Military/Senior (65+)
Full day: $62
Half day: $52
Child (6 & under with adult)
Free
Musical Chairs only
Full day: $25
Half day: $20
Musical Carpet only
Free