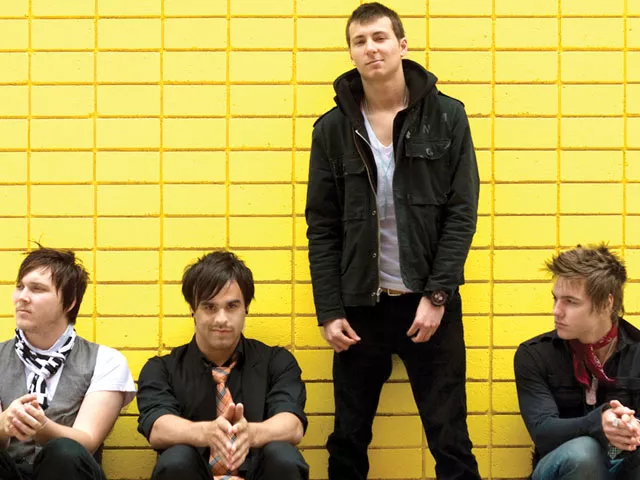 A string section swells when the protagonist's love interest is seen on screen for the first time. A piano plinks sadly when things can't get any worse for that same main character. A fist-pumping rock anthem plays over an action sequence.
A movie's soundtrack is key to eliciting an emotional response from the viewer. It's the way Oasis' "F---in' in the Bushes" pumped up the boxing scene in Snatch, or the way Elton John's "Tiny Dancer" drove home the main character's submission and homesickness in Almost Famous.
But Eye Alaska, an indie-rock outfit from Orange County, proves you don't need a film to create a soundtrack fraught with emotion and cinematic effect. They're a band that creates music with impact: cinematic narratives told not in scenes and dialogue but in lyrics and keening vocal flourishes. Theirs is a hero's journey told through music — no scenes, no swooping camera angles.
"There are songs that in and of themselves are based on movie-soundtrack concepts," Brandon Wronski, the band's lead singer, says — noting that some of the band's songs were film concepts before they became songs. Like their song "Mutiny Off the Aleutian Coast by Rorrim Ehtni," a track from their debut album. It's a song fraught with softly soaring string sections, with Wronski's voice overwhelming everything else. Bombastic and slightly overwrought, he brings a sense of dramatic tension to the work. The song's pace is glacial, marked by the occasional spurt of energetic, highly emotional catharsis.
Eye Alaska's style varies, swinging widely from R&B to hip-hop and indie-rock sounds. But the common thread among all of those styles is a sense of theatricality.
"I don't like to reference other people's work. I like to make my own movies up in my head when I write," Wronski says.
The theatrics carry over to live performance as well.
"With the live aspect, you can bring in all that visual imagery, that feeling and that power," Wronski says of the band's live shows, which often include multimedia elements and a performance ethic more like something you'd see in live theater than a live show.
"I like to make it theatrical [and] play different characters on different songs," Wronski says, explaining that his band is hoping to create something that few bands can. Theirs is a presentation that isn't just about the music or style, but about the entire experience.
"I want people to know that it's real — the lifestyle, the brotherhood, the movie rolling in my head. Whatever you make of it."

Eye Alaska plays with Pluginstereo and Romance on a Rocketship at the Second Space Gallery, 610 W. Second Ave., on Monday, April 5, at 7 pm. Tickets: $8; $10, day-of. All-ages. Call 847-3501.