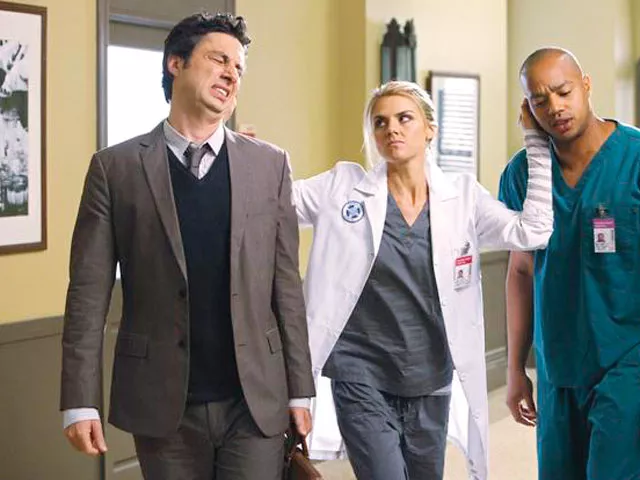 Your final words are a soaring tribute to your friendship
and your shared past. You part with a single tear, a hug, and a just-firm-enough handshake. You wave your handkerchief as their train chug-chug-chugs away from the station.
But then, a year later, you randomly run into them at Starbucks.
You're almost angry — all that pomp and poetry of the ending has gone to waste.
That's Scrubs. Last year, the medical comedy ended its eighth season with killer hour-long series finale. Scrubs had been largely about the flighty, whimsical Dr. J.D. (Zach Braff) being dragged gradually, reluctantly, into adulthood. The finale, beautifully punctuated that theme in a daydream sequence where J.D. sees scenes from his future via home movies.
But then tragedy struck: Scrubs was — somehow — renewed for another season.
In the ratings, Scrubs has been on life support since its fifth season.
And Season Nine Scrubs has a handicap: The principal characters— Carla, Elliot, The Janitor, Dr. Kelso — are gone. Zach Braff will leave after the sixth episode. The hospital's been swapped out for a medical school.
(Creator Bill Lawrence wanted to rename the show Scrubs Med, perhaps to make clear that Season Nine Scrubs is, essentially, a spin-off.)
New characters, medical students, have been introduced: Denise, the sarcastic insensitive woman; Drew the older returning med student; Cole, annoying arrogant son of a big donor; and Lucy, the annoying nice girly-girl.
Here's where the first problems arise. The writers seem to have forgotten Jar-Jar Binks' First Law: If a character annoys all the other characters, perhaps he or she will annoy the audience as well. Lucy is essentially the female version of J.D. Fine, but the running joke with J.D. is how he was whimsically unmanly. The fact that Lucy (a female) acts all female-ish isn't really all that clever.
But the biggest problem is just how long Scrubs has been on the air.
Its character development — J.D. growing up, Dr. Cox showing a shred of humanity — is punctured by the fact that they necessarily have to return to their old ways. Without J.D.'s flights of fantasy and Dr. Cox's angry rants, there's no show.
TV shows, like Scrubs, like The Simpsons, need a version of the Logan's Run rule: After seven seasons, it's euthanizing time.
TIVO-WORTHY
The Jersey Shore

There's a place out there, a magical place rippling with abs, fake tans, wife-beaters, thick accents and majestic mountains of hair gel. MTV's newest version of the put-people-in-a-house-and-watch-them-do-stuff formula, features muscled and coiffed Italian-Americans, from the Jersey area, called "Guidos." (Hey, that's MTV being racist, not us.) (MTV, Thursdays, 10 pm)
Survivor

TV ratings may be down across the board, but Survivor survives. More than 13.8 million viewers still tune in to feast upon the formula of alliances, bikinis, relay races, and the occasional naked Richard Hatch. TV critics used to worry that reality shows like Survivor and American Idol would ruin quality television. But today, they're the only thing that keeps people watching. (19th season finale airs Sunday, Dec. 20, 8 pm, CBS)
Men of a Certain Age
As last year's incomprehensibly successful Wild Hogs showed, audiences love mid-life crisis comedy/dramas. Ray Romano, Scott Bakula (Quantum Leap, Enterprise), and Andre Braugher (Homicide, House) are all middle-aged and frustrated. It's from the guys who produced Everybody Loves Raymond, so expect a mix of exasperation and heartfelt sentiment. (Mondays, 10 pm, TNT)