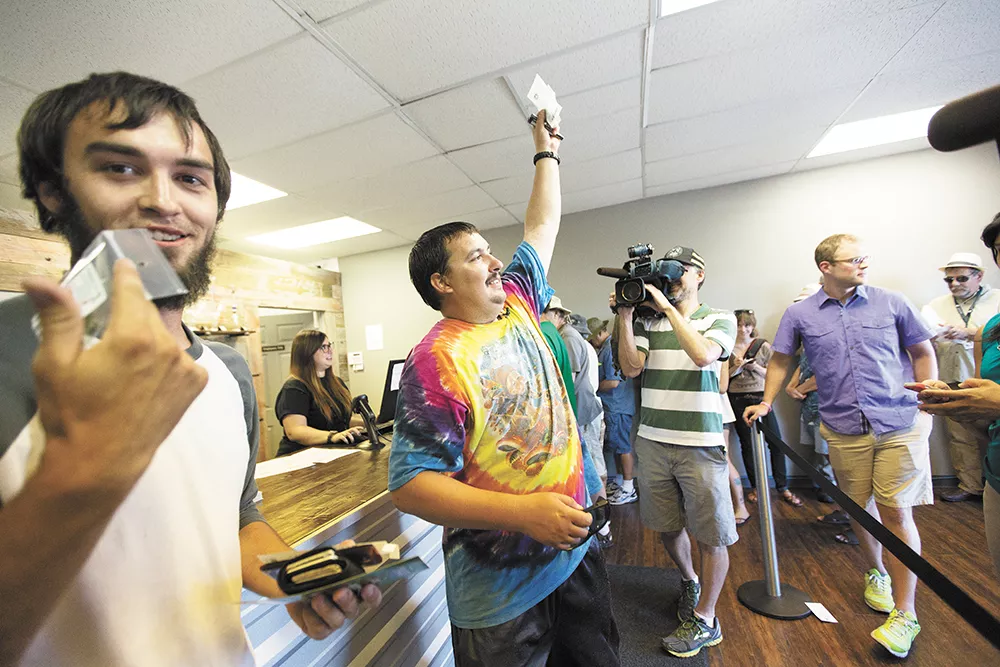 It's been seven long months. Recreational marijuana dispensaries opened their doors July 8, sparking a year of controversial and sometimes comical headlines. Nationally, voters in Washington, D.C., Alaska and Oregon legalized marijuana — in varying degrees — but in light of the new year, and what's undoubtedly to come, here's a look at the biggest local weed headlines of 2014.
Total sales
About $64 million of pot has been sold since July, and Washington state has collected about $16 million in excise taxes, according to the Liquor Control Board. These figures do not include December sales.
Line of fire
Spokane's first legal pot purchaser, Mike Boyer, claimed to have lost his security guard job as a result of the fame and headlines. His story went viral, and he has since been offered his job back.
Green party
In October, city council member Karen Stratton told the Spokesman-Review she was operating a marijuana farm in Spangle.
Top five
Spokane Green Leaf on Country Homes Boulevard sold $1,452,252 of marijuana, making it the fifth-highest grossing retailer in the state. Farmer J's of Spokane Valley sold $1,249,227 of marijuana, making it the second-highest grossing grower in the state.
Kettle Falls Five
The highly anticipated federal medical marijuana trial against the the group dubbed the "Kettle Falls Five" was postponed to Feb. 23. Federal agents charged Larry Harvey and others with illegally manufacturing marijuana after spotting his personal grow operation near Colville during an aerial search in 2012.
Spokamsterdam
Of the 320 licensed marijuana growers statewide, 54 percent are in Eastern Washington — 66 growers are in Spokane County alone.
Green potty
Rumors flew that Spokane city government was testing sewage for THC levels. The topic was offhandedly discussed in a late-September city council meeting where city and state leaders discussed ways to measure the effects of marijuana legalization. ♦