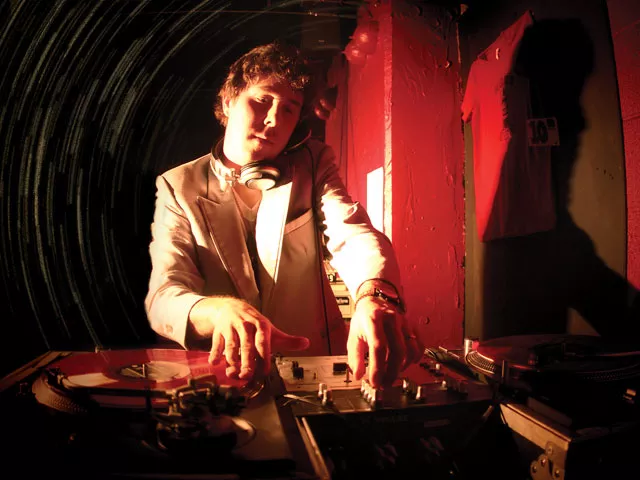 It's not news to any of you that James Pants is one kooky son of a bitch. But in his case, kooky is good. Kooky is great. And on his second record, released just a couple of weeks ago, Pants ups the ante. Seven Seals is the creepiest music you'll ever dance to — a record that in comparison to Pants' debut, Welcome, is downright macabre. But that's what makes James Pants so compelling. Sure, the man can rock a dance fl oor, but he can do it using some of the strangest, quirkiest music imaginable. We got on the phone with James Pants to talk about his new sound, his future plans and why he prefers Spokane to big cities.
INLANDER: So what the hell is going on in those videos you released before Seven Seals dropped?
JAMES: [laughs] Yeah. Well, both my parents are Presbyterian ministers. We've got a lot of Revelation-type books in the house. And basically [my wife] Kat and I have too much time on our hands, and we just thought we'd shoot some videos and kind of make fun of stuff. I've been into really creepy things lately, I don't know why. Strange music, weird movies…
This is a really dark record in comparison to Welcome — is that the direction you feel you're heading in?
I guess so. I'm working on one right now, and it's kind of even crazier than this one. Ultimately the fi rst record was real party-party stuff. I still like that but I got burned out on that stuff and playing shows like that. I've been a huge '60s weirdo psych music fan for a long time. And it's just much more fun for me to play stuff that I'm into listening to. It seems, in retrospect, that I should have been doing this all along.
Since you don't live in Spokane anymore, what's the status of the Royal Zodiac? I think I'll still definitely do stuff with them for larger shows. Hopefully we're doing Coachella this year, but I don't know.
Right now I'm in limbo land, out here in purgatory. I'm doing a one-man type show and I'm going to Europe from January to April.
Whoa, that's a long time.
Yeah, I took a job at the Red Bull Music Academy. It's pretty weird. My job description is "studio manager." So they have 10 studios that people can record in. Supposedly I'm just supposed to hang out in the studio and sit around and record, and people wander in and you tell them about it. I just make stuff and if people want to join in and collaborate, they can.
You're kidding me. You get paid to do this?
Yeah! It's pretty weird. You get a cell phone and money and they drive you around. They just get a bunch of people who are real serious about music together. Bigger names and smaller names like me. You just do whatever. There's nothing you have to do — you just record music. I'll be there half that time. I come home for a week and a half and go back over and do a tour of southeastern Europe.
Have you been playing in Colorado much since you moved there?
I played a show with Daedelus and then one in Denver, but not much. It's kind of a temporary move. We're down here for the winter, then we go to Europe. We're just down here at my parent's house [in Colorado Springs] and I took over my dad's offi ce. So I'm surrounded by wall-to-wall Presbyterian books. I'm trying to fi nish up a record before I leave for Europe, and thenwhen we get back, we're looking at coming back to Spokane — not Colorado.
I heard you had offers to play New Year's in other places than Spokane?
I did… yeah, in San Francisco and in New York. I was kind of hesitant, and then Spokane came up. The money might be better somewhere else, but it'll defi nitely be more fun in Spokane. James Pants plays with DJ Supervillain at the Swamp on Thursday, Dec. 31 at 9 pm. Tickets: $5. 21 . Call: 458-2337.
---
New Year's Eve Shows
Deadones USA, Lack of Respect, Laylah's Drink, Random Noise, Riverside Breakdown Deadones USA will front the bill — a band you can usually catch rocking around the Cretin Hop at least once a month. Over a decade old, this four piece hammers out an old school, Johnny-Joey-Tommy-Dee Dee sound better than most punk rock outfits in town. The Blvd. 9 pm. $7. 21 .
Rutah, Doom Lit Sky, the Drip Are you pretty pissed about how bad 2009 was? Let Rutah and Doom Lit Sky, two of Spokane's heaviest metal outfits, blast your face and eardrums into oblivion. That's one way to forget. Mootsy's. 9 pm. $5. 21
Nu Jack City We're not classy, but maybe you are? For a more upscale New Year's affair (than, say, just having beers at Mootsy's), buy one of the New Year's packages out at the Mirabeau Hotel, complete with a performance by Spokane Valley favorites, Nu Jack City — a danceable, Motown-esque group. MAX at Mirabeau Park Hotel. 8 pm. $25.