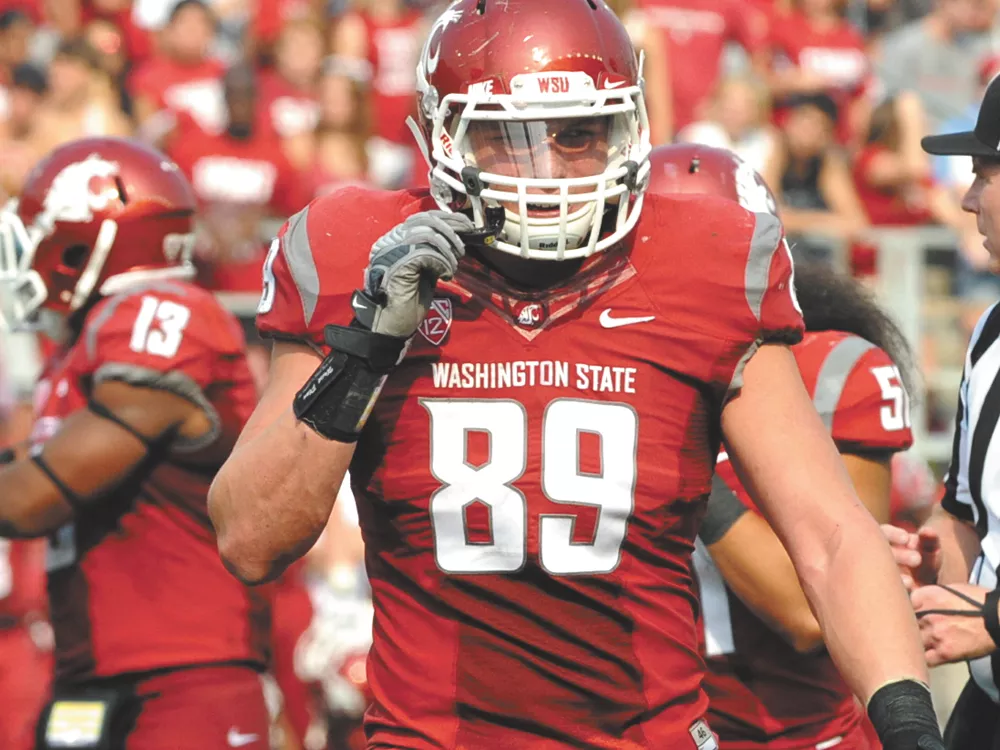 Travis Long has started in more losses than any football player in Washington State University history. Considering that intercollegiate football has been played on the Pullman campus since 1893, Long's "achievement" was not easily accomplished.
Of course, no one familiar with Long regards the former Gonzaga Prep standout as anything but a winner. Win or lose, hot or cold, home or away, Long has started and played ferociously in all 47 games — and 38 losses — the Cougars have played since he arrived in 2009.
"You won't find another guy like him around," WSU quarterback Jeff Tuel says. "He's one-of-a-kind, in this program especially. He really expresses his emotions and leads by his actions tremendously. Doesn't take crap from anyone. Isn't afraid of anyone. Will stand up for his beliefs and what is right.
APPLE CUP
Washington State
( 2-9 overall, 0-8 Pac-12)
vs Washington (7-4, 5-3 Pac-12)
Friday, Nov. 23 at 12:30 pm
Martin Stadium, Pullman
TV: FOX
Visit wsucougars.com for ticket availability
"I
wish we had more guys like him on this team," Tuel adds. "He's really been a role model for a lot of the younger guys and [other] people on this team."
Long, who moved to buck linebacker (a combination linebacker-defensive end) this season after three years at defensive end, made the position switch look easy. The 6-foot-4-inch, 245-pound NFL prospect has career highs of 61 tackles, 13 tackles for losses and 9.5 quarterback sacks. He's a lock to earn All-Pac-12 Conference honors of some sort as the Cougars prepare for a home Apple Cup on Friday against visiting Washington.
"Travis Long is probably one of my favorite guys in our conference that's not on our team," Stanford coach David Shaw says. "That guy plays hard."
"Great effort, great mentality," WSU coach Mike Leach says of Long. "The type of guy who kind of personifies what we're after, the mentality that we need the whole team to share."
Leach has been criticized in some circles for his harsh public criticism of players, but Leach has repeatedly praised Long for his effort and performance.
When Leach ordered a long, grueling conditioning session less than 24 hours after an embarrassing 49-6 loss at Utah earlier this month, Tuel says Long was the one player he would single out for extraordinary effort at the workout.
"He's screamin' and hollerin' for more … you're not going to get to that kid," Tuel says.
Long is quite intelligent — he's scheduled to graduate in December with a degree in business management operations — but he's often rather understated during interviews.
On the post-Utah workout: "Just a little conditioning. We just had to get through it."
On Leach's claim the Cougars didn't put out enough effort at Utah: "We have to take it for what it is. We have to give better effort."
On Washington State's disappointing season in Leach's first year: "I don't really know if I can pinpoint a specific reason for that. It just kind of happened."
Long did loosen up a bit when he discussed his first college interception at Utah.
"When I got tackled, that's probably when I realized, 'Oh, I just intercepted the ball. I haven't done that since high school,'" Long says with a laugh.
Long, ever the team player, hastens to point out that he "didn't get too enthused" about his interception. After all, the Cougars trailed 24-0 at the time.
He says he's not certain, but Long believes he's missed just one football game in his life. His family was stranded in Hawaii when air travel was interrupted after 9/11, so he may have missed the season opener when he began playing football in fifth grade.
Long turned down scholarship offers from Boise State, Oregon State and Montana. All those schools have enjoyed far more success than the Cougars the past four years, but Long says he's happy in the Palouse.
"I love Pullman and I love Washington State," he says. "Obviously, I haven't won as many games as I wanted, but just the experience — I don't regret coming here."