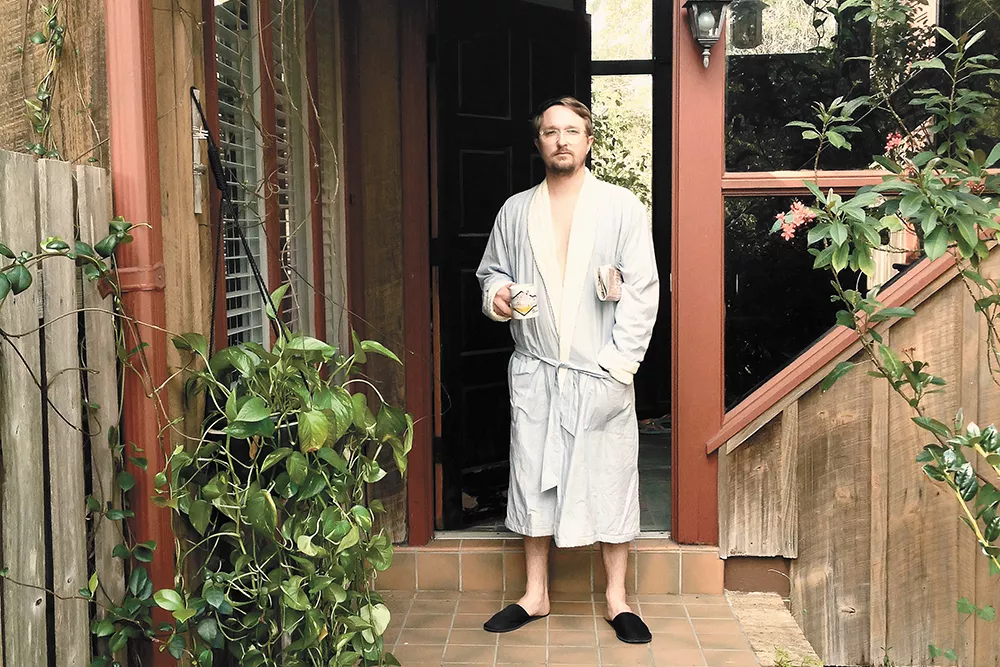 Whenever Seattle singer-songwriter Chris Staples hits the road, it's rare for him to perform in theaters, clubs or bars. Instead, you'll find him playing in peoples' living rooms, with an audience of 40 or 50 folks sitting mere feet away from him.
He talks about "the psychological effect that a space can have on you," as related by Talking Heads frontman David Byrne in his celebrated book How Music Works: A smaller, more unconventional venue can actually make an intimate song seem bigger and more powerful.
"If you go to a bar that you've been going to every Friday night for 10 years, there's something less special about that to me," Staples tells the Inlander. "At a show in a club, if there are people talking in the room, it kind of negates the possibility that somebody could actually absorb the music that's playing."
Staples returns to Spokane this weekend, playing selections from his brand new album Holy Moly in a Browne's Addition-area living room. Tickets for Saturday night's show are obviously limited, and the location of the show will be sent to you after you make your purchase.
The album itself, released just two weeks ago, was a year in the making, a prolonged recording session that left Staples with a collection of 60-plus songs he then whittled down to the 10 tracks you hear on the LP. It's not atypical for him to work as a one-man band, tinkering in the studio he built off his garage, and while he'll be part of a four-piece band on this current string of shows, he normally plays alone.
"It can be hard managing people, and how they're feeling the song," Staples says. "Sometimes I just get impatient. I think of a song and I just need to get it done now. ... If I have a new song and I'm recording it, the clock's ticking on me getting bored with it at some point. I need to finish it while I'm still stoked on it."
It's also an approach that matches the personal and existential subject matter of his songs — living in an ever-changing Seattle, finding sobriety, reconnecting with friends from your past and picking up where you left off. Holy Moly also features several reflections on the gamble that is dedicating your life to the arts, and both the challenges and unexpected pleasures of following your passion. The album opener "World on Fire" describes the immediacy of live music and the spontaneous bliss of stumbling upon a new favorite band ("Everybody knows the world's on fire / But for the moment, we forgot"). On the flip side, "Horse and Saddle" explores the frustrations of working artists, illustrated via the metaphor of a painting that doesn't turn out the way you had hoped.
"There's the expectation that you should be joyous all the time, because you're doing something that you love," Staples says. "But it can be demoralizing, and you can get discouraged really easily. But you just have to keep doing it, even when it isn't fun."
Staples says he wanted Holy Moly to be a more honest document than his past albums, for the lyrics to be more direct, to "hide behind less abstract language."
"I think it shares DNA with my other records," he says. "It has a lot of bedroom songs, as I call them."
Or, perhaps more aptly, living room songs. Staples works with the company Undertow Shows, which specializes in house concerts and also books small-scale gigs for Clap Your Hands Say Yeah, John Vanderslice and the Cave Singers. Staples says a tour typically involves him setting up a designated schedule, then putting out a social media call for hosts. It's an unusual method, perhaps, but it pays its dividends — both literally and figuratively: There's less financial overhead than when playing traditional concert venues, and it's often more artistically fulfilling.
"Sometimes it's hard to move a club full of people with these intimate songs. I feel like the music comes across more directly, or it's more suitable for the space," Staples says. "I feel like I've made more friends doing house shows. I'm used to coming home from tour feeling exhausted, but when I come home from these [house show] tours, I'm totally excited about music. Rejuvenated, basically." ♦
Chris Staples Living Room Show • Sat, July 13 at 8 pm • $20 • All ages • Downtown Spokane; address will be sent after ticket purchase • undertowshows.com