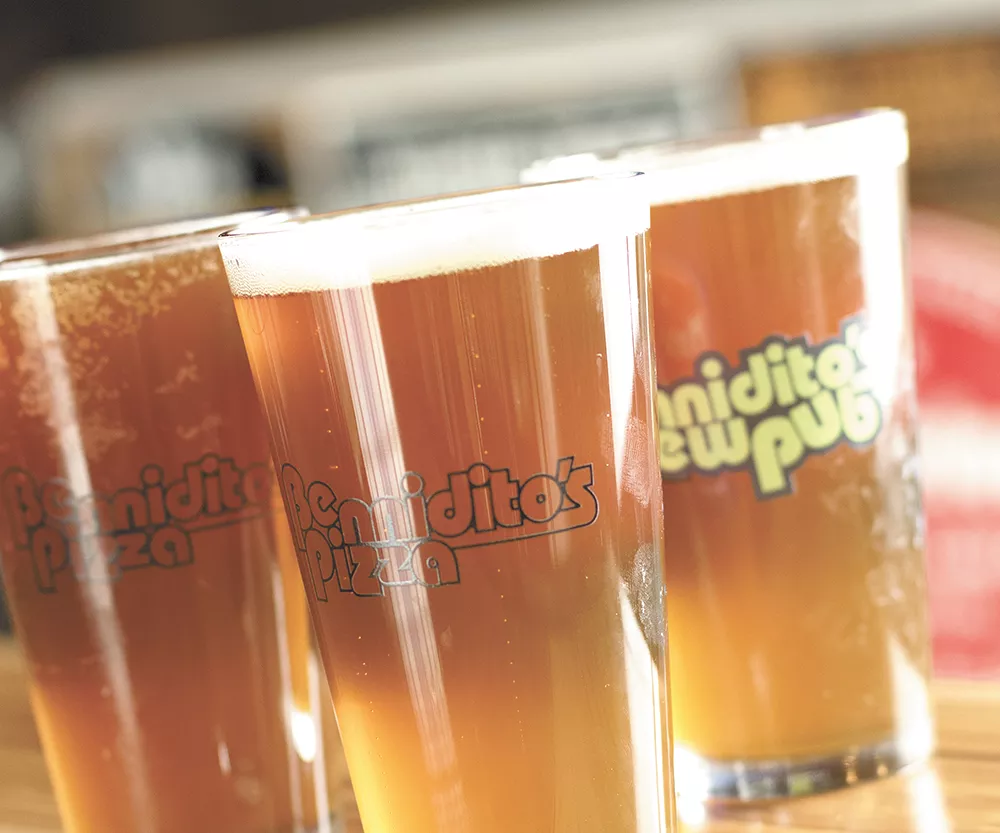 Chris Bennett took the long road to establishing a brewery.
The longtime owner of Bennidito's Pizza on the South Hill, Bennett was toying with the notion of brewing his own beer after more than a decade of selling a well-curated tap list in his pizza shop. Then a regular customer of his turned out to be a veteran brewer, and the plan started to move forward, albeit slowly. But now, after about five years of starts and stalls, Bennidito's Brewpub on East Sprague Avenue is a reality.
"There were times when I just wanted to sell [the brewing equipment] and move on," says Bennett, who owns the business with his ex-wife Sigrid Bennett.
The process included a Garland District space that Bennett thought was going to be the perfect home for his brewery, only to see it fall through; then there was slowly paying for a fermenter from Seattle's Schooner Exact Brewing. In preparation for the brewery, Bennett also closed the Northside Bennidito's.
That regular, Zach Shaw, began his brewing career with Pacific Hop Exchange in Northern California back in 1992, a time when the craft beer industry was a shadow of its current state. Shaw eventually left the business by the late '90s to work for a wine company, and hadn't fired up a mash tun since then until he began brewing last month for Bennidito's. He's using some old recipes from those early days in a beer market that's changed drastically since Shaw began his beer-making career.
"In some ways, I want to get back to the old days. That means beers being 70 to 80 IBUs (International Bittering Units) that still have big flavors," says Shaw, a to-the-point guy who declines to give his age, because "age is just a number," adding that three generations in his family goes back 300 years, for whatever that's worth.
For Bennett, whose South Hill spot is known to keep some exceptionally hoppy beers on tap, the idea of brewing high-gravity, high-IBU beers wasn't necessarily a priority for the brewpub side of his business.
"I've been selling beer for 15 years myself and have watched [hoppy beers] become the big thing, but that's changing," says Bennett.
Shaw adds that relying on hop bombs as the cornerstone of a brewery's beer lineup can be a way to paint yourself into a corner.
"My old friends [in the beer industry] wish they could start dialing back the alcohol, but their market is so established that they're stuck with what they've got," he says.
Currently, the brewpub is offering three beers — two IPAs and a pale ale. The beers are similar in style and color, but all are perfectly sessionable for this summer's punishing heat. As promised, the most potent, the Tin Roof IPA, is tops out at 6.0 percent alcohol by volume. The Checkerboard Pale Ale, named after the beloved Checkerboard Bar, just up the street from the pub, is the crispest of the initial offerings.
While staying away from big-hop beers is part of Shaw and Bennett's aim, Shaw says he's not ruling out some big beers, including a variation on a barley wine, a winter ale and a few other ideas he's still kicking around. Don't expect him to offer any Belgians or sour beers, neither of which Shaw has much patience for.
The interior of the pub — created by Dave and Cody Coombs, a father-son team who were also behind Perry Street Brewing — is deftly modern and replete with wood and aluminum finishes throughout the mostly open space, including a lengthy, winding bar that takes up most of an entire wall. If you need a lesson in the first wave of Spokane brewing history, there are photos on the wall of historic beer-making operations to get you caught up.
Those not familiar with this slowly gentrifying neighborhood will find the brewpub as a sort of hip oasis in a very old-school stretch of Sprague lined with storefront churches and mom-and-pop shops. The brewery, its owners hope, will be a reason for beer lovers to venture out just a couple miles from downtown for something a little different.
Once inside Bennidito's Brewpub, there's plenty of familiarity, especially when it comes to the menu. Yes, they do have the famous beer buddies — doughy, butter-and-parmesan-topped balls of goodness you can dip in marinara or other sauces — and the pizzas also made the trip over. The only difference is that the pies all come in 15-inch versions.
Shaw and Bennett have a lot of plans for the future of the brewery, including an array of experimental beers (nothing too fancy, though, Shaw says) and have entertained the idea of distilling whiskey. For now, Shaw is getting settled back into the brewing industry, which isn't too different than hopping back on a bike, he says. There is one key difference, and one that plays in his favor.
"It's so much easier to brew beer these days, because there are people who will drink it," he says.♦
Bennidito's Brewpub • 1909 E. Sprague • Open daily, 11 am-10 pm • facebook.com/BenniditosBrewpub1909 • 290-5018