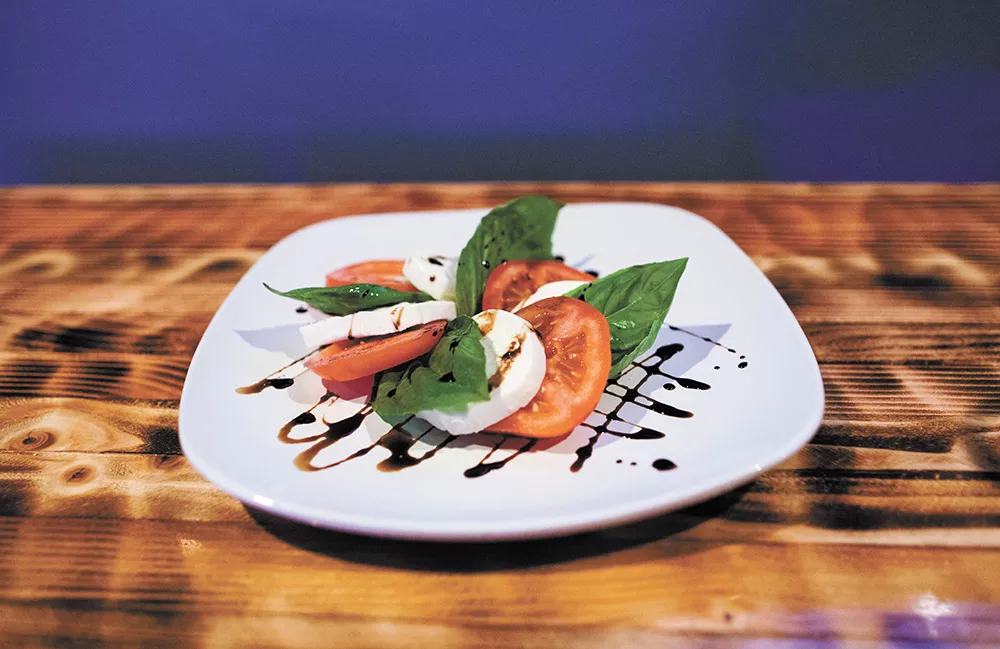 Chef John Leonetti knows, as most do, that everything tastes better with bacon.
Since graduating from culinary school in Portland more than 10 years ago, Leonetti has worked to perfect his candy-coated bacon recipe to achieve the perfect melding of sugary sweetness with bacon's fatty, savory flavor. Now as the chef-owner of the newly opened Prohibition Gastropub on North Monroe Street, Leonetti garnishes nearly every dish (save for a few salads and appetizers) on the menu with his signature bacon, coated with sugar and cooked in a top-secret method.
"Everyone is putting brown sugar on bacon, and I wanted to make it more crystallized, so I don't use brown sugar at all," he explains.
Prohibition's bacon is one highlight of the restaurant's classic gastropub fare, a menu of burgers, sandwiches, salads and savory, indulgent appetizers. Leonetti also makes his own beef patty mix for Prohibition's burgers, adding an unusual ingredient alongside the seasoning: coffee grounds.
"[The grounds] keep the juice inside the burger, so it doesn't matter if it's rare or well-done, the burgers are always going to be juicy because of the coffee grounds," he says. "Every chef, we try to set ourselves apart with any style of cooking. With the coffee-infused burgers, it's my signature of being bold and brash."
The coffee grounds, paired with spices, bring out the earthy flavor of the beef patties on the Al Capone burger ($11.50), served with a fried egg, and the Bootlegger burger ($10.50), which adds blue cheese.
Speaking of cheese, Leonetti has crafted a recipe for blue cheese lasagna ($10.50), layers of chicken and pasta with a creamy white garlic and blue cheese sauce.
In the bar, the focus leans toward whiskey, bourbon and scotch, but also features several local and regional beer tap handles and regional wines.
Leonetti and his wife, Jill, opened Prohibition on Oct. 31. It's located just north of the intersection of Monroe and Indiana, in the building that most recently housed Webster's Ranch House Saloon and before that, Working Class Heroes Bar & Grill. The Leonettis, who owned a local catering business, bought the building to realize their longtime dream of opening a restaurant. That venture, J and J Catering, is on hold for now while they focus on Prohibition. The couple's long-term hopes are to open additional restaurant locations around the Spokane area. ♦
Prohibition Gastropub • 1914 N. Monroe • Open Mon and Wed-Sat, 11 am-11 pm; Sun, 10 am-10 pm (closed Tuesdays) • facebook.com/Prohibition.Gastropub.Spokane1/?fref=ts • 474-9040