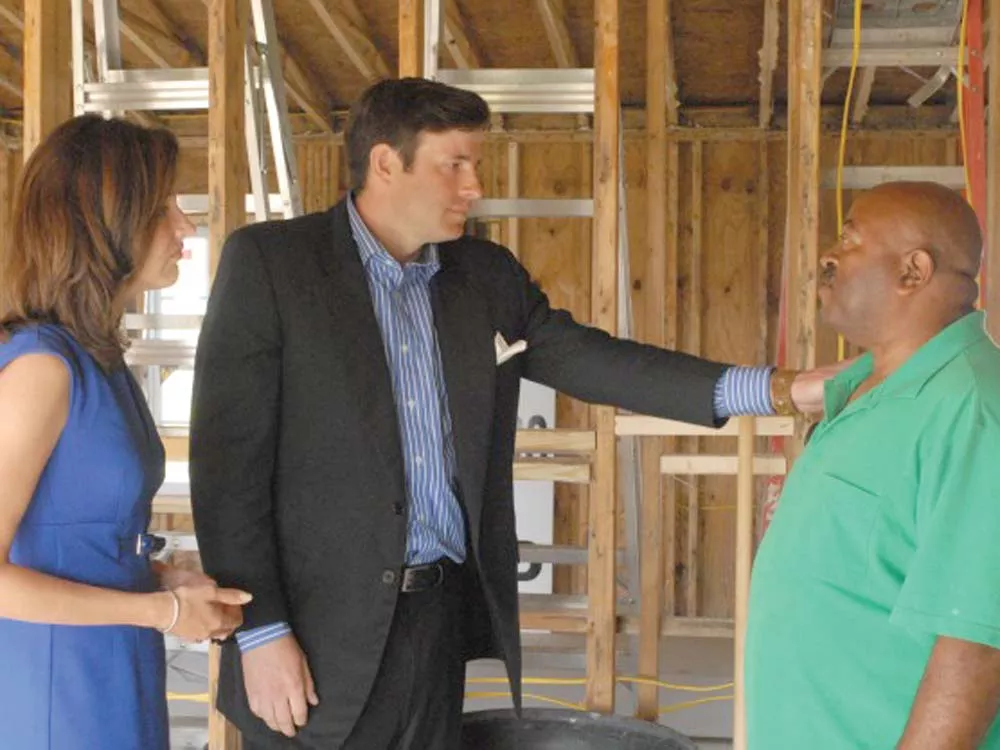 You had us at "Rags to Riches." And I don't just mean "us," I mean "U.S." It's charming that even as the rights of our working class are being decimated by those with political and financial means, we still have an idyllic obsession with being one of them: rich. We fantasize about all the good we'll do when we are. It's no surprise that ABC's latest schmaltz-fest, Secret Millionaire, has been so well received.
In fact, Secret Millionaire — with higher ratings than all the reality and scripted shows in its time slot — came in seventh place for the week.
Part of its success is due to the time slot — Sunday at 8 pm, which is usually filled by Extreme Makeover: Home Edition. Those loyal viewers have grown accustomed to an hour-long dose of artfully produced, dramatic, very public do-gooding. Secret Millionaire doesn't disappoint.
Wikipedia defines "rags to riches" as "stories that give the poor hope that they can rise to fame and wealth. They are most popular in societies such as the United States, where confidence in the ability to move between social classes is an important part of the national identity."
Cue Dani Johnson, the pretty, buxom blonde walking confidently through the streets of a Knoxville ghetto, Western Heights, having parked her borrowed, crappy '80s sedan.
Johnson is a "self-made millionaire." (This is key! We're not inspired by people who are born rich, because that doesn't offer us any hope.)
Johnson explains that she "started a business from the trunk of my car and a telephone booth," implying that any of the women she's about to meet could, with hard work, do just the same thing. So which one will it be? The mother of five with bad teeth or the mother of nine with pretty fingernails?
The fake, temporary relationships formed between the millionaires and the people they meet during each six-day stint somehow come off as authentic and moving, mostly due to the earnest, hard-working citizens to whom the show condescendingly refers as "the real heroes."
And the presentation of the checks? Great TV, but not enough payoff. We may be dreamers, but we're pragmatic: The amounts they're giving seem generous but will realistically only cover costs for the next year.
But the show did get "The Love Kitchen" co-founders, 82-year-old identical twins Ellen and Helen, a spot on Oprah. Which is another of our collective fantasies.
Secret Millionaire (Sundays, 8 pm, ABC)

---
TIVO-WORTHY
Coming Home
Forget the terrible theme song and whether you watch the show's lead-in, Army Wives. If this is a way to honor my troops, then I can do it. You will be moved enough by the scared, proud wives, the sweet kids and their brave daddies, to forgive the silly host and his grandstanding. If you don't want to cry, don't watch this show. (Lifetime, Sundays, 10 pm)

After Lately
Comic Chelsea Handler plays to the other part of our psyche: There's not a sappy bone in her body. After Lately is a "mockumentary" — a scripted sketch that pretends it's unscripted. As we follow the staff of her brash late-night talk show, Chelsea Lately, we see why Handler is rich and famous: She's surrounded by funny people. (E!, Sundays, 11 pm)

Dancing with the Stars
The 12th season couldn't possibly be trying to suck me in more: My generation's welterweight champion, the "Karate Kid" and Rebecca from Cheers? Get out! Expect self-deprecating body humor from Kirstie Alley and references to victory and defeat. So glad no one else from Sarah Palin's family is trying to dance. (Mondays, ABC, 8 pm; live two-hour premiere, March 21)