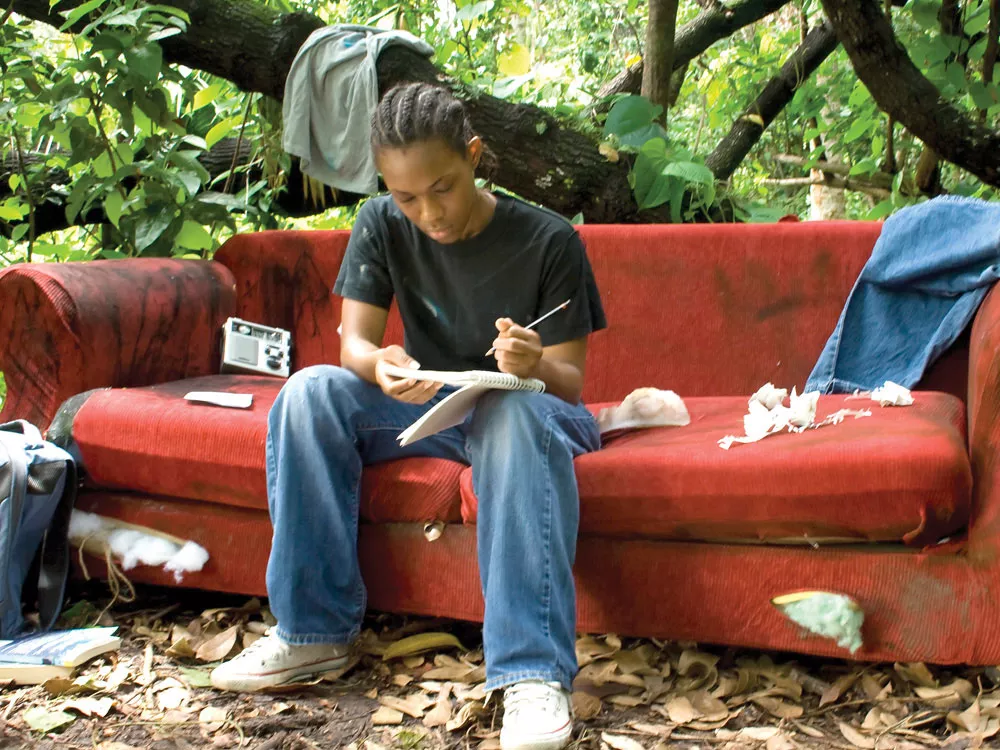 It isn't always about glitter and rainbows or the six-inch spike of a drag queen's pumps. The harsh reality is, sexual assault happens. Gender reassignment surgery can tear a family apart, and some people face violence when they pick up a flag at a gay pride parade.
Spokane's 12th annual Gay, Lesbian, Bisexual and Transgender Film Festival covers the spectrum of issues within the gay/queer community. The festival's combination of shorts and feature-length films are mashed into a three-day weekend that is uplifting, horrifying and a bit sexy. Barb Lee, the festival's programming director, spoke with The Inlander to tell us what it's all about.
INLANDER: Why was the festival founded in Spokane?
LEE: We just wanted a film festival. We wanted to have something outside of the bar scene that people under 21 could attend and meet other people in the community.
How does the committee select the featured films?
What we worry about is minorities within the gay and lesbian community. So in our selection process we try to be as diverse as possible. Other cities have only boy films or only girl films, but we make it a point to avoid that. It's easy for parts of the community to get isolated from one another and we kinda want everyone to have the chance to see everything that's going on.
What film is the committee excited about this year?
This year we have a film called Holding Hands, which is about a gay couple that gets brutally beaten for walking down the street. The film details a very dramatic case of gay bashing, but it also shows what happens to those two men as a couple, and that's very important. This film received our John Dean Award (former owner of the Stonewall Newspaper) because it highlights a human rights issue.
There's also a local film this year?
Yes, Two Spirits is a film out of Montana. The film was funded by the Pride Foundation and it's very well put together. Farand Gunnels is a Spokane man and tribe member of the Two Spirits Society as a Crow Indian. He will introduce the film and answer questions afterwards.
FILM HIGHLIGHTS
FRIDAY, NOV. 5, 7PM
Dear Dad Love Maria (5 min): Follows a young trans woman, writing a letter to her disapproving father the night before her gender reassignment surgery.
Blue Covers (4 min): An emotional and psychological journey that examines the effects of sexual trauma.
Swimming (7 min): A romantic musical about the music of folkrocker Gretchen Phillips.
Beyond Gay: The Politics of Pride: Follows Vancouver, B.C.'s pride parade director as he encounters homophobia and violence in Brazil, Moscow, Sri Lanka, New York and more.

---
SATURDAY, NOV. 6, 3PM
Remember Me In Red (16 min): The struggle between family and friends over whether to bury a deceased transwoman as male or the woman she wanted to be.
Tracks (25 min): Follows the story of two young girls who fall in love for the first time.
Living Two Spirits: Montana Gathering (9 min): Reveals the Native American culture behind people with two spirits, or two genders, within one body.
Triple Standard (20 min): A homophobic basketball star is forced to face the reality that he's gay.
Skinnyfat (40 min): A lanky man is convinced he's overweight and goes to great lengths to lose weight before his next date.

---
SATURDAY, NOV. 6, 7PM
Believe It (7 min): A hybridization of film, dance and documentary exploring the relationship between Christianity and homosexuality.
Tech Support (9 min): A young woman recently dumped by her girlfriend gets special attention through tech support.
Door Prize (7 min): Tells the story of a trans woman for whom public restrooms are always an adventure.
Olivia (8 min): A girl seduces her crush in the bathroom.
Holding Hands (65 min): A gay couple was brutally attacked in the heart of gay Sydney, Australia. The documentary tracks the aftermath of the assault and the far-reaching effects of homophobic violence.

---
SUNDAY, NOV. 7, 3PM
510 Meters Above Sea Level (17 min): Simone is connecting through a small airport in Switzerland on her way to her son's funeral. She misses her connecting fight, but finds something she never expected.
All That Sheltering Emptiness (7 min): Follows the erotic and mundane routines in the life as a New York City call boy.
You Should Meet My Son (86 min): A comedy about a mother's quest to find Mr. Right for her gay son.
---
GLBT Film Festival • Fri-Sun, Nov. 5-7; Fri 7 pm, Sat 3 pm and 7 pm, Sun 3pm • $5-$21 • Riverpoint Campus, EWU Auditorium • 668 N. Riverpoint Blvd • http://www.spokanefilmfest.org • 509-216-0366