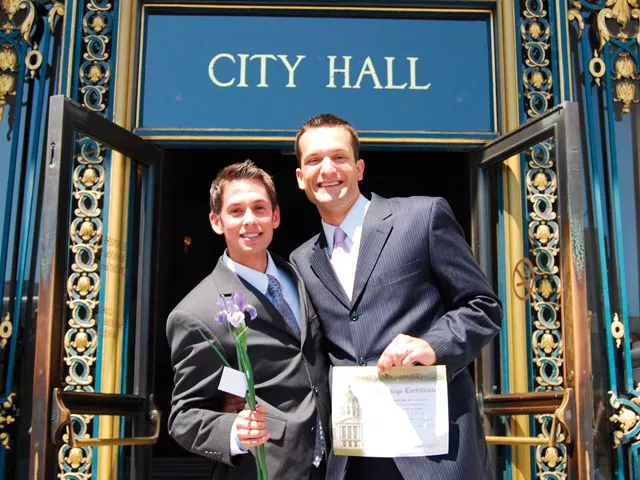 For the most part, 8: The Mormon Proposition isn't a revelatory film. You get mostly what you expect: a quasi- David and Goliath tale in which the LGBTQ community, a social and political underdog, loses to the moneyed, influential Church of Jesus Christ of Latter-Day Saints.
Marc Peyser of Newsweek criticized the predictability of the film's message, writing, "[I]n the Michael Moore era of documentaries, the audience is always preselected, so the film might as well play to the crowd."
I'm somewhat inclined to agree. Certain elements of 8, like the obvious cinematographic discrepancies between how the LGBTQ community and its allies
are treated compared to the anti-gay Mormons — filmed in bright vs. bland colors respectively and clumsy graphics (e.g., cartoonish money raining down on a Mormon temple) detract from its overall effectiveness.
But despite its heavy-handedness, 8 does more than pander to bleeding-heart liberals.
It raises real questions about whether religious organizations should be held accountable for the money and manpower they pump into political campaigns. For instance, according to internal church documents and messages examined in 8, the Mormon church meticulously plans and actively fundraises for anti-gay political action.
The conservative National Organization for Marriage? Pretty much a Mormon front organized to keep the church out of the limelight. The $22 million Mormons across the country donated to the campaign against Prop 8? Pretty much demanded of parishioners in a message from the Mormon Prophet Thomas Monson.
Critics might say all the footage of gay and lesbians couples and allies crying and reiterating how "this is about love" seems calculated to melt viewers into a puddle of sympathetic tears.
Actually, this is 8 at its best. According to the documentary's website, director Reed Cowan intended to make a film about the high rates of teen homelessness and suicide in Utah before changing focus. The idea was to highlight the damaging anti-gay ideology inherent to Mormonism by concentrating on the campaign as a "cornerstone" of that ideology.
The negative effects of homophobia in the Mormon church are portrayed most powerfully in two examples. One, a gay couple is deeply hurt by the hate heaped upon them by their Mormon family members. Another, ironically composed of elements of the abandoned original documentary, chronicles homeless gay teens and former Mormons who attempted to commit suicide because they are LGBTQ.
One of the more poignant moments in 8 occurs when Fred and Marilyn Matis are quoted from In Quiet Desperation: Understanding the Challenge of Same-Gender Attraction, a book they co-authored to present a pro-Mormon response to their son Stuart's suicide. In it, they say their son's death was a relief.
Though it's not groundbreaking, 8's message is fairly strong: the church encourages a hate so powerful that some Mormon parents would rather their children die than be gay.