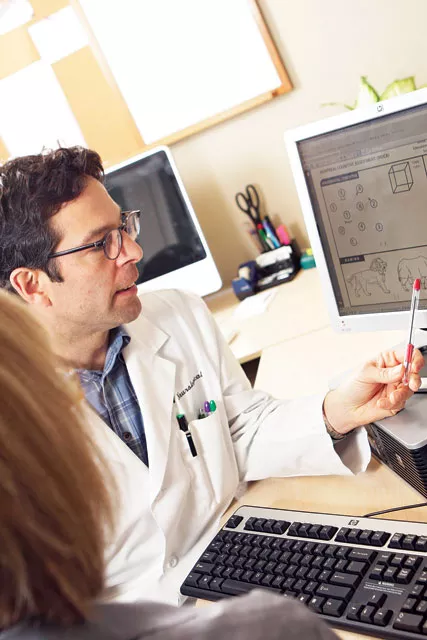 Pop quiz: What's your name? What's today's date? Other than shark, what are four creatures beginning with S? Why is a carrot like a potato? How long can you remember the phrase, "Good Citizens Always Wear Stout Shoes?"
To the average adult, it's not a tough quiz. At least, it shouldn't be. But for an adult suffering from Alzheimer's, it's a very tough quiz indeed. They may score only one out of 35 points.
The "Test Your Memory" exam, from which the questions above were excerpted, is a way to test for Alzheimer's from Addenbrooke's Hospital in England. ("Who is the Prime Minister?" one question reads.) Addenbrooke's has come out with an abbreviated self-administered version of the TYM.
In a clinical trial of 639 patients — some without memory problems, some attending a memory clinic for treating dementia — the short version correctly detected the dementia patients about 93 percent of the time.
That's far better than the current testing method, the Mini Mental State Examination. That exam took eight minutes, could not be administered by only one person, and only correctly identified 52 percent of those with dementia. Oh, and many neurologists absolutely despise it.
"The Mini Mental State Exam is garbage," says Spokane neurologist David Greeley. "By the time somebody fails it, they have had dementia for year. It's not very sensitive." The test, Greeley explains, is far too easy to pass. It doesn't detect dementia until it's very, very serious. Plus, it's used for the same patients multiple times, allowing patients to learn (or be coached by family members on) answers they should know off the top of their heads.
Yet, currently, the Mini Mental State Exam is the only test used by insurance companies and pharmaceutical companies. After all, insurance companies don't want to pay for dementia treatment if they don't have to.
Joel Loiacono, executive director of the Inland Northwest Chapter of the Alzheimer's Association, has had family members with Alzheimer's. He says you can't just test patients with the basic screening and then call it good. A positive test result from the TYM exam will usually only give you a general, possible result: dementia.
"Well, it's dementia," Loiacono says. "That's like saying, well, it's cancer. What type of cancer?"
Alzheimer's is but one type of dementia. Too often, Loiacono says, doctors aren't willing to probe deeper.
"Too many times," Loiacono says, "what we'll hear is a physician might say, 'Well, you know he's 85 years old, what do you expect?'"
After giving the TYM or the Mini Mental State Examination, doctors should refer patients to a specialist.
Spokane neurologist Brian Campbell says they'll run a battery of more intensive tests. Some are psychological — measuring personality, concentration, and problem-solving skills. He'll test their memory of images and memory of sounds, immediate memory and delayed memory. He may run an MRI or a CT scan.
Alzheimer's is irreversible. But not all memory loss is.
"Make sure the physicians are leaving no stone unturned as far as reversible causes of dementia," Campbell advises patients and their families. "Dementia is a diagnosis of exclusion."
Memory loss, says Campbell, can be caused by cancer, metabolic disorders, brain trauma, heavy metal poisoning, infection, autoimmune disorders, vitamin-B-12 deficiencies, sarcoidosis, schizophrenia or even a urinary tract infection. Then there's pseudo-dementia. All those can be treated with medication.
And sometimes, medication itself can be the problem.
Certain statin drugs, and certain drugs that can treat depression, heart conditions and allergies may have memory loss as one of their side effects.
But with enough time, and enough expertise, doctors can usually discover the issue.
"Physicians who know what they're doing can give a probable diagnosis with 85 to 90 percent accuracy," Loiacono says.
And, maybe, with the advance of technology, that accuracy will get even higher. Campbell discusses the potential of using volumetric MRIs. Measuring the size of the hippocampus, Campbell explains, has been shown to predict whether a patient is likely to ever get Alzheimer's.
So while the march of Alzheimer's can't be stopped, it can be slowed. The sooner it's discovered, the sooner the patient can begin the medications that help slow the disease's progress.