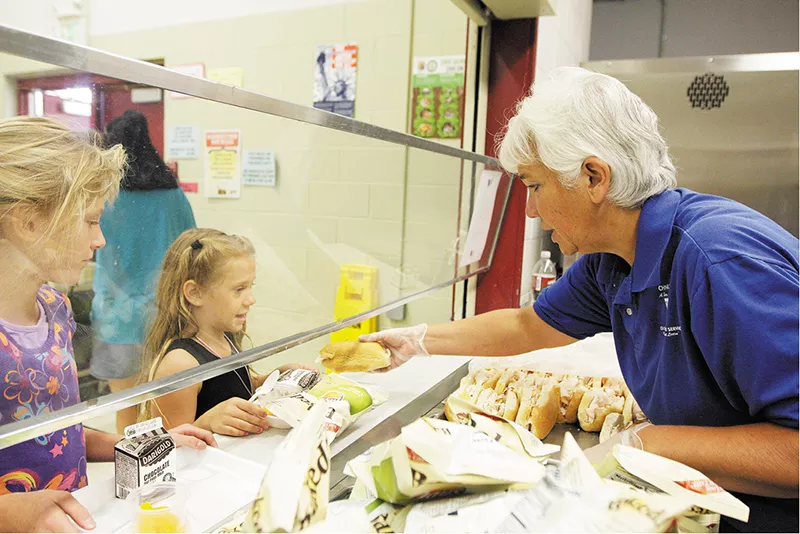 There are no lobbying groups for broccoli. Green pepper farmers can't afford ads on the Disney Channel. And when the USDA mandated changes to school lunches this year, they didn't include a budget for marketing. Too bad, because transforming children's tastes and preferences is a tough sell.
"The fruits and vegetables are available so that students can taste them and see if they'd consider trying something new," explains Molly Berg, who is accountable for the lunchroom and kitchen at Spokane's Jefferson Elementary School.
"There are so many exciting new colors and textures," explains Berg. In fact, 75 new, healthier foods were added to Spokane Schools' menu options in the 2012-13 school year. "We want to help kids have a sense of adventure when it comes to fruits and vegetables, but you cannot make anybody eat anything that they don't want to eat," Berg says with exasperation, recalling a recent, nearly untouched batch of "gorgeous" carrot raisin salad.
Policing the choices elementary children make in the lunch line has been an unintended consequence of the USDA's "Healthy, Hunger-Free Kids Act." As part of this year's dietary requirements, students must take at least one fruit and one vegetable from the salad bar.
"You have to make it cool," asserts Terry Perry, who helps run WSU's Food Sense program, which partners with nutrition services programs to champion healthier diets and lifestyles.
"Students don't care if we tell them eating carrots supplies them with a healthy dose of beta-carotene and vitamin A, which helps eyesight," she explains. "We tell them 'These are X-Ray-Vision Carrots!' "
In fact, baby carrots — specifically, Bolthouse Farm baby carrots — are one of the few vegetables that have actually been represented by a major advertising agency, using what works: videogame imagery and fancy packaging.
After one campaign utilizing TV, shelf signs, school vending machines and a catchy slogan, "Eat 'em like junk food," baby carrot sales rose 11 percent.
Left with no-cost strategies, however, "it takes 12 to 18 exposures — what parents call 'no, thank you' bites — to adjust to different tastes," says Spokane Schools' Nutrition Services Director Doug Wordell. "Almost all tastes are cultural and learned," he says, "and changing children's preferences and behaviors will take a few years."
Both Wordell and Perry accept the necessity of selling healthy, and point to the success of Shaw Middle School's experiment with fruit and vegetable rebranding.
Using the concepts from the national nonprofit Smarter Lunchrooms, a group of students is pushing leaner, greener lunches.
"The premise is that as you place, market and promote certain healthy foods, display them differently and perform taste tests," you'll have more buy-in, explains Wordell.
Over at the Cheney School District, they're relying on customer service, passion and perseverance to build healthier habits.
"We promote, we educate, and we're happy about it," says Nutrition Services Director Brian Levy. "We have to make it really positive, like 'Look how awesome these lentils are! And they were grown an hour from here!' It involves treating the students as customers, and the work is constant," he says. "We're not going to change their palates quickly."
With the help of an Empire Health Foundation grant, Levy's schools started scratch-cooking and eliminating fat and sugar this past school year.
The principal at Cheney's Sunset Elementary, Matt Beal, raves about the hot lunches, which he eats every day. "There are about 12 to 15 other staff members who also eat hot lunch, so part of it is modeling," he says.
"I think the big thing is that kids have to be introduced to foods, over and over, whether it's sweet potato fries, or lentils," Beal explains. "It is exploration; trying to figure out what's going to hook them."
He admits there was a lot of waste at the beginning, but enthusiasm and creativity have eased the program's growing pains.
"Our kitchen staff is amazing, especially the head chef. Just three of them — two working part time — feed 500 students scratch meals."
While the Empire Health Foundation helped set up the district's kitchens and paid for special from-scratch training, Cheney schools are staying within budget.
"As a businessperson, I try and operate as revenue neutral as possible… and we're right there," Levy maintains. "But even if we lost money, going back to scratch-cooking and taking out processed food and additives and preservatives is the right thing to do. Children's lives are worth the up-front cost."
Wordell knows all about up-front cost, and though he's spent most of this year on massive paperwork, analytics and staff support, he's also fostering a scratch-cooking program. He admits the task of reinventing meals has been "challenging and frustrating and crazy," but it's also exciting.
"We're going to figure out a way to make foods taste better and still comply. We have really creative people. We're figuring it out."