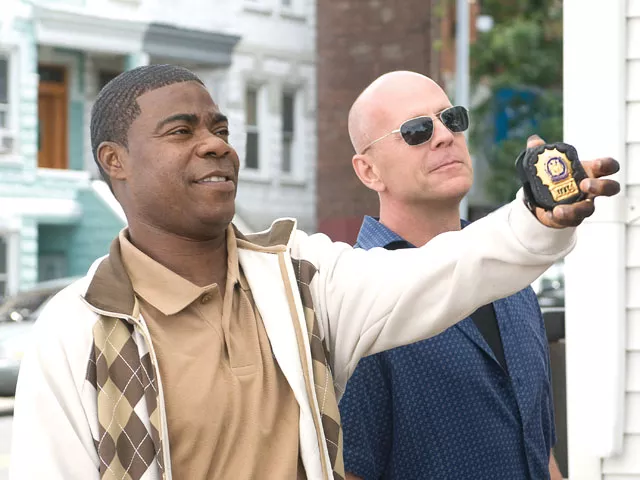 I realize that times are tough and everyone's gotta make a living. That's probably why Kevin Smith agreed to direct a big-budget buddy-action comedy. But taking a paycheck is one thing. Betraying everything that he has been as a filmmaker — brash and aggressive, angry but hopeful, and, never less than full of heart — is another.
I don't love all his movies, but I love and respect that he has his own vision, a unique and particular take on the world. You always know when you're watching a Kevin Smith movie — there's no mistaking his movies for anyone else's.
Well, until now.
In Smith's latest, Cop Out, Paul Hodges (Tracy Morgan) and his partner, Jimmy Monroe (Bruce Willis), have been suspended, Lethal Weapon-style — complete with the handing over of the guns and badges — but that doesn't stop them from hunting down Mexican drug lords and a stolen rare baseball card. In the process, they commit all manner of felonies and generally engage in random acts of petulant, thwarted masculinity. Morgan's manhood is threatened by his wife, Debbie (Rashida Jones), whom he suspects is cheating on him. (Since he is a subliterate, literally drooling cretin, she should cheat on him.) Willis's manhood is threatened by the fact that he may not be able to pay for the wedding of his daughter (Michelle Trachtenberg) unless he recovers that baseball collectible. (The upkeep on women! It'll drive a man crazy!)
Kevin Smith is crude. His last movie was called Zack and Miri Make a Porno, for God's sake. But in the past, he's been smart about it, and never crude for crudity's sake alone. The donkey show jokes or whatever always served to make some sort of pointed social commentary. Cop Out, though — this endurance event of a crapfest of fake manufactured movie product — plays as if it were written by a couple of kindergartners. (And who knows, because I can't find ages on screenwriter brothers Robb and Mark Cullen.)
There's a barrage of jokes about bodily functions and one unbearable scene in which Morgan and Seann William Scott engage in a "conversation" that's like an escalating toddler battle for backseat-of-the-car supremacy. After that, the requisite kicks to the crotch — of which there are plenty — are practically witty.
If this is supposed to be a parody of cop-buddy action comedies, someone should tell the Cullens and Smith that merely repeating the worst idiocies of the genre does not a parody make.
And if the details weren't bad enough, the film skips over important plot points, too. Adding some fake-ass Beverly Hills Cop soundtrack music doesn't do anything but make us hanker for the time when these kinds of movies were actually good.