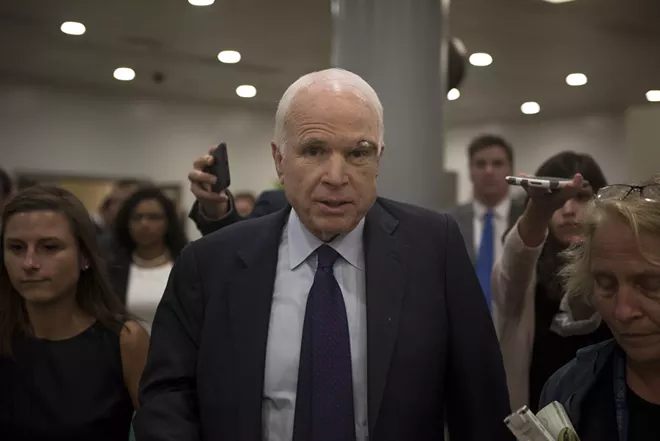 By ROBERT PEAR and THOMAS KAPLAN
© 2017 New York Times News Service
WASHINGTON — The Senate early Friday rejected a new, scaled-down Republican plan to repeal parts of the Affordable Care Act, seemingly derailing the Republicans' seven-year campaign to dismantle the health care law
Sen. John McCain, R-Ariz., cast the decisive vote to defeat the proposal, joining two other Republicans, Susan Collins of Maine and Lisa Murkowski of Alaska, in opposing it.
The 49-51 vote was a huge setback for the majority leader, Mitch McConnell of Kentucky, who had spent the past three months trying to devise a repeal bill that could win support from members of his caucus.
The truncated Republican plan was far less than what Republicans once envisioned. Republican leaders, unable to overcome complaints from both moderate and conservative members of their caucus, said the skeletal plan was just a vehicle to permit negotiations with the House, which passed a much more ambitious repeal bill in early May.
The so-called "skinny" repeal bill, as it became known, would still have had a broad impact on health care. The bill would have increased the number of people without insurance by 15 million next year compared with current law, according to the nonpartisan Congressional Budget Office. Premiums for people buying insurance on their own would have increased by roughly 20 percent, the budget office said.
The new, eight-page Senate bill, called the Health Care Freedom Act, was unveiled just hours before the vote. It would have ended the requirement that most people have health coverage, known as the individual mandate, but it would not have put in place other incentives for people to obtain coverage — a situation that insurers said would have left them with sicker, costlier customers. It would also have ended the requirement that large employers offer coverage to their workers.
The "skinny repeal" would have delayed a tax on medical devices. It also would have cut off federal funds for Planned Parenthood for one year and increased federal grants to community health centers. And it would have increased the limit on contributions to tax-favored health savings accounts.
In addition, the bill would have made it easier for states to waive federal requirements that health insurance plans provide consumers with a minimum set of benefits like maternity care and prescription drugs.