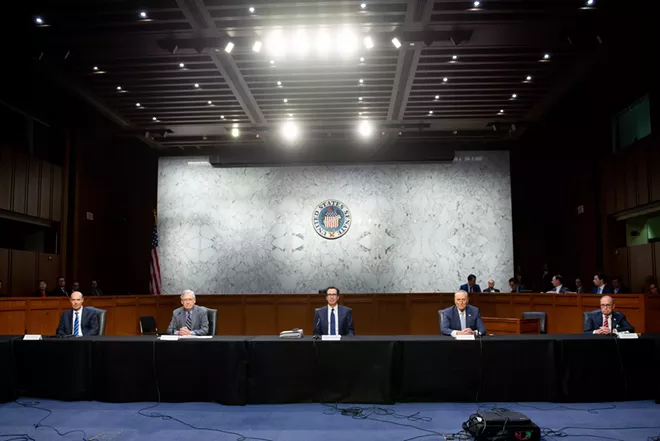 By Emily Cochrane
The New York Times Company

W
ASHINGTON —
Senators and White House officials began negotiations Friday to bridge considerable differences over a sweeping $1 trillion economic stabilization plan to respond to the coronavirus pandemic, pressing for a swift agreement that would allow it to be enacted in days.
Sen. Mitch McConnell, R-Ky., the majority leader, said he hoped to strike a deal in principle by midnight Friday, an ambitious goal given the wide divergence between the two parties over how to structure a government rescue package unlike anything Congress has contemplated.
While there is widespread agreement on the need for the package, Republicans and Democrats are deeply divided over the details, including which Americans should receive direct payments from the government, how much paid leave employers should have to cover for workers and who is eligible, and what form of assistance to provide to small and large businesses.
McConnell introduced a bill Thursday that would send checks of up to $1,200 to taxpayers who earn up to $99,000, deliver large corporate tax cuts, and put into place loans for businesses and industries and curbs on an emergency coronavirus paid leave program enacted this week. But elements of that package are facing opposition from Democrats — and even some Republicans.
"Sen. McConnell's bill is not pro-worker at all — it puts corporations ahead of people," said Sen. Chuck Schumer of New York, the minority leader. "Democrats have a good plan that puts people and workers first."
Schumer spoke twice by phone with President Donald Trump on Friday to discuss the details of the package, including Senate Democrats' idea to send substantial federal funds to small and rural hospitals, increase unemployment insurance and expand paid leave.
At the White House shortly after, Trump appeared optimistic about the prospects for a quick agreement, saying, "We're not so far away, we're not very far away."
Republicans' proposal would offer bridge loans of up to $10 million each to small businesses, extend hundreds of billions of dollars in loans to large corporations in distressed industries and send checks as large as $1,200 per adult to individuals earning less than $99,000 a year. The payments would phase in for earners up to $75,000 — meaning lower earners would get smaller checks — and then phase out again at $99,000. Those who did not earn enough to pay income tax would receive much less, $600.