Since he was a teenager, Dave Jones has worked behind the counter at many of Spokane's most beloved old-school diners and cafes: Wolffy's (at the time it was Arnie's), Knight's (reopening under new ownership soon), Top Notch Cafe (now home of Ruins), Hogan's and a few others.
The now nearly 60-year-old owner of Ferguson's Cafe, one of a handful of dining landmarks in Spokane's historic Garland District, hopes that this spot will be his last successful restaurant before retiring.
Jones bought Ferguson's in 2010 after it had closed down the year prior under former owners, much to locals' dismay. Jones remodeled the classic midcentury diner's interior, bringing pops of bright yellow into the black, white and chrome-filled space, before officially reopening on July 26, 2010.
When re-envisioning its menu, Jones brought in classic favorites he'd served over the years. At Ferguson's, traditional diner breakfast staples — eggs, bacon, hashbrowns, pancakes, omelettes, scrambles and more — are served all day, alongside burgers, grilled items and a homestyle dinner menu starting at 4 pm.
"A lot of the menu is the same thing I've been cooking for 30 years at Knight's, Arnie's, Hogan's," Jones notes. "It's a really easy and simple menu."
Dave's Philly steak ($11.79) is one of Jones' signature bestsellers, with grilled steak, onions, green peppers, gooey Swiss, mayo and a side of fries, soup or salad. Ferguson's also serves locally made sausages from Sonnenberg's Market & Deli, grilled on a hoagie and with several breakfast combos.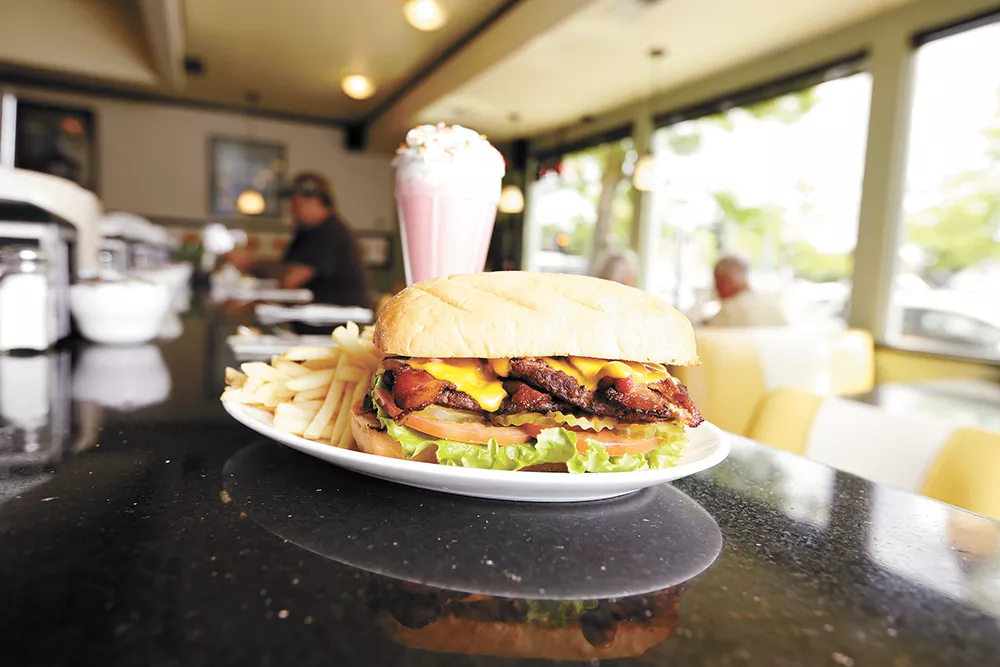 Milkshakes and malts ($5.49), while not made on the diner's original 1940s equipment, are spun from scratch on a mixer and come in 11 classic flavors.
Jones also asserts that Ferguson's hash browns are "the best you can get" in the area, always cooked crispy brown on the outside and never soggy.
"A lot of the food is still homemade like it would have been," in decades past, Jones says, adding that it might surprise customers to learn he's still there several days a week, cooking on the grill.
"A lot of [restaurant] owners don't do that anymore," he says.
The sixth owner (and seventh operator) of Ferguson's Cafe, which originally opened in 1941, is proud to be carrying the diner's torch into the next decade. A half-page introduction on the menu front shares its storied history, including that it's been featured in three major motion pictures: Benny & Joon (1993), Vision Quest (1985) and Why Would I Lie? (1981).
Since purchasing the cafe, Jones has faced one major setback, when a fire in the fall of 2011 nearly destroyed Ferguson's and its equally historic neighbor, Mary Lou's Milk Bottle.
"It burnt everything in here but the studs. It was real devastating when it happened," he recalls.
The bright side of that tragedy, however, was that after reopening in July 2012, Ferguson's became — and remains — even busier than before, he says.
In all of the nine years he's been at the Ferguson's helm, Jones would say his secret to success is simple, doing what he's good at, and loves: serving hearty food that won't break the bank, leading his employees and catching up with customers each day.
"I have always liked this business. I like the people, mainly the interaction with people, and the food. Cooking the food, and the people who you come to work for — that is what makes it all worth it." ♦
Ferguson's Cafe • 804 W. Garland, Spokane • Open Mon-Sat 8 am-8 pm, Sun 8 am-3 pm • 325-1950