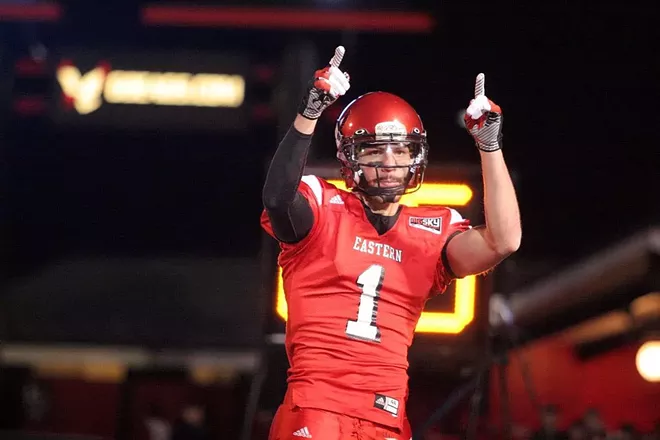 I
n this week's issue
of the
Inlander
I wrote about how the lack of sports on TV is maddening for those of us who love baseball. Or golf. Or tennis. Or basketball.
While I've salved my sports-barren soul by
watching movies about sports
, various outlets are seriously pumping out classic old ball games for fans to watch — games that used to only be available on grainy YouTube vids or Dark Web-based Hungarian pirated cable programs.
Inland Northwesterners will be particularly interested in what
ROOT Sports
has in store — especially the classic
EWU Eagles
football games they're going to start reairing beginning April 4 at 1:30 pm with a 2012 showdown against Montana that featured Vernon Adams leading a stunning comeback against the Griz.
Among the other Eagles games on tap among 30 Big Sky games ROOT is going to air:
- April 7 at 3:30 pm, the 2015 game between EWU and Montana State
- April 18 at 11:30 am, the Eags game vs. Montana State from 2014
- April 21 at 2 am and 3:30 pm, the Eags vs. Portland State from 2016
- April 21 at 12:30, the Eags 2010 national championship win against Delaware (this game will also air April 26 at 4 pm)
- April 30 at 3 pm and 11:30 pm, Eastern's shootout with the Idaho Vandals from 2019
ROOT Sports isn't the only spot to catch some Eagles football.
SWX
is also reairing some of EWU's greatest hits, starting this Saturday at 5 pm when the station will play Eastern's 2019 home win over North Dakota. Check in at the SWX website for updates on games.
SWX will also re-air some local hoops of interest. This Sunday, the station will air the 2017 hoops matchup between the Eags and Portland State that ended as a 130-124 Eags win as both Bogdan Bliznyuk and Jacob Wiley poured in 45 points. And on Tuesday, March 31, the station will air a 2005 Gonzaga/Eastern game at Spokane Arena when Adam Morrison dropped 21 points to lead the Zags over Rodney Stuckey's 21 points for the Eags.