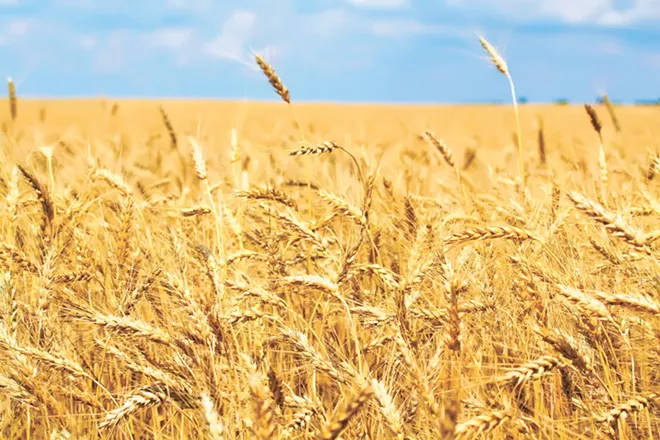 The Inland Northwest is high and dry. A warm winter that reduced snowpack to historically low levels has resulted in virtually all of Washington and half of Idaho being classified as experiencing severe drought, according to the U.S. Drought Monitor. On top of that, a triple-digit heat wave early in the summer has made things worse for aquatic life and agriculture while also fueling numerous wildfires.
Fish are going belly up and washing ashore. Farmers are being told to stop irrigating. Fruit is being ruined by the sun. Livestock is stressed. Eighty-four percent of rivers in Washington are running below normal. The state is bracing for a potential $1.2 billion crop loss. All of North Idaho is in severe drought, and some counties are seeking relief for their strained agricultural communities while trying to keep more wildfires from igniting in the tinderbox-like conditions.
Things could get worse. This month, the National Oceanic and Atmospheric Administration predicted a greater than 90 percent chance that an El Niño weather pattern will continue into next year, which could mean warmer weather in the Northwest, another low snowpack and another year of drought. If these conditions persist, the region could face a drought not unlike the one ravaging California.
Aquifer
The Spokane River flows from Lake Coeur d'Alene into the valley, where some of it seeps into the Spokane Valley-Rathdrum Aquifer. Farther downstream, water seeps back out through springs on the banks of the river.
Now, less of that water is flowing back into the river, in part because more than half a million people rely on it for water. Spokane delivers 180 million gallons of aquifer water to customers every day. Coeur d'Alene, in the peak of summer, will pull up to 35 million gallons daily.
"We are a water-scarce community, but we pretend we're not," says John Osborn, conservation chair of the Sierra Club's Upper Columbia River Group.
Osborn says that levels in the Spokane River have dropped consistently ever since the U.S. Geological Survey began keeping records more than a century ago. He says the city of Spokane pays lip service to conservation, but relies too much on revenue from water sales to take the aggressive steps that, he says, are needed to preserve the aquifer and keep its waters flowing into the river.
For its part, the city of Spokane did issue voluntary guidelines to reduce usage, including suggesting people refrain from watering their lawns between noon and 6 pm; watering every other day rather than daily; and turning off sprinklers during windy days.
Fish
Water levels in the Spokane River are at historic lows, and it's threatening fish.
On July 24, 676 cubic feet of water flowed through the river per second, according to the last reading of the day from the U.S. Geological Survey, far less than the 2,490 cubic feet of water that typically has flowed through it on that date for the past 124 years (as long as records have been kept). It's been like this all summer.
Water has become more scarce, and what is available is being evaporated by the scorching sun, resulting in lethal temperatures for fish, which generate $4.5 billion annually in economic recreational activity in Washington.
In mid-July, workers with the Washington Department of Fish and Wildlife observed more than 80 sturgeon — many longer than 5 feet, including some breeding females — dead or dying on the banks of the Columbia River. Temperatures in the waters above the Bonneville Dam had risen to 73 degrees, far higher than the 64 degrees the fish were accustomed to.
In response, the department placed a moratorium on fishing sturgeon in the Columbia and Snake rivers, among other waterways. The department also imposed "hoot owl" restrictions, meaning that fishing is only allowed between midnight and 2 pm on eight waterways, including the Spokane River.
"We've never had conditions like this before, and we are still early in the summer," says Randy Osborne, a Fish and Wildlife fisheries biologist.
Osborne says that since about mid-June, when the region experienced a heat wave, the department started receiving reports of dead fish, primarily suckers and yellow perch, in the Spokane River's Long Lake. He says the amount of dead fish is in the hundreds, although he stresses that it's a relatively small percentage.
Spokane Riverkeeper Jerry White says that he found several dead brown trout when the river was 80 degrees, and he's worried that the unusually warm and low river will result in more dead fish.
White is more concerned about the redband trout and other species in the Spokane River. If hot temperatures result in mass die-offs, he says, it could wipe out generations of fish.
Idaho Fish and Game has taken a different approach. The department expects fish to be distressed by increased water temperatures and has seen some die off, including sturgeon, but not in large numbers. The department figures that fish will cope by diving to cooler waters, and hasn't enacted any fishing restrictions despite the warmer waters.
Rafting
Josh Flanagan, owner of Spokane-based rafting company Wiley E. Waters, had to cut his whitewater rafting season short by a month because of the low water in the Spokane River.
He takes people on a 7-mile whitewater rafting trip on the river; last year, he took clients on about 75 trips through July. This year, he was only able to take about 30 through June because the river's water was too low.
"It's definitely something we were not excited about," Flanagan says. "But we get what we get and we go from there."
Next year, he'll again be closely monitoring river flows during the spring. If it looks like a repeat, he'll start his season a month early, in April.
Fires
Fire has scorched 74,000 acres of Washington since June, and it's reaching into unexpected parts of the state, such as the Olympic National Forest, says Mary Verner, a deputy supervisor in the state Department of Natural Resources.
In July, a fire in Grant County grew to 900 acres and caused I-90 to close. Just a week later, another fire 10 miles east of Walla Walla grew to 750 acres, threatening homes and crops.
"We will have an expensive fire season this year," says Verner.
All of North Idaho is experiencing a severe drought, and restrictions have been placed on building or maintaining fires, smoking and operating motorized vehicles off of designated roads and trails. The Cape Horn fire, which broke out in early July, ravaged lands near the town of Bayview, destroying six homes, threatening hundreds of others and causing more than 300 people to be evacuated. Gov. Butch Otter declared it a disaster area.
Wheat
Because 80 percent of Washington state's wheat crop gets its water from rainfall, the lack of snowpack hasn't been the primary issue, according to Scott Yates, communications director for the Washington Grain Commission. Indeed, some growers have seen rain and could have a decent year, he says. But all have been affected by the record-breaking heat wave that swept Eastern Washington in June.
Eric Maier, who has farmed wheat for 30 years near Ritzville, has one word for this year's crop: terrible.
The frost in the spring, coupled with the triple-digit heat in June and the lack of rain, has yielded a shriveled crop with reduced kernels in the wheat heads. Maier just sold a crop of soft white winter wheat that will be turned into cookies, and he worries that his buyer will have to modify it to make it usable.
"I don't think I've ever seen it quite so bad since I've been farming," he says.
In Idaho, Karel Wemhoff, U.S. Department of Agriculture Farm Services Agency executive director for Lewis and Clearwater counties, says that wheat farmers in her area also are struggling. Normally, a bushel weighs upwards of 60 pounds, she says, but this year, bushels have weighed 50 pounds or less.
Clearwater County, along with Kootenai, Latah, Benewah and Bonner counties, have been declared natural disasters. Wemhoff says that Lewis County could be added to the list.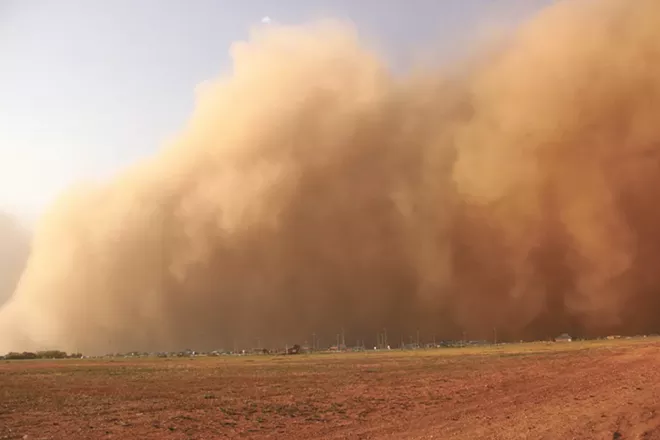 Air
The drought also is making air quality worse.
Last summer, an intense dust storm — known as a haboob — blew into Eastern Washington and North Idaho, closing roads and downing power lines. The drought makes these storms more likely, says Camille St. Onge, Washington Department of Ecology spokeswoman.
So far, she says, there's only been a small storm in Kennewick that didn't exceed air-quality standards. But larger storms can exceed air-quality standards and lodge particulate matter into the lungs of people nearby, says St. Onge.
Smoke from fires, says St. Onge, has blown into urban areas, including Spokane, which has adversely affected air quality.
"It becomes a carrier for [toxic materials] and cancer-causing agents, and people get affected significantly by wood smoke," she says.
Wine
After 35 years of growing apples along with wine grapes and other crops, Dick Boushey, owner of Boushey Vineyards, decided to tear them out. The decision, he says, makes him look really smart. Apples require more water than other crops, and if the trees had been in place, Boushey says, he likely would have let them wither in the heat as he watered his more lucrative wine grapes.
Vicky Scharlau, executive director of the Washington Association of Wine Grape Growers, says that wine grapes use less water than other crops, which puts the industry in a better long-term position. However, she stresses that she doesn't expect growers to suddenly abandon their other crops in favor of wine grapes. She also says that the industry is still challenged by the drought, and some growers could still see their water cut off.
Because of the drought, Boushey only has about 44 percent of the water he normally does for his Yakima Valley vineyard, causing him to be more economical with its use. He says that winemakers will be ecstatic about the quality of the grapes, which likely will contain more sugar because of the heat and yield more alcohol, but will be disappointed with the output.
While he says that Washington has done a better job than California in preparing for the drought and expects wine grape growers in the state to hold steady, he's still concerned about the future.
"The drought doesn't help anybody," he says. "And if it continues, it will be a disaster. But we won't know until next winter." ♦