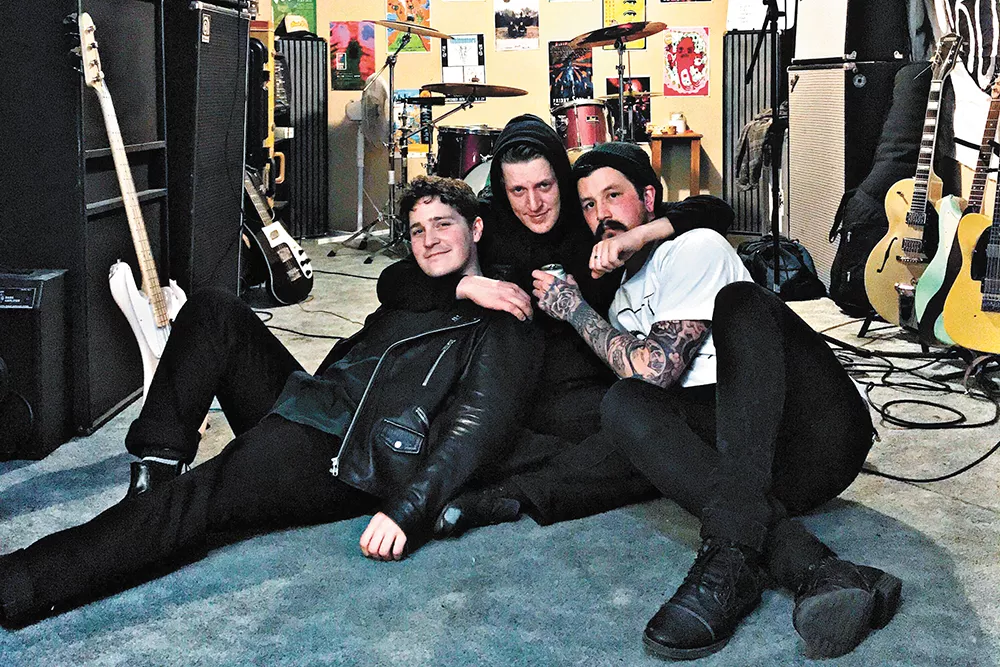 Blackwater Prophet is a Spokane symbol. You can still find their stickers on laptops, guitar cases and car bumpers driving around town, even though the group has been broken up for ages. In recent years, the members have gone on to form other musical projects around the Pacific Northwest, and they left a trail of influence on numerous other local bands.
Blackwater Prophet started as a two piece in 2011 with Garrett Zanol on guitar and Bryan Coats on drums. Zanol and Coats have been playing music together since they were 13 years old, and if you were to do the math, that's 15 years total now.
Shortly after, they added Nicholas Parker (known more commonly — and henceforth — as "Beav") on bass, and their sound became a psychedelic rock 'n' roll trip, heavy distortion coupled with moving melodies.
"When we first started, it wasn't a goal to make the band great," Beav says. "All three of us played music and we liked to drink together, and we get along really well."
"Yeah, we didn't play a show for the first two years of being a band. We would play in my attic," Zanol adds. "The band formed on being shit-faced drunk all the time."
In their lifetime, Blackwater Prophet released three recorded projects — a short demo compilation, a self-titled album and a third LP titled Ghost — which they recorded, produced and released themselves. Shortly after their last independent release, they were contacted by record companies that were starting to get wise to the Prophet.
"We were going to sign with Small Stone Records out of Detroit," Zanol recalls. "They were super pumped on it and were going to give us this rad package. We had never really taken Blackwater super seriously. They were going to re-record the Ghost album and release it on every platform. It was going to be a cool experience to be a part of a label. Then life just took a fat shit."
"We hit a peak," Beav says. "Labels were interested in us, and all of a sudden it fell apart."
Zanol, now half of the local rock duo Indian Goat, attributes the band's demise to his drinking his ass off and getting in trouble, and to drummer Bryan Coats not being "stoked to live in Spokane anymore" and moving to Seattle.
"I wanted to make it a career," Zanol admits, "but I totally just lost a grip on why we were even playing music."
Zanol says that they've been trying to get a reunion show together for a long time. Finding a venue, getting local support and revisiting the material would be easy. The challenge was simply getting all three band members together in the same place at the same time. When that finally did happen, the groove came back right away and the feeling in the room was electric.
"It was f---ing awesome," Beav recalls. "It felt like when I was 19. It felt great. After the first set, Garrett was like, 'Look! I have goosebumps!' ... Blackwater ended because all three of us were kind of not in the right place. There was a lot of tension. But the reason we're playing this (show) is because it really clicked again."
They'll be bringing that same fresh, reborn energy to the Big Dipper this weekend, with some new songs and all the old hits for the longtime fans.
"When we practiced a couple weeks ago, it was the first time we'd practiced in over a year," Zanol says, "and we played [the songs] better than we had when we were still practicing." ♦
Blackwater Prophet Reunion Show with Tiny Plastic Stars and Fat Lady • Sat, May 11 at 8 pm • All ages • $8 advance, $10 at the door • The Big Dipper • 171 S. Washington • bigdipperevents.com • 863-8101