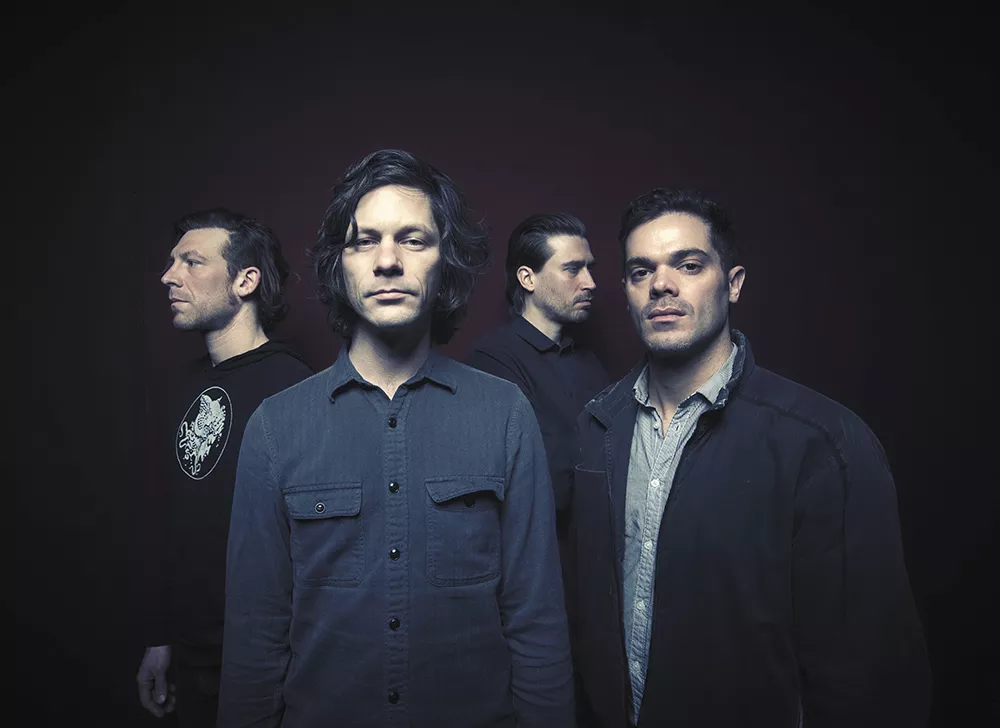 Like cultural taxonomists of sorts, music critics love to classify and package a band — give it a label, stick it in a category. And it can make some sense to do that. When a music fan sees a "folk" label, as opposed to "black metal," on a record review, they have a sense of what they're in for.
But even the finest, most label-happy music critic can't seem to box in Chicago band Disappears. And they shouldn't. On the band's 2013 record Era, you can pick up hints of so many types of music: psychedelic rock, krautrock, garage, new wave, shoegaze, goth. It's a record that's hardly for the straight-and-narrow — a collection of songs that ranges from dark and slow to towering tidal waves of crashing, frenetic energy. And even when it feels like songs might explode and fall apart in a plume of dust and blood, the band's drummer, Noah Leger — who has been called its secret weapon — ensures that there's a steady, rigid spine holding everything together.
Ambiguity has served Disappears well. Last year, the Chicago Reader called them "Chicago's best band," and Era was on the year-end lists of critics around the world. That's saying something, considering it's been a couple of years since the band's previous drummer and most recognizable member — a guy named Steve Shelley from a little band called Sonic Youth — amicably parted ways with Disappears.
The band wasn't always the type that stood in the shadows — its early albums were filled with punky garage songs. But it was only when Disappears stripped away traditional structures and turned off the brightness on its own songs that it truly became an incredible, groundbreaking band.
Disappears started to get weird on 2012's Pre Language — something the Chicago Reader noticed most notably in singer Brian Case's howling, exasperated vocals. "I really can't 'sing' so I kind of have to just let whatever comes out come out," Case said in an interview. "It's kind of like barking really loud and trying to get the vocal delay to react or act up, so it can be pretty harsh."
Those loud, yelping vocals don't make a ton of sense on their own — and there probably aren't many people who sing along to a Disappears song. But this isn't a band about making sense or singing along, or doing much of anything the same as other bands out there.
Disappears is a band that makes you feel something. And that's something so many bands with classifiable labels will never be able to say. ♦
Disappears with Dead Serious Lovers • Thu, Jan. 23, at 8 pm • The Bartlett • 228 W. Sprague • $10/$12 day of • All-ages • thebartlettspokane.com