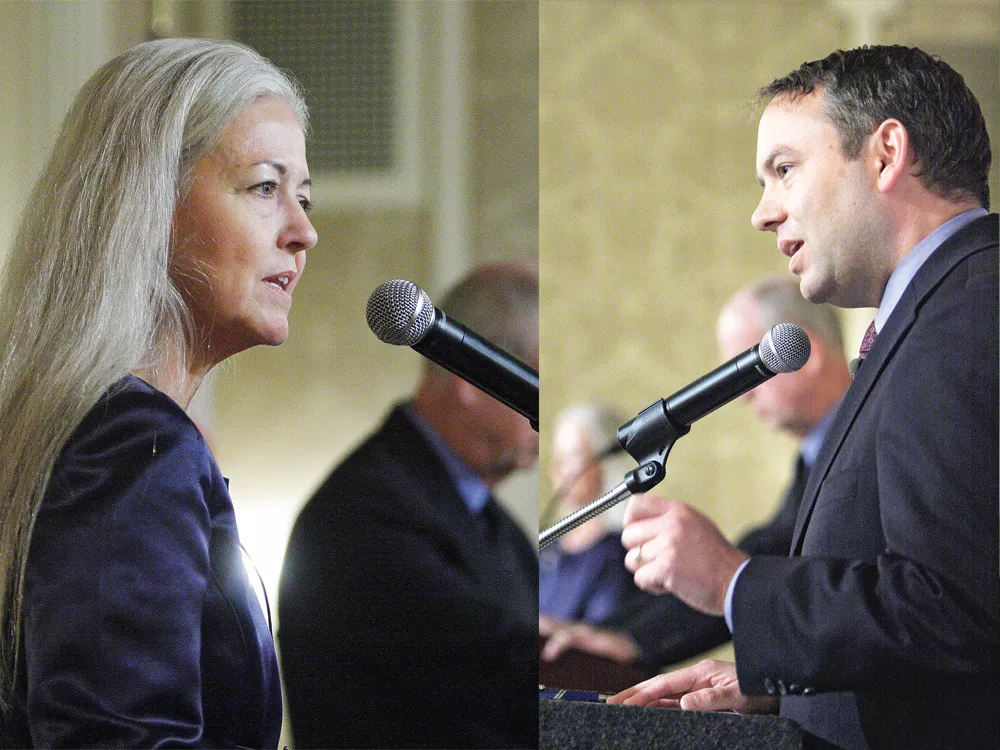 Mayoral Mayhem
Mary Verner wandered around a room in the Spokane Club last week, shaking hands, smiling and doing what every mayor does in the midst of re-election.
She's taken a lot of heat lately, primarily for the way the city has handled the case of Otto Zehm, a mentally impaired janitor who died after a violent beating by Spokane Police in 2006. But if it's taken a toll, she wasn't showing it.
Verner kept her cool as her challenger, David Condon, laid into her leadership style during their debate in front of Spokane's Rotary Club.
First, with the Zehm issue, he demanded, "Who knew what, and when?" From spending to transparency issues, the city's bureaucracy has seized the agenda from the mayor, Condon argued from his podium. "It's a question of leadership," he bellowed into the microphone. "The answer is leadership."
In response, the soft-spoken Verner argued that she leads by listening. "We have improved customer service," she said, referring to the city as "a municipal corporation."
Condon kept at her, alleging that the mayor gave pay raises to city staff while increasing rates and fees on citizens during a tough economy.
But Verner wasn't just blocking Condon's punches. She threw a few of her own.
"When David talks about the budget, he isn't really offering any solutions, he's just restating the problem," she said. "I appreciate hearing David's ideas and, thank goodness, I've already implemented all of them." (ND)
City Control
Two big surprises popped up immediately at last week's debate between Spokane Valley City Council candidates at CenterPlace. First, it turned out that the once-unopposed Chuck Hafner now has an opponent in a write-in candidate named Orvella Kendall. Second, Orvella Kendall never showed up, leaving only an empty place and easy openings for jokes from her opponent.
Otherwise, the debate between the candidates was an echo of the debate from 2009. Back then, the alliance of candidates called the "Positive Change" bloc condemned the massive Sprague-Appleway Revitalization Plan for choking growth, increasing uncertainty and paralyzing businesses. Those candidates won, taking control of the Council and killing SARP.
Now, it's the opposite, with opponents arguing that the current City Council killed a long-term vision for the city without putting anything in its place.
"My opponent is focused on the past, not the future," said John Carroll, Councilman Dean Grafos' opponent. By killing the city center with SARP, the city's future success suffered, he says.
But Grafos fired back, calling SARP "a massive multimillion dollar government project. … a vision run amok that ignored the human cost."
Current Councilman Arne Woodard suggested a two-year moratorium on business regulations. His opponent, Dee Dee Loberg, said the city needed to support parks and social services, earning whispers from the audience that "she's a socialist." (DW)