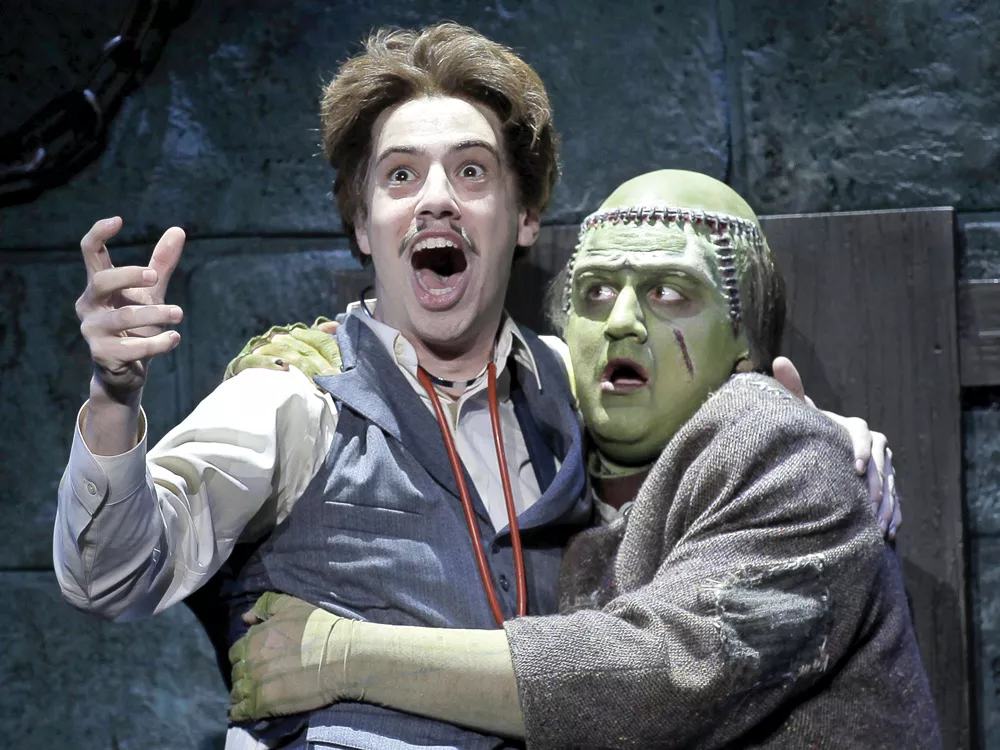 Young Frankenstein is serious literature. With its thematic emphasis upon the creation of life, it has a high moral purpose. And some sex jokes.
The 1974 movie parody spoofed "horror" with vaudeville gags. In the 2007 Broadway-musical update, Victor Frankenstein has acquired a grandson, Frederick, who — while shimmying through some dance numbers — also sparks life out of a corpse. A very large, very angry corpse.
Mel Brooks expanded his movie, with its jokes about broads, into a musical comedy with jokes that are even broader. Here's how, with highlights:
Mad-Scientist Mania — Victor just loves his neurology. When he sings to his medical students that "there is nothing like a brain," musical theater fans will hear echoes of a certain song from South Pacific.
"No tongues!" — Actually, Victor's prissy fiancee says this only later, when he moves in, with open mouth, for a goodnight kiss. But it summarizes the movie's scene at the train station, when Madeline Kahn tells Gene Wilder to keep his hands off her hair and dress. In the musical, "Please Don't Touch Me" is a tease song that becomes a dance number, filling the stage with ballroom partners waltzing three feet apart.
"Together Again" — Young Frederick FRAHNK-uhn-STEEN is reluctant to reanimate his grandfather's mad-scientist experiments. But when Igor ("EYE-gore") encourages him to take up the family business, Fred does a coy little backwards-kick-and-preen that's right out of the musical comedy playbook.
"Roll in the Hay" — In the movie, Teri Garr is all innocence as Frederick's "assistant" Inga, exuding sex appeal even as she invites Frederick — literally, playfully — to roll around inside a hay wagon. In the musical, the line becomes an entire song filled with innuendoes ("We'll go up and down and up and down").
"He Vas My Boyfriend" — Pat Sibley plays Frau Blucher, the uptight housekeeper whose very name causes horses to whinny in fear. "You take one look at her and think, 'This woman had a boyfriend?!' ... and then you find out that she's a real horndog," Sibley says. As for Blucher's song confessing her long-ago romance with Frederick's grandfather — which is filled with S-and-M allusions — Sibley observes, "You'd think she doesn't have a sexual bone in her body, but it turns out that she likes it rough."
"Transylvania Mania" — When the monster gets loose within the castle, alarming the villagers with his horrible groaning, Igor creates a diversion by getting everybody to join in a wild new dance craze — complete with the flappy hands, jazzy finger-to-toe touches and horizontal arm-wiggling monster parodies of Susan Stroman's choreography.
"He's Loose" — At the top of Act Two, when villagers with torches are searching throughout the forest for the monster, he wanders around, unnoticed. That's because the villagers suddenly get more interested in forming a chorus line up front.
"What knockers!" — Sibley (who appeared in four shows at Interplayers in the mid-'90s) once overheard a remark that Brooks "took all the famous lines and made songs about them." And in fact, playgoers know their Young Frankenstein: Sibley estimates that 70 percent of the audience for this second national tour is familiar with the movie. "They start tittering before the joke," she says. "They know what's coming."
When Frau Blucher (neigh!) inquires if the good doctor would like some brandy, "varm milk" or Ovaltine before retiring, longtime fans will recognize the movie moment (yet they'll be surprised by an added Starbucks allusion). Even newcomers to the show laugh when Victor, while helping Inga out of the wagon, stares in disbelief at the castle's enormous front doors. But only veterans anticipate the comedy in the song-and-dance routine performed by Victor and the monster. "The first time the monster [garbles] 'Puttin' on the Ritz,' we have to hold for applause," Sibley says. "And newbies — people who haven't seen the movie — are asking, 'What's so funny about that?'" What's funny is that Frankenstein's monster is about to do a top-hats-and-walking-sticks routine that's straight out of vaudeville.
With all the one-liners extended into dance numbers, this isn't just Young Frankenstein the way boomers remember it. This is Young Frankenstein with the gags and the triple-takes piled high.
Young Frankenstein • Thurs, Dec. 15, at 7:30 pm; Fri, Dec. 16, at 8 pm; Sat, Dec. 17, at 2 pm and 8 pm; Sun, Dec. 18, at 1 pm and 6:30 pm • $38-$84 • INB Center • 334 W. Spokane Falls Blvd. • bestofbroadwayspokane.com • (509) 325-SEAT