ON INLANDER.COM

OPINION:
Robert Herold expands on Spokane native Tim Egan's recent speech on Irish immigration and
how that story should inform modern America
.
NEWS:
Spokane Public Schools braces for
impacts from huge layoffs
, just after salary increases were agreed to.
IN OTHER NEWS...

Coordinated attacks kill nearly 300 in Sri Lanka
On Easter Sunday, terrorist
bombings in churches across Sri Lanka killed hundreds of people
, and despite security forces receiving warnings of the attacks 10 days ago, no precautions were taken, the
New York Times
reports.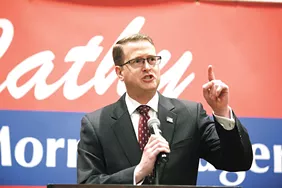 Shea-dy Surveillance
In a private group chat with rightwing figures, Rep. Matt Shea (R-Spokane Valley) apparently
offered to help do background checks on liberal Spokane residents the participants wanted to target
, including with described acts of violence, the
Guardian
reports.
Climbers' remains recovered in Canada
The remains of Spokane climber Jess Roskelley and his two climbing companions were
recovered in Alberta on Sunday
from an avalanche field that likely took their lives, the
Spokesman-Review
reports.