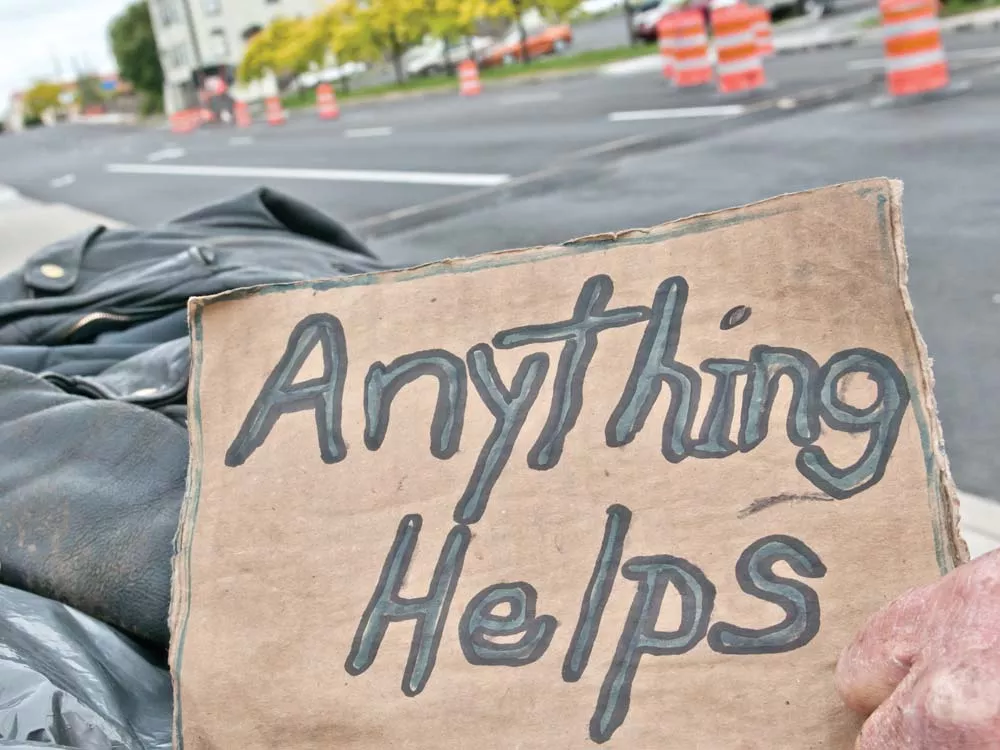 Amid the din of pulsating laundry machines, percolating coffee makers and running showers, Coeur d'Alene's homeless and near-homeless arrive at Fresh Start in the morning to get exactly what's advertised: a fresh start to their day.
But some of the drop-in center's neighbors are unhappy, and not about what goes on inside. It's what happens outside, and after the center closes at noon.
Complaining that the shelter's clients have been menacing the neighborhood around its location on East Sherman Avenue, some neighbors have resolved to get Fresh Start out of the neighborhood.
"I feel bad for them, but they need to clean up and look for a job, I guess," says Barbara Whitaker, a neighbor who lives directly behind the shelter. In June, she circulated a petition to have the shelter move, collecting about 60 signatures and 25 testimonials. She presented them to the Coeur d'Alene City Council two weeks ago.
Stan Schedler, co-owner of the Schedler Mack Insurance Agency a block and a half from the shelter, says he's seen the shelter's patrons doing everything from bothering women and children to urinating in public and passing out behind his office.
"The problem is Fresh Start is here, and those clientele are in our part of town," Schedler says. He says he supports Fresh Start as a concept but believes the behavior of some of the people it serves shows that it should not be in a residential area.
Fresh Start's clients include people like Bob Perry, 58, a Coeur d'Alene native who is out of work due to degenerative arthritis in his hip. Perry sleeps in a tent at night and comes to Fresh Start to shower and eat in the mornings.
"But once I accomplish that, I step back to how things are outside," he says.
Outside can mean alcoholism and addiction, says Troy Woehlke, who was using the shelter's services last week. Without community support, he says, homeless people can become "primalistic," and things would only get worse if the center were to move.
"As anybody with a lucid mind would tell you, this is a good thing all in all," Woehlke, 46, says of the shelter. "The people on a [higher] standard look at the homeless as less than human."
Were the shelter to move, says Teresa Martinson, a volunteer and a member of Fresh Start's board of directors, many of the people wouldn't be able to get to a new location unless it were on a bus line, as the current location is.
According to statistics released by the Coeur d'Alene Police Department, officers have responded to calls at the address 31 times this year so far, for incidents ranging from battery to threats to trespassing. They received 47 calls in 2010 and 22 in 2009, the year that Fresh Start moved to its East Sherman location.
Despite the signatures and testimonials, legally compelling Fresh Start to move may be a difficult process. Coeur D'Alene City Attorney Mike Gridley says either the city or a private citizen would have to take Fresh Start to court and make what he says is "a difficult case" that the center is a nuisance and must be closed.
The city has not decided to take the center to court, Gridley says, but City Council members will be mediating between the representatives from the center and the neighborhood this week.
"It's not illegal to be homeless, it's not illegal to be poor, it's not illegal to have mental illness," Gridley says. "There are a very small percentage of people who are causing a large percentage of problems."