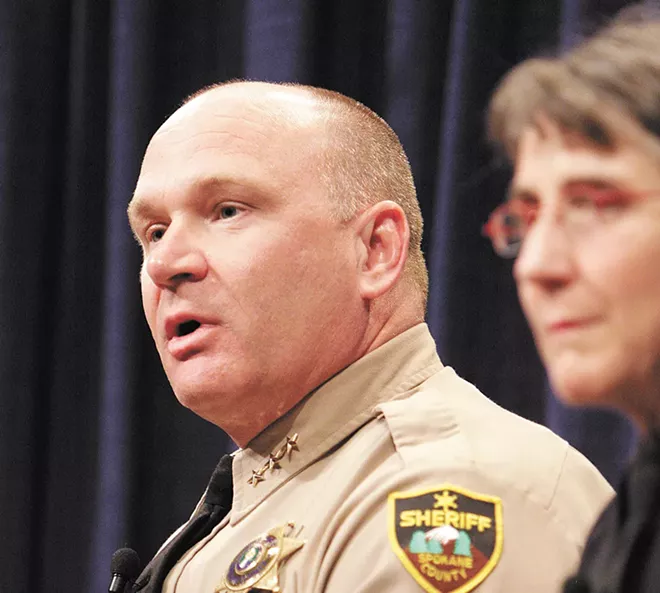 Spokane County leaders are banking on voters to renew a longstanding sales tax that helps fund the regional criminal justice system — ranging from deputies at the Sheriff's Office to the correctional officers at the downtown jail and Geiger Corrections Center.
The proposal, on the Aug. 6 ballot, would levy a one-tenth of 1 percent sales tax within the county, generating an estimated $6 million annually. The tax was first passed by voters in 2004 and renewed again in 2009. Spokane County receives 60 percent of the tax, with the remaining 40 going to cities within its borders. This year's measure would begin in 2020 and last until December 2029.
"This is not a cost increase," says Tonya Wallace, chief budget officer for Spokane County. She adds that voters are "already paying" this tax.
"It provides funding for positions across the entire system, the Sheriff's Office, the courts, juvenile detention services," Wallace adds. "The $6 million is vital to maintaining those personnel levels."
While the sales tax revenue makes up only a small portion of the overall county budget for the criminal justice system — the 2019 budget estimated that the system cost $170 million this year — officials say that tight financial margins would likely result in staff cuts if the measure doesn't get renewed.
"We're already on a pretty lean budget," says Spokane County Commissioner Mary Kuney. "So [losing] $6 million dollars to our criminal justice system would be devastating."
Officials say that the Spokane County Sheriff's Office would likely experience cuts if the sales tax didn't get renewed to ensure that staffing levels in departments like the Public Defender's Office remain stable.
"We can't just take away public defenders, or detention services," Kuney says. "The sheriff would agree that a significant portion would probably come out of his office."