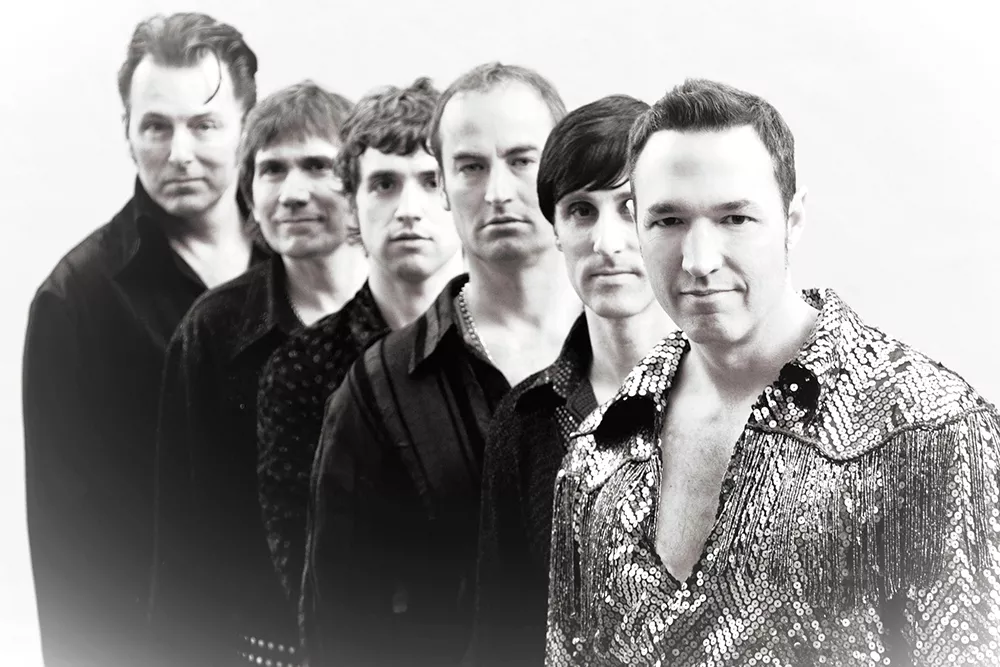 Panties once cascaded onto their stages, but after two decades together, that doesn't happen as often now at Super Diamond shows. Neither do the catfights. But just two weekends ago, one broke out as two women vied for prime real estate front and center. As a Neil Diamond tribute band, Super Diamond's devout fans are on par with the prolific songwriter's own followers.
"We're older now. It was funny but disturbing to see that kind of thing happen at our show," says Vince Littleton, 50, the group's drummer. "Usually Neil's music just makes people feel good."
The San Francisco-based band has played the Late Show with David Letterman and toured all over the world. Next week's Knitting Factory show brings the band to Littleton's hometown for the first time. A real Diamond show features string and horn sections and can feel campy in the best of ways. But according to Littleton, this group isn't a look-alike thing, and it's not exactly a sound-alike thing.
"Our show is Neil on steroids," explains the University High School and Eastern Washington University alumnus. "There's more funk, more rock. Not a kitschy, loungey sound. We put our own spin on things, still not straying too far from the source material."
Littleton always appreciated Diamond; he grew up listening to the artist via his uncle, but didn't have a shrine dedicated to him. When he left Spokane for California in the late '90s, he never expected to hook up with the then-blossoming Diamond tribute act. It turned out they needed a drummer and he liked their sound. After serious rounds of auditions, he won the role in 2000.
Diamond has given the band his much-coveted seal of approval. The artist even sat in with the six-piece in 2000 and again for the Saving Silverman premiere afterparty — the 2001 comedy featured characters obsessed with Diamond. When the band met Diamond for the first time, he told them, "Thanks for touring so much so I don't have to."
Certainly not the only Diamond tribute band, they claim to be the first — they were even featured as a Jeopardy question in 2005. These days, they're playing about 70 shows a year, continuing to help keep the 73-year-old Diamond's legacy relevant.
Don't expect them to play songs from Diamond's recently released album Melody Road. They stick to popular wedding classics like "Sweet Caroline" and "I'm a Believer" (made famous by the Monkees).
"We're not against learning any of his new stuff, but our singer [Surreal Neil] likes to call Hot August Night our bible," Littleton says. ♦
Super Diamond with the Cronkites • Thu, Nov. 20, at 8:30 pm • $20 • All-ages • Knitting Factory • 919 W. Sprague • sp.knittingfactory.com • 244-3279