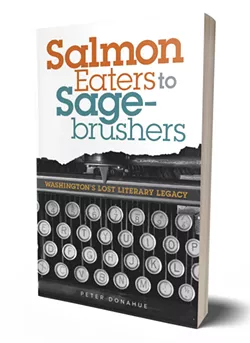 When I first moved to Spokane just over five years ago, I had no idea what kind of literary hotbed I was making my new home. What a bonus for someone who loves to read — joining a community seemingly brimming with talented novelists, poets, nonfiction writers and essayists.
A new book by author Peter Donahue from Washington State University Press shows that a love for writing is anything but new in the Pacific Northwest. And for anyone who loves reading — no matter what you like to read, no matter if you care about local voices or not — Salmon Eaters to Sagebrushers is a joyful collection to delve into as Donahue explores a world of Washington wordsmiths and their work focused between the late 1880s and the 1960s.
Donahue, a fiction writer himself, explores fiction, nonfiction and poetry that serve as snapshots of yesteryear, many of the pieces from long-defunct publishers. The stories range from explorations of life on the Columbia River to living in a San Juan lighthouse to farming on the Palouse, and as a relative newcomer to the region, I certainly learned a lot about the area from both Donahue's essays and the excerpts from the original works. At the same time, any reader will learn a bit about these Washington writers' attitudes about life at home and toward the world beyond the state's borders.
I particularly appreciated how Donahue organized the book into sections like "Early Poets," "Nature Writers," "Women Memoirists" and "Rural Life." His essays are based on a column Donahue wrote for 13 years for the Washington State Historical Society, exploring what he calls "vintage" works of Washington writers.
In Donahue's hands, these vintage pieces and their authors enjoy a new life.