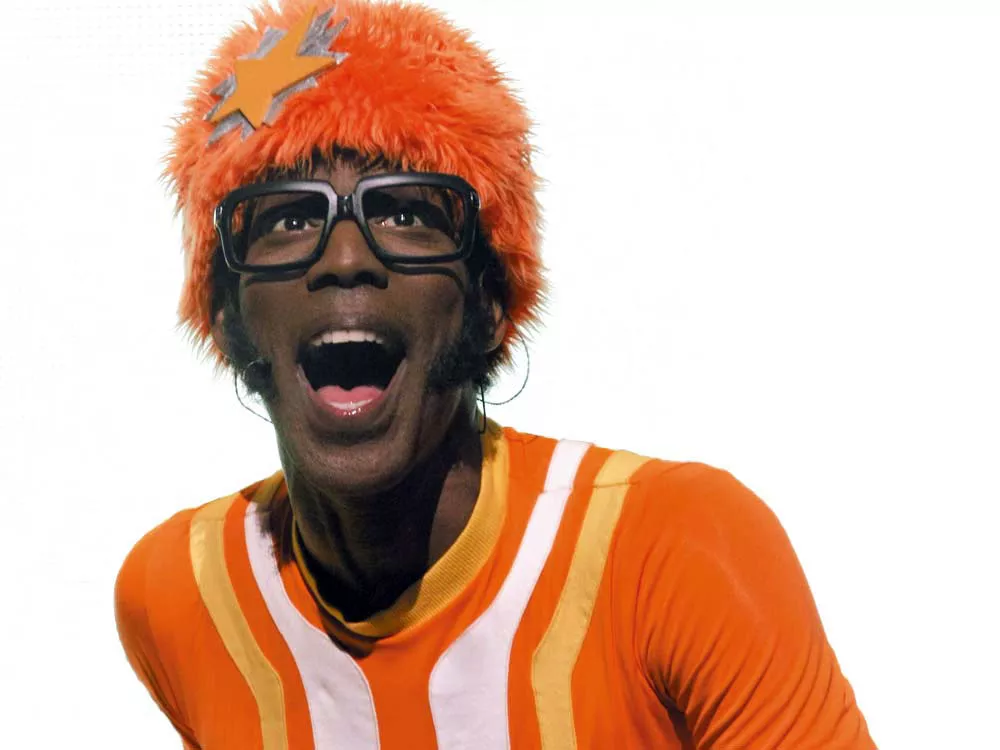 Today, hundreds of thousands of babies and toddlers around the world like bugs because Weezer does.
Those same kids know all about beatboxing because of rapper Biz Markie, and about good hygiene thanks to dance-band Chromeo. They've watched Questlove play drums, danced like a mime with Sarah Silverman and rocked out to Devo.
It's all because Scott Schultz and Christian Jacobs, two guys who'd just become dads, thought children's programming was kind of dumb. As longtime musicians (Jacobs is lead singer in superhero ska band the Aquabats), they found the music their kids were being exposed to through children's television was just ... lame.
"We love music. We're huge music fans, and connoisseurs of music," Schultz says. "There's just a certain mall-type of music that's being conveyed to [young kids]."
As music freaks, they realized their kids were just as responsive to the music on kid's shows as they were to, say, the Ramones.
"Our kids were super interested in everything. They would hear a hip-hop song or an '80s dance song and be open and receptive to it," Schultz says. "It was the lyrics that were inappropriate or they couldn't relate to. We thought as naive dads that we could do something awesome. There was such an opportunity to provide all those missing types of music to kids."
Their idea was to create a music show. Not just any music show, but one that would be equal parts indie rock, Sesame Street, Star Trek and Flaming Lips concert.
That idea would soon become the children's show Yo Gabba Gabba! — a program that has since become one of the most popular television shows on the air today, taking home two Daytime Emmy Awards and a BAFTA Children's Award while broadcasting around the world.
YGG! is, in some respects, like many other kids shows. There are lessons to be learned, words to be spelled and stories to be heard. Fluffy oversized characters tromp around a martian landscape with googly grins and wide eyes permanently plastered on their faces. A super enthusiastic host cheers kids to keep watching the next segment.
But where YGG! differs is in the details. This host is DJ Lance Rock, a man who lives in Gabbaland and wears an awesome orange sweat suit and furry gumdrop hat. The fluffy characters resemble animals, but seem more like Crayola-colored imaginary friends than petting-zoo residents. The lessons taught on the show are about beatboxing, break dancing and making funny faces. And bands — not kid-friendly acts like the Jonas Brothers or Miley Cyrus — sing to them in ways that kids can understand.
Schultz says that the TV program and YGG! live show are directly inspired by some of his favorite bands.
"I can admit I have been totally inspired by the Flaming Lips and their positive vibe," he says. "It's this over-the-top positive sensibility. They celebrate the positive and colorful."
Three seasons in, YGG! has hosted a festival's worth of bands:
The Shins, Shiny Toy Guns, Mark Mothersbaugh (and Devo), Rahzel, the Roots, Datarock, MGMT, Mates of State, Of Montreal, Jimmy Eat World and Hot Hot Heat. That's not even the full list. And the show has recruited unbelievable talent to record songs set to animations: Mark Kozelek (Sun Kil Moon, Red House Painters), Low, Dean & Britta (Galaxie 500), Enon, Autolux and Mason Jennings, among others.
Schultz admits a kids show appearance usually means the kiss of death to a band. But YGG! seems only to help them.
"Bands come out of the woodwork to be on our show. None of these bands would do any kids show ever," he says. "They aren't just stopping over on a late-night show to play their latest single, they are really doing it for the kids. They feel the vibe and sensibility [of the show] is something they want to be a part of."
And it has been a recruitment tool to get more than just kids to love the show. The response from college students and adults without children landed YGG! a spot at Coachella this year — something Schultz said they were reluctant to do. But he says it made them realize that even adults like to act like kids. We all want to enjoy the simplest things: bubbles, bright colors and confetti.
"There were thousands of teenagers jumping around and dancing to the same [songs] that we play for babies. And they know all the words," he says. "I think there's something inherently beautiful about that — throwing off the shackles of cool."

Yo Gabba Gabba! Live • Fri, Nov. 12, at 3 pm and 7 pm • INB Performing Arts Center • $20-$45 • All-ages • http://www.ticketswest.com • (800) 325-SEAT
{embed_video}