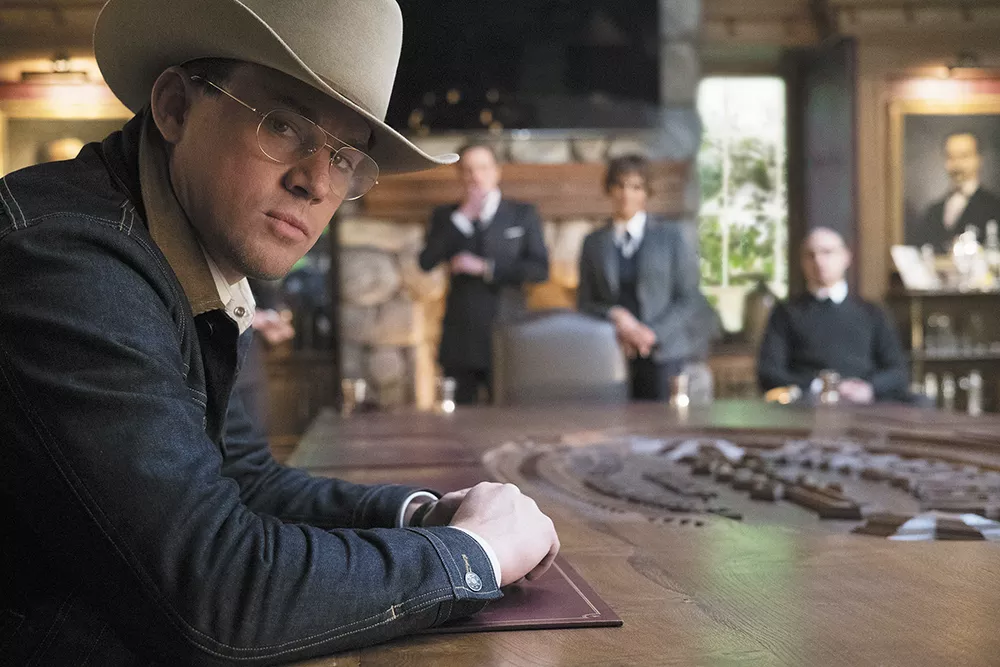 Kingsman: The Golden Circle doesn't pussyfoot around. It takes about one minute for the movie to launch into a full-blown, high-speed chase through the streets of London that includes cybernetic limbs, hand-to-hand combat, acrobatics, a Gatling gun, gadgets and missile fire. It's just the first of many ridiculously elaborate action sequences spread across snowy peaks, jungles and dive bars in director Matthew Vaughn's second installment of the larger-than-life espionage franchise based on the Kingsman comic book series. And while 2014's original felt like a spy movie with grand comic-book flair, the comic-book absurdity takes over in the follow-up.
The plot once again centers around chav-turned-dapper spy Eggsy (Taron Egerton), and the titular secret British cloak-and-dagger organization. In the aftermath of the initial battle across London, a shadowy organization manages to hack into the Kingsman computer system, resulting in a surprise attack that takes out everyone in the agency except Eggsy and behind-the-scenes tech ace Merlin (Mark Strong). It turns out the attack was executed by the Golden Circle, a sinister organization that holds a monopoly under the watch of the cheerily maniacal mastermind Poppy Adams (Julianne Moore).
While wallowing in their sorrows, Eggsy and Merlin find a clue that leads them to Kentucky, where they discover Statesman, Kingsman's stateside counterparts. The American crew includes the gunslinging Tequila (Channing Tatum), lasso-and-rope expert Whiskey (Pedro Pascal), Merlin's U.S. equivalent Ginger (Halle Berry), and Statesman's leader Champ (Jeff Bridges). In short order, the Golden Circle lets it be known that unless drugs are universally legalized, they'll kill millions via a blue-veined virus they've synthesized into all their products. When the Brits and Yanks find out that the President of the United States has no intention of meeting Poppy's ransom (in fact, quite the opposite), they must team up to take down the Golden Circle.
There's plenty of action and comedy to keep the heart pumping, but while the original Kingsman film toed the line of absurdity and crudeness, the sequel blows past any notion of gentlemanly behavior. Things often veer into outrageousness, seemingly for empty shock value alone. Be prepared for human meat grinders, tactical fingering, cannibalism, a callback to an anal sex joke (the original's crudest moment) and a lot of Elton John (which could've been fun if every scene with the knighted singer didn't feel like it was grabbing the viewer and shaking them while screaming "ISN'T IT CUTE AND ZANY THAT ELTON JOHN IS DOING THIS?!?"). Every time the action moves past its previous bawdy moment, a new one pops up. Subtlety dies a more undignified death than the rest of the Kingsmen.
At least the performances by Egerton and Strong provide the movie with some solid ground; Strong especially provides an emotional core in a film that desperately needs one. On the other hand, it's almost a shame that The Golden Circle has such an all-star cast, because there's really so little for them to work with in Vaughn and Jane Goldman's script. Berry's Ginger is a glorified low-key, low-energy keyboard lackey, Tatum's Tequila literally gets put on ice after a few scenes, and Bridges' Champ is a paper-thin version of a cowboy sheriff that he's played better on many occasions.
While Moore, as Poppy, gets more screen time than those three put together, the villainous role is just written so... dumb. She's weird, kooky (her hidden base looks like '50s America — so nuts!) and maniacal without rationale. There's no backstory to justify it, or anything to ground Poppy in even a comic-book sense of reality. Moore leans in and fully hams it up, but it's not within the realm of her considerable talents to save the character.
If you can look past the groan-worthy elements of the story and its nutters, there's a fun, fast-paced, over-the-top action film to be mined out of Kingsman: The Golden Circle. It's all a matter of valuing style over tact. Ironically, this sequel probably wouldn't meet the gentlemanly requirements to join its own organization's ranks. ♦