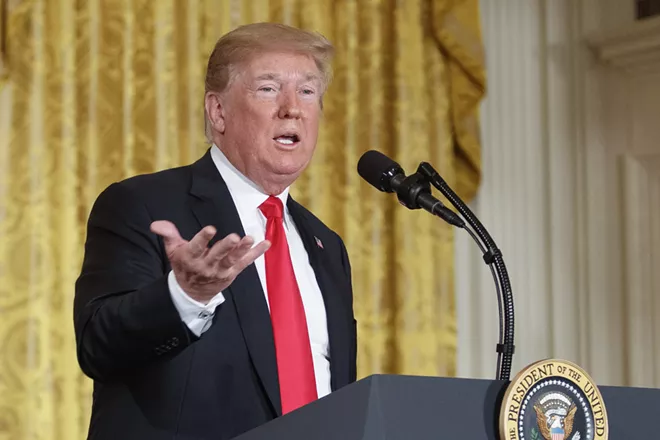 By Robert Pear
c. 2018 New York Times News Service
P
resident Donald Trump has said
that he believes that the new "short-term, limited duration insurance" could help millions of people who do not want or need comprehensive health insurance providing the full range of benefits required by the health law.
The new plans will provide "much less expensive health care at a much lower price," Trump said. The prices may be lower because the benefits will be fewer, and insurers do not have to cover pre-existing conditions or the people who have them.
Under the current rule, issued in late 2016 by the Obama administration, short-term insurance cannot last for more than three months, as it was meant to be a stopgap. Under the new rule, the limit would be 364 days, and insurers would be allowed, but not required, to extend policies. The maximum duration, including any extensions, would be 36 months.
The new options will help people struggling to afford coverage under the 2010 law, said James Parker, a senior adviser to Alex M. Azar II, the secretary of health and human services. But Parker added: "We make no representation that it's equivalent coverage. These policies will not necessarily cover the same benefits or extend coverage to the same degree."
The new rule is presented as a redefinition of "short-term, limited-duration insurance." But it stretches the common understanding of those terms, and some of the new policies could be an attractive option for healthier consumers who now pay high prices for major medical coverage and are willing to take more risk in return for lower prices.
Democrats deride the new health plans as "junk insurance" and say consumers will discover the limits of such plans when they become sick.
Randy Pate, a senior official at the Centers for Medicare and Medicaid Services, said the Trump administration expects 600,000 people to buy the new insurance policies next year, with enrollment increasing to 1.6 million by 2022.
Consumer advocates, doctors, hospitals and some insurance companies expressed deep concern about the new plans, saying they would not adequately protect people who develop serious illnesses and could further destabilize insurance markets by drawing away healthy people.
Trump administration officials said they would require insurers to tell consumers exactly what is and what is not covered under the new policies.