Jeff Ferguson, a Spokane tribal member and a freelance photographer who regularly contributes to the Inlander, felt drawn to document the Standing Rock Sioux Tribe's protests of the Dakota Access Pipeline — even more so when a friend of his showed him footage of the conflict between DAPL security and the protesters. So Ferguson went to North Dakota last month and documented the efforts of the people opposing the pipeline. The photos seen here show who these people are, where they're camped and how they're getting by.
WHY THEY'RE PROTESTING
The proposed Dakota Access Pipeline would run for 1,170 miles southeast from the Bakken region of northwestern North Dakota to southern Illinois. It's a $3.7 billion oil pipeline project by Texas company Energy Transfer Inc. that would carry 470,000 barrels of oil a day. The Standing Rock Sioux tribe says the pipeline would harm ancestral lands, could potentially cause catastrophic environmental damage and would threaten the water supply of millions of people.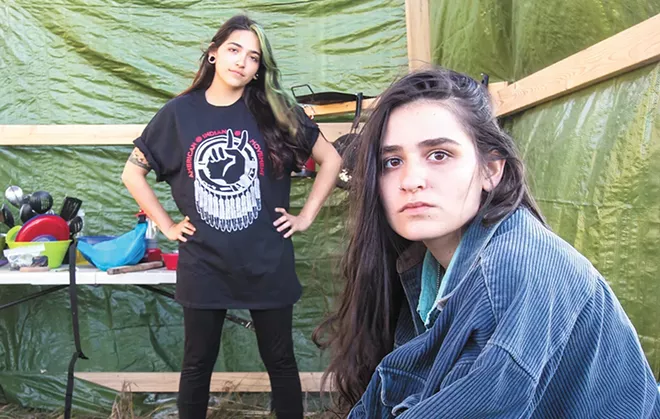 WHAT'S HAPPENED SO FAR
Since April, Native Americans have gathered in the thousands outside a small town called Cannon Ball in North Dakota to protest the pipeline. The Standing Rock Sioux tribe, arguing that it wasn't adequately consulted by the federal agency that authorized permits for the project, asked a federal judge to halt construction on the project. The judge declined that request and ruled that the pipeline would be allowed to proceed, but the same day, federal agencies announced that work would be halted near the tribe's reservation until the Army Corps of Engineers could revisit its previous decisions. Meanwhile, tensions between the protesters and the project's security grew to the point that protesters who broke through a fence to a construction site were met by guard dogs hired by the company, and some protesters reportedly were bitten.
On Monday, Spokane City Council passed a resolution in support of the Standing Rock Sioux tribe's efforts to oppose the Dakota Access pipeline after Ferguson and others presented the council with a signed letter from the tribe's executive director.
WHAT'S NEXT
Protesters say they're not leaving the protest site near the confluence of the Missouri and Cannonball rivers until the pipeline is defeated. The Departments of Justice, Army and Interior have halted construction on Army Corps land bordering Lake Oahe — near the encampment of protesters — and said they will reconsider previous decisions regarding the permitting decision-making process. Energy Transfer has said it intends for the pipeline to be ready for service by the end of the year. Ferguson, for his part, plans to return to North Dakota with supplies for the camp before the winter. ♦