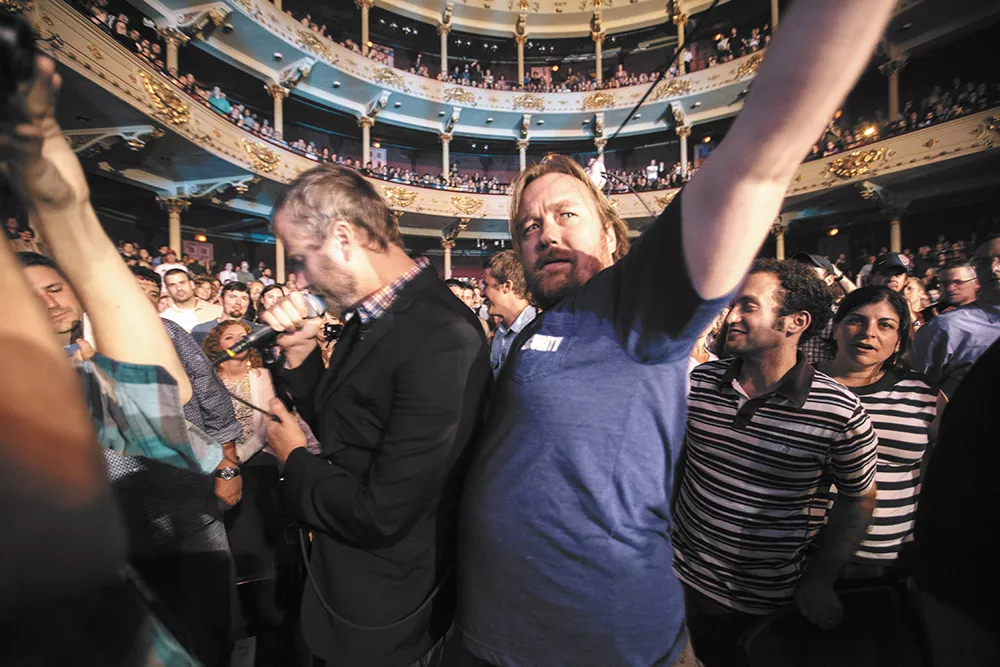 The rock doc, with only a few exceptions, is for the hard-core fans — the ones who already know all the songs, but want to find out what makes the band tick.
Mistaken For Strangers is ostensibly a documentary about The National, one of the more revered acts in all of indie rock. But you don't need to know anything about the often-sad Brooklyn band to love this movie. You could even hate their music and find Mistaken For Strangers the delightful, funny and touching film that it is.
This is because of Tom Berninger, a portly metalhead living in his parents' basement with not a whole lot going for him, other than the fact that his brother Matt happens to be a rock star. When Matt invites Tom to join The National as a crew member on a massive worldwide tour in 2010, Tom gets on the bus, camera in hand. Tom makes a few cover-your-eyes awkward attempts at interviewing his brother and other members of the band before the film begins to turn inward.
Soon, we're learning from Tom's parents about his struggles growing up, and hearing from Matt about how Tom needs to get his shit together on the road and not, for example, lose the VIP list or make the bus turn around a half-hour out of town because he lost track of time at a bar. He's a consummate screw-up, but lovable at the same time.
Much of the film is about the making of the documentary itself, a concept executed with wonder here. You find yourself rooting for Tom to finish the damn thing, forgetting that you've already been watching the final product for the past hour. As a director, Tom weaves a masterful narrative that's so thick on plot progression and hilarious moments, you start wondering if this is a modern-day Spinal Tap. If it was, it'd prove doubly brilliant.
Again, you don't need to care about The National — although you should, as they're excellent and you hear plenty of them here — to dig this movie. If you have a brother, a sister — hell, even a good friend — you'll identify with this film. ♦