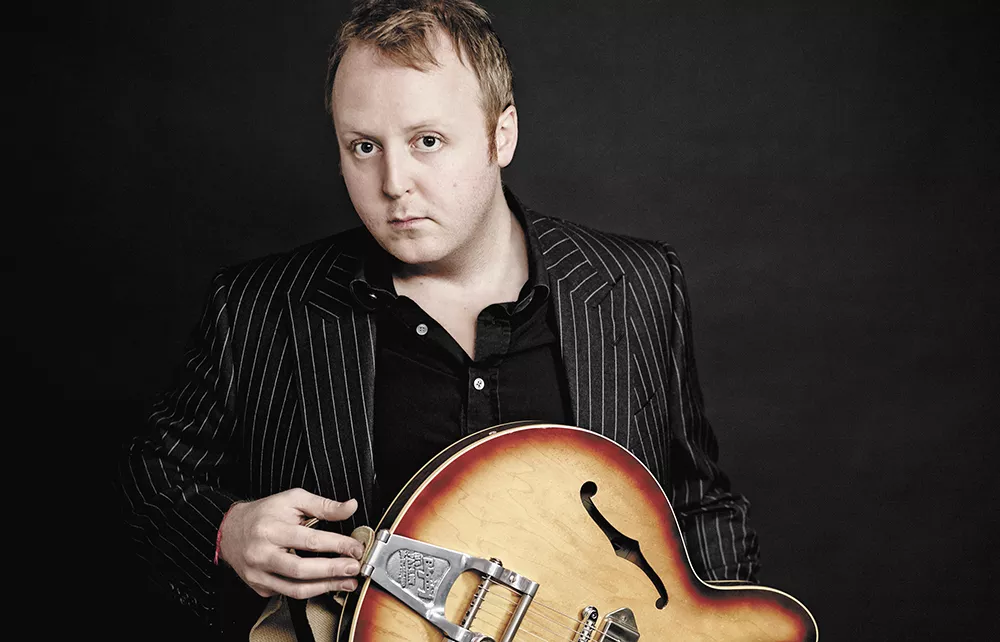 In interviews and onstage, James McCartney keeps mostly to himself. Questions are answered in a succinct few sentences, and when performing, McCartney focuses on the task at hand and keeps his chatting with the crowd to a minimum.
He's been in the public eye since birth (his parents are former Beatle Paul and late photographer Linda) so a desire for privacy is understandable. But what may come off as uninterested or unappreciative is just McCartney letting his music, not his last name, do the talking.
His most recent declaration, The Blackberry Train, picks up where his 2013 debut full-length Me left off, mixing poppy hooks and psychedelic riffs. Train, however, takes a detour into grittier, grungier territory, no doubt the result of both McCartney's '90s alt-rock influences and the steady hand of engineer Steve Albini, who has worked with Nirvana, the Pixies and PJ Harvey.
Opening track "Too Hard," which features Dhani Harrison (son of former Beatle George) on guitar, kicks things off on a country-rock note before the distortion-heavy "Unicorn" begins.
"Waterfall," which tells of the rough patch McCartney went through following his mother's death from breast cancer in 1998 ("Taking ecstasy by the fireplace... / Then I said 'Maybe, I need to do therapy,'" he sings.), lightens things up a bit before the one-two punch of "Paralysis" and "Ballerina," when McCartney's affinity for '90s rock really starts to take over.
As a lyricist, McCartney, who will perform solo at his upcoming Bartlett show, is just as varied.
"Alice," a song as trippy as its literary influence, tells the story of Alice In Wonderland, and "Prayer" finds McCartney professing his love for a special woman. "Peyote Coyote" is a nod to native Indians and indigenous peoples.
"[I'm] trying to look out for them and encourage their culture," McCartney told the Reno Gazette-Journal.
With two albums and two EPs under his belt, McCartney has proven that he's more than his last name. And, in his own way, he's shared a lot of himself on each release.
But make no mistake; the reserved singer has plenty left to say.
"I just want to keep on going, keep working and improving as a songwriter," McCartney said in a press release. "I'd love to feel that I realized my full potential both as a person, and as a songwriter." ♦
James McCartney with Jan Francisco • Fri, May 20, at 8 pm • $15 • All-ages • The Bartlett • 228 W. Sprague • thebartlettspokane.com • 747-2174