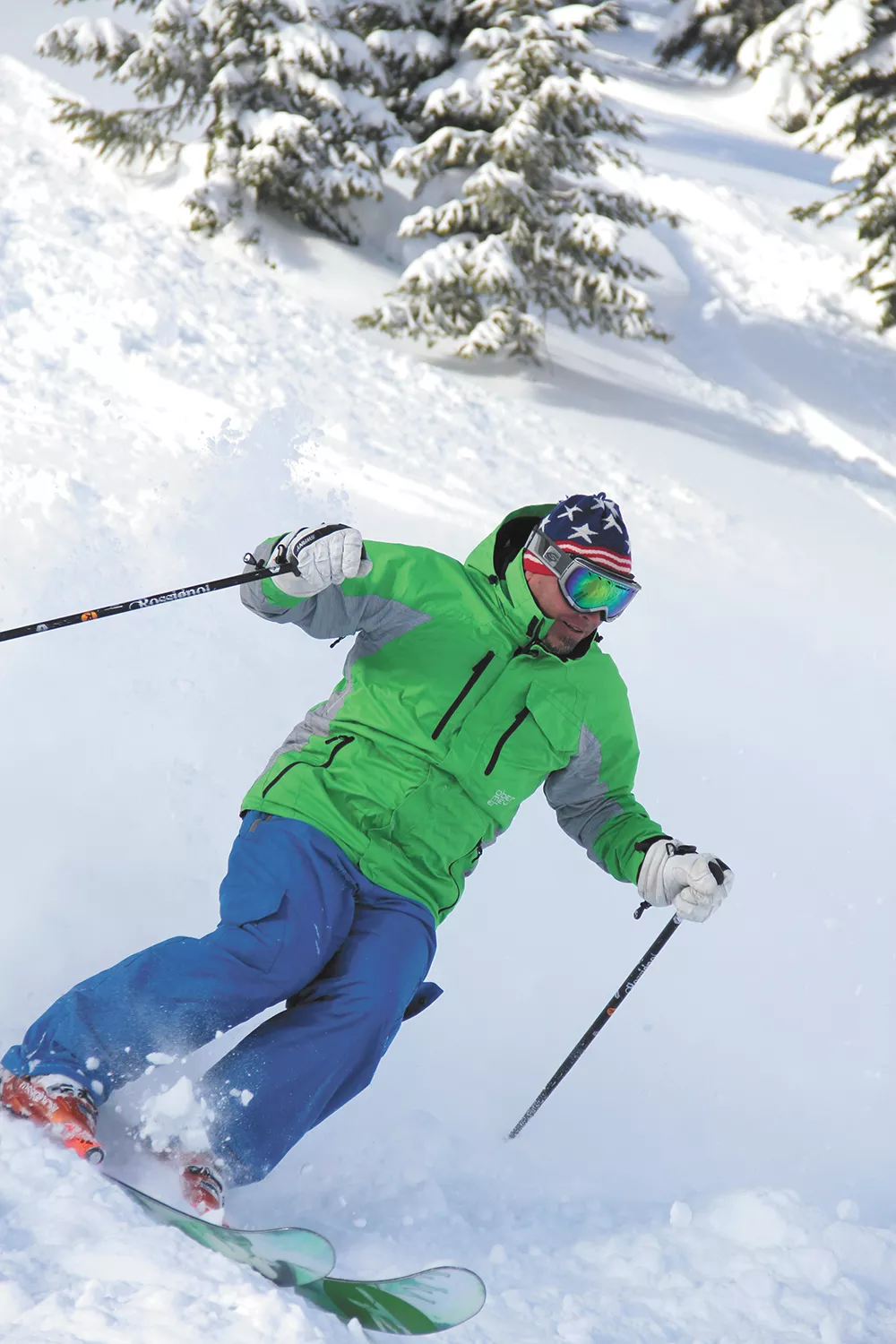 WHAT'S NEW
Last season, Silver Mountain cut two new runs: Bootlegger, accessible off of Chair No. 4, and Shady Lady, off of Chair No. 2. This past summer, Silver Mountain finished brushing them out, making them more buff than ever. "Speaking from experience, these runs were epic and fun, fun, fun last season," says Neal Scholey, director of marketing and sales. "With the brush cutting and slope maintenance that we completed this summer, we will have more terrain and hope to be able to open it earlier. We are expanding our progression terrain park in hopes of giving the youngsters more opportunities to learn in the park," Scholey adds.
Another exciting addition to the mountain is the Kellogg Peak webcam. "We are installing a webcam with night vision on the top of Kellogg Peak, so that on some of those stormy evenings, users will be able to go up and check out what is happening at the top," says Scholey. Viewers will be able to see all the powder that's falling.
MAKING THE MOST OF IT
How to make the most of your Silver Mountain experience? "At Silver Mountain, we have two incredible opportunities to ski powder, which are unique to Silver," Scholey says. "During non-holiday weeks, Silver Mountain is closed Tuesday and Wednesday so Thursday Powder days can be off the charts." So if you see a storm coming through the region on a Tuesday or Wednesday, check out the newly installed Kellogg Peak webcam, visit the snow report and make your way to Silver for a Thursday Powder Day. The second way to take advantage of a Silver powder day is to sign up for their First Tracks program, available on Saturday mornings. This new program includes early access to the Gondola and a gourmet breakfast up at the Mountain Haus lodge before having the mountain all to yourself for about an hour before the general public. The cost is $39.95 plus the cost of your lift ticket. Reservations are required and must be completed online.
SPECIAL DEALS
Silver makes it easy to combine a day of skiing with lodging, offering a "Ski, Surf and Splash Package." There are multiple lodging options in the Morning Star Lodge, located in the heart of the Gondola Village. This package includes lift tickets, lodging and unlimited access to Idaho's largest indoor waterpark. Weekend packages start at $87.75 per person based on a four-person occupancy. ♦
---
Lift tickets
Adult
Daily $53 / Half day $44
Holiday $57 / Half day $47
Youth (7-17)
Daily $38 / Half day $33
Holiday $42 / Half day $47
Senior (62+)
Daily $43 / Half day $36
Holiday $47 / Half day $40
Snow tubing (2-hour session)
Adult (18+)
$20 Daily
$22 Holiday
Youth (4-17)
$18 Daily
$20 Holiday