Hay J's Bistro
21706 E. Mission Ave., Liberty Lake
Chef Patrick Fechser
Instagram: @hay_js_bistro
About the chef: Patrick Fechser got his start in the restaurant life as a 15-year-old dishwasher at Percy's Café Americana in Spokane Valley, a family spot where his mom Rhonda Entner also worked. After moving into the kitchen and learning the ins and outs of restaurant cooking, Fechser's curiosity and creativity took over until he and Entner together opened Hay J's Bistro in 2006. Learning new tricks of the trade from "books, and almost everybody I've ever worked with," Fechser calls the philosophy behind the dishes filling his menu "simple, but with perfect execution." Fechser's love of Italian food comes through in dishes like his housemade pappardelle a la Bolognese and shellfish pappardelle, but you'll also find some Asian influences as well as the seafood staples so prevalent on Northwest menus. "I love simple, traditional-style dishes," Fechser says, "maybe with minor twists."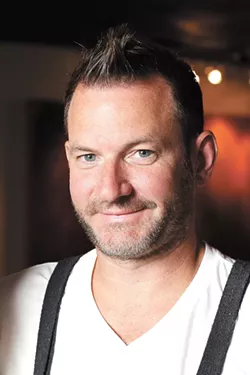 Featured dish: Grilled salmon ($28); grilled salmon with truffle crème risotto and fennel slaw
How it's made: Fechser and one of his fellow Hay J's chefs, Sean Biltoft, came up with the current version of the grilled salmon entrée a few months ago. It's basically a requirement for a Northwest restaurant to offer salmon, and Hay J's has done so since it opened — but they wanted to find a unique way to showcase the fish and the rich, creamy risotto with something fresh and acidic. Enter the fennel slaw, its fennel fronds seasoned with preserved lemon, basil oil, capers and shallots. Because fennel is a root vegetable, Biltoft says, it's easier to offer it fresh for long stretches, even as their sourcing for the king salmon moves from the Columbia River to Alaska to, currently, New Zealand.
Chef's thoughts: Fechser considers his current grilled salmon dish "fresh, and it's got lots of intense flavor and different textures." Indeed, all the plating at Hay J's emphasizes his love of fresh, simple dishes delivering perhaps surprisingly complex flavors. Between the fennel slaw, the truffle risotto and perfectly cooked king salmon, Biltoft adds, the diner "gets a little of every flavor in every bite."
Our thoughts: My first-ever visit to Hay J's Bistro was full of the unexpected, starting with the location just off a Liberty Lake roundabout in a building that's also home to a Conoco station on the opposite end, as well as Piccolo Artisan Pizza Kitchen run by the Hay J's team, and wine and meat outlet Butcher Block co-owned by Fechser, Entner and Eddy Rogers. Once inside, though, the outside world disappears into a stylish dining room dotted with works by abstract artist Edward Gilmore.
My entrée likewise offered pleasant surprises. The grill marks on the bright reddish-pink salmon and green of the fennel slaw and decorative ring of basil oil on the plate made the dish immediately pleasing to the eye. The fish was perfectly cooked — simple and perfectly executed as Fechser demands — and the risotto was rich without being too heavy. The bright flavor of the fennel slaw proved a perfect compliment, its notes of sour lemon and addition of salty capers helping pull the entire plate together, and deliciously so. I wouldn't hesitate to order it again.
Chef's local dining suggestions: Italia Trattoria (144 S. Cannon St.), Wild Sage Bistro (916 W. Second), Fleur de Sel (4365 Inverness Dr., Post Falls)