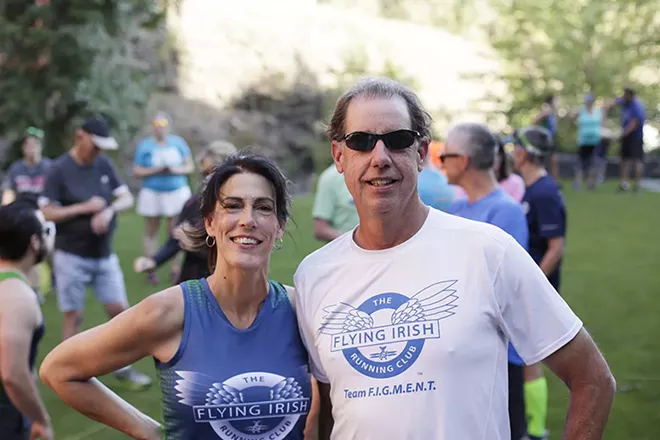 Becoming a devoted runner can be an intimidating prospect, but Spokane running club the Flying Irish has done its best to make that barrier for entry a little easier. It has attracted thousands of participants at all kinds of skill levels, from beginners to intermediate runners to marathoners. People bring kids in strollers or run with their dogs. You can even walk if you so choose.
Anyone is welcome, and that accessibility has inspired a particularly zealous band of devotees. One of them is Jim Palm, a restaurant designer who moved to Spokane from San Francisco around seven years ago. He says he stumbled upon the Flying Irish via an Inlander article and decided to give it a shot.
"I went one night, and I've met some of the best friends I have in my life. It's been one of the most amazing groups of people I've ever encountered," Palm says. "It's one of the reasons I've decided to stay in Spokane. I'm as big of a booster of Spokane as I am the Flying Irish."
The club was founded in 2006, when a group of friends bandied about the idea over beers at O'Doherty's. It picked up steam from there, and the Flying Irish has gone on to host a couple hundred runners every week, and more than 11,000 individual runners in its 13 years. The average run is typically 3 to 4 miles, and the group follows a certain number of designated routes. Everyone takes off around 6 pm, then circles back to their starting point for celebratory drinks and what they call a "shirting ceremony," where participants qualify for commemorative T-shirts.
It's this mix of exercise and social gathering that has kept runners coming back to the Flying Irish. There are even some folks who have gone years without ever missing a run.
"I was more of a casual runner, but the camaraderie of the Flying Irish certainly made running part a more regular part of my life," Palm says.
Donna Drake had a similar experience. In 2014, she and a friend had decided they were going to push themselves to participate in a triathlon.
"I had never really enjoyed running," Drake says. "I probably couldn't run three blocks."
They showed up for a Flying Irish run as part of their training and were immediately welcomed by the regulars. Drake continued attending and eventually joined other running clubs, and she has since participated in multiple triathlons and half marathons. A full marathon, she says, is on her bucket list.
"It really changed how I feel about running," Drake says. "I enjoy it in a social setting like that. It's an awesome place to start... It did change my life. It made running a lot more fun."
Both Drake and Palm are now board members for the Flying Irish, where they help organize the runs and keep track of everyone who has joined the club.
"It's a networking thing," Drake says. "I became more involved with the community of runners and triathlon athletes."
"I felt like it was time for me to give back some of my time and energy to make the next generation of runners enjoy it as much as I did," Palm says of becoming a board member. "I feel so strongly about this running club, and the health benefits — anything you can do to get somebody off the couch."
The official Flying Irish season kicks off the first Thursday in March, and runs through the annual Turkey Trot in November. Those weekly runs have become both a custom and a group hangout for its most ardent followers: Palm says he even knows people who have met their spouses and significant others through the club.
"It really is pretty unique to see hundreds of people every Thursday night running through the streets of Spokane," Palm says. "People mark their calendars around those dates."
The Flying Irish Running Club
meets for its weekly runs on Thursdays at 6 pm at Chateau Rive in the Flour Mill. Details at flyingirish.org.