Maverick Mountain, located in the Pioneer Mountains of southwestern Montana, is one of the many legendary "must visit" mom-and-pop ski areas that make the Montana ski experience so special. When it comes to bucket lists, a visit to Maverick definitely should be a priority.
Maverick is not a widely known ski area, as its location is remote. The entire experience is an adventure; getting there is as memorable as the skiing. Located in the high plains of the Big Hole Valley between Wisdom and Dillon just off Highway 278, Maverick is about 40 miles west of Dillon — that's the easiest route. For a shorter but more scenic route, head south out of Missoula on Highway 93. This route takes you south through Hamilton and up over Lost Trail Pass. Head east on Highway 43 into Wisdom, then southeast on Highway 278, winding up about 170 miles from Missoula.
Arriving in the parking lot, we were greeted with approximately 8 inches of new snow, seven other cars and an historic old lodge, complete with a rental/retail shop, cafeteria and ski bar with a definite local feel. Immediately pegged as "not from being around here," we were complimented on our effort to ski Maverick and given a couple of local tips on where (and where not) to ski. The mountain is simple, with no printed trail maps, just the one at the top of the lone chairlift. The mountain has a nice mix of terrain, all funneling from the top of the chairlift back to the base area. The snow quality is top-notch — the quintessential Montana cold smoke — light, dry, fluffy and plentiful.
Visiting here brings back memories of skiing at his local hill, Schweitzer, for Sandpoint's Matt Gibbs. "Being at Maverick reminded me of skiing when I was much younger," he says. "A ski area that has a real hometown vibe, where everyone knows each other. Progress is inevitable, ski areas grow, but skiing at Maverick took me back to when I was in elementary school, and we'd ski on Thursdays for class. Being at a ski area that has one chairlift that accesses everything definitely took me back to my early skiing days."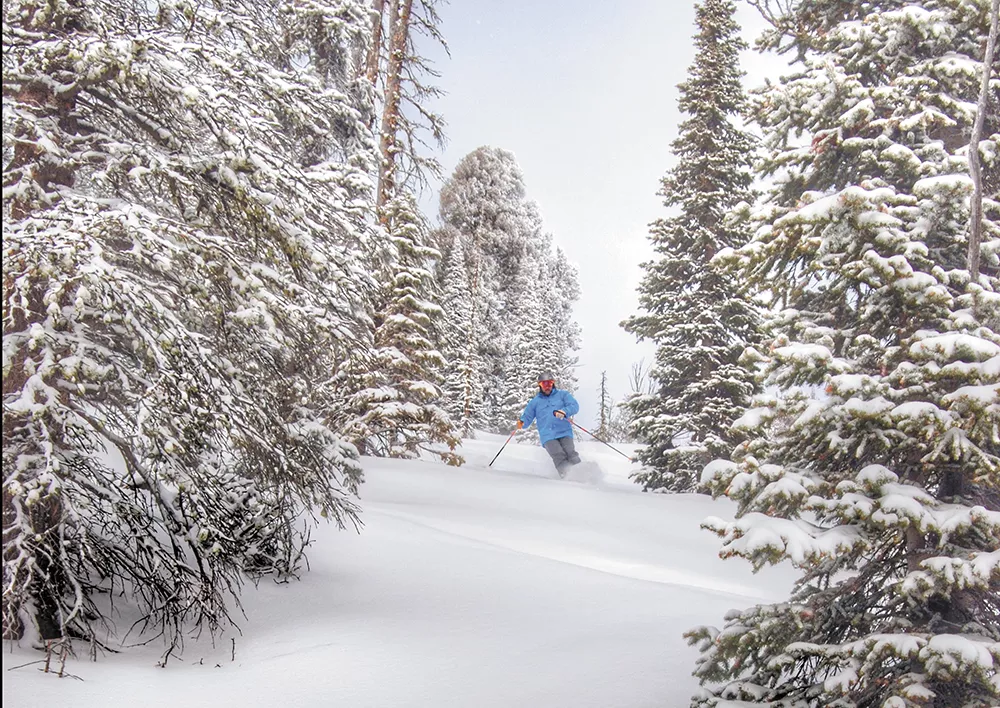 After skiing, a much-needed beer in the lodge is a must. This is where one can truly experience the local flavor and friendly atmosphere. Fellow après-skiers included an 80-year-old rancher from the valley — equipped with circa-1980 straight skis, rear-entry boots and Carhartt insulated bibs and jacket — recounting his runs from his daily visit to the mountain, and a college kid, dressed head to toe in Patagonia (thanks to the nearby outlet) up from Dillon to take advantage of the new snow. Sitting back and listening to the conversation made the experience unforgettable.
For many skiers and snowboarders familiar with Maverick, it's a special kind of place. Spokane's Mike Altringer has been talking about a trip here for years.
"If I could quit my job, one of my dreams is to go hit all of the mom-and-pop ski areas in Idaho and Montana," he says. "I love the vibe of these smaller areas, and many of them have very good skiing."
Gibbs adds, "It's mountains like this that show the attraction toward skiing and being on the mountain. It doesn't matter if you are skiing at a resort with 3,000 acres and a multitude of lifts, or a ski area like Maverick, with 200 acres and one chairlift. I am definitely going back. One day at Maverick is as memorable as 20 days at other resorts. It's an experience I don't get very often, and it's definitely worth the effort of getting there." ♦